Singapore real estate rentals, subway, mass rapid transport, Executive Bus Plus service, MRT, Postal districts, real Estate, Rental Houses, Subway, Apartments, Condos, Singapore Classifieds, Internet Property Advertisements published by: Asiahomes Internet
Do you want to buy, rent or sell Singapore properties, apartments,
condos, houses? Asiahomes.com can help you.
Asia USA Realty (Singapore) asiahomes.com Pte Ltd - Real Estate Department
02 Jan 2004
Focus: We get for you affordable Singapore homes. Rent or Investment
YOU WANT to rent or buy Singapore homes? Email details of your specifications to judy@asiahomes.com or Tel: +65 9668 6468, 6254 3326, 6254 2728, 9668 6469; Fax: +65 6256 0501, 64545 843 for viewing or updates.

Email or fax house-hunting form to us at 6256-0501 and we will contact you within 24- 48 hours.

---
INTERNET ADVERTS ($13.50/40 words/90 days. Add $14/picture)

SINGAPORE SUBWAYS, POSTAL DISTRICTS & FOREIGN SCHOOLS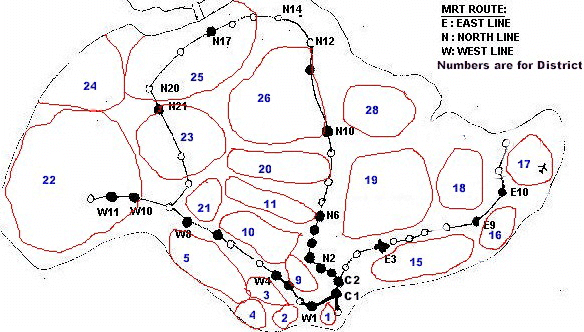 The blue numbers refer to postal districts. Districts 9, 10, 11, 21 and 15 are favoured by most expatriates.

UPDATE (NOT SHOWN IN ABOVE MAP)
As at Jan 2003, there will be new subways ready in 2003. These are Boon Keng subway (Townerville residents, District 20), Little India subway (Niven Road residents, District 9) and Clarke Quay subway,(District 9, near Liang Court Serviced Apartments, UE Square condos).

N1 Dhoby Ghaut (around a 15 minute walk to Clarke Quay, The Quayside, Riverside 48, UE Square condos and Mohamed Sultan pubs).

N2 Somerset (downtown shopping malls; Orchard Road; Emerald Hill conservation shophomes, The Claremont, The Bayron & others. Aspen Heights & Kim Yam Heights are a 15-min walk.

N3 Orchard. "Downtown" with a very high concentration of Caucasian and other expatriates. Shopping malls; A 5-minute walk to the American Club). Grange 70, Grange 80, The Colonnade, Spring Grove are a 10-min walk. The Claymore, Paterson Edge, 7 Draycott Drive, Ardmore Park, Four Seasons Park, Leonie Condotel, Leonie Gardens, Horizon Towers, Grangeford & many others are within a 10-15 min walk. Orchard Bel Air is a 15-minute walk.

N4 Newton (Dunearn Gardens, Elmira Heights, Gloucester Mansion nearby).

N5 Novena (Gentle Villas, The Huntington, The Compass at Chancery cluster townhouses).

N6 Toa Payoh (Trellis Tower, Oleander Tower within a 5-min walk). Attractive to French expatriates.

N7 Braddell (Bungalows rent lower here).

N8 Bishan (Bishan 8 within a 5-minute walk).

N9 Ang Mo Kio (nearest subway to the new French School).

N10 Yio Chu Kang (Castle Green & Seasons Park within a 10-minute walk).

N11 Khatib

N12 Yishun

N14 Sembawang (Sun Plaza apartments at door step).

N15 Admiralty

N16 Woodlands

N17 Marsiling (10-minute walk to the American School).

N18 Kranji (Singapore Turf Club punters' stop)

N20 Yew Tee

N21 CHOA CHU KANG Interchange for the LRT). The Northvale condos are next door. The Light Rail Transport (LRT) connects to the Bukit Panjang subdivision which includes the Maysprings condos.

N22 Bukit Gombak

N23 Bukit Batok. May be able to use Bus Plus for condos like Hume Park I, Parc Palais, Summer Hill.

E1 Bugis (one subway stop to Suntec City). 10-min walk to The Burlington Square Residence and The Bencoolen Residence, Sunshine Plaza Residences & Liang Seah Court is nearby.

E2 Lavender (Immigration building).

E3 Kallang. You need to take a 8-min shuttle bus ride to The Waterside, Pebble Bay and Costa Rhu condos

E4 Aljunied.

E5 Paya Lebar

E6 Eunos

E7 Kembangan (Astoria Park condo). Chai Chee Industrial Park nearby.

E8 Bedok. The Bayshore, The Summit, Casafina condos. You need a feeder bus
E9 TANAH MERAH Interchange. (The Tanamera, East Meadows completed in 2002 - 3 bedrooms renting around $1,600 & D'Manor are nearby).

A line from here goes to the Singapore Expo and Changi Airport in 2002 (not shown in map above).

E10 Simei (Eastpoint & Melville Park within a 5-10 minute walk).

E11 Tampines.

E12 Pasir Ris.

C1 RAFFLES PLACE Interchange. Shenton Way financial district. Two new Caucasian favoured condos are Emerald Garden, a 5-min walk and River Place condos (15-min walk).

C2 CITY HALL Interchange. Closet to Suntec City. Underground mall connects to Suntec City from Westin Plaza. 5-min drive to Pebble Bay & Costa Rhu or use Bus Plus

W1 Tanjong Pagar (International Plaza, financial district at one end of Shenton Way).

W2 Outram Park (10-minute walk to the Everton, Blair Road, Spottiswood Park Road conservation shophomes). See Singapore Unique Homes

W3 Tiong Bahru (Central Green next door). Emerald Park condos - 10 min walk.

W4 Redhill (Tanglin Regency, Tanglin View within a 5-minute walk).

W5 Queenstown (The Anchorage within a 10-min walk).

W6 Commonwealth (About 20-min walk from Holland Peak).

W7 Buona Vista
Buses to the Science Park, INSEAD & the Australian School.

EW22 Dover

W8 Clementi. Buses to the Science Park & the University.

W9 JURONG EAST Interchange (Parc Oasis within a 5-minute walk).

W10 Chinese Garden (Parc Vista within a 5-minute walk).

W11 Lakeside

W12 Boon Lay

EW28 Singapore Expo
(from Tanah Merah subway)

EW29 Changi Airport
(from Tanah Merah subway)




---

Singapore. Main island 640 sq. m. Has 60 islets.

The city centre (downtown) area includes Orchard Road and the Central Business District (CBD) which covers Shenton Way, Singapore River, Chinatown, Suntec City and Marina South.

TAXIS.
City Cab 6552 2222
Comfort 6552 1111
Tibs 6555 8888

The blue numbers refer to postal districts.

Subdivision Rentals has details of condos and houses in Singapore favoured by expats.

POSTAL CODES QUERY USING VOICE
Tel: 1800-842-7678
State street name, house or block number and a voice will tel you the postal code.

TIP FOR EXPATRIATES
BUS PLUS provides faster bus services to downtown from certain areas in Singapore so that expatriate executives need NOT fight with the locals for the crowded local buses when going to work. Therefore, expats can live in certain less expensive condos NOT within walking distances to the subway. Examples are Costa Rhu, The Bayshore, Hume Park, Ridgewood and Pandan Valleys. See website for details.

Photo Ads .
MANY RENTAL PHOTO ADS
CLICK FOR RENT TO EXPATS
+65 9668 6468 judy@asiahomes.com

©Asia USA Realty (Singapore) asiahomes.com
Pte Ltd. Website: asiahomes.com.
House Agent's Licence No. AD041-07306B
Blk 1002, Toa Payoh Lor 8, #01-1477,
Singapore 319074, Republic of Singapore

Mobile Tel: +65 9668 6468, 9668 6469
Tel: +65 6254 3326, 6254 2728
Fax: +65 6256 0501, 64545 843
Email: judy@asiahomes.com to get a list or to view.