CLUSTER HOUSES share a communal pool

CENTRAL SINGAPORE NEAR DOWNTOWN

RESIDENCE 8. Eight modern cluster semi-detached, near Orchard Road. Downtown. 4+2 3600/3700 sq. ft built in. Pool & security.

For Rent. $11,000
8, 4 bedrooms - 3640 sq. ft. 2 storey semi-detached with Pool and basement
car park. For sale, email judy@asiahomes.com

BARKER ROAD 2.5 storey cluster terrace houses, near downtown. Pool & playground. 5-minute walk to Newton subway. For Rent. Around $7,000. See 14 Barker Road house hunting


FERNHILL COTTAGE townhouses near downtown Orchard Road $6,000





LOTUS AT BARKER - cluster terrace houses
For Rent from $10,500 - $13,000. Unique.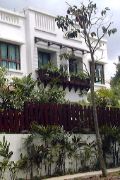 Pristine white brand new corner terrace renting $11,000 as at Jan 21 2001.

Completed in 2000. Three-storey cluster terraces houses.
10 terrace houses + communal pool + resident's lounge.

2-storey+basement x 4 units.

3-storey+basement x 5 units. Study on level 1, 2 bedrooms on level 2 and 2 on level 3. Roof terrace 200 sq. ft.

3+4 (guest, family, study and maid's room)
5+3 bedrooms (family, study and maid's room).
3800 - 4200 Sq. ft.

$10,500 - $13,000.
Corner ones from $12 - $13,000 inclusive of air conditioner servicing by the Landlord.

THE COMPASS AT CHANCERY townhouses, near downtown
For Rent.
4+1 2506 sq. ft $10,000 fully furnished. Pool, children's pool, BBQ area, gym, steam room, 46 basement car park.

CHANCERY GROVE townhouses. For Rent. From $5,500 - $8,000.

VILLA CHANCERY townhouses.
For Rent. 4+1 3000 sq ft $9,000.

VILLA DES FLORES townhouses. Whitley Road area. $7,500.

_______________
10-MIN DRIVE TO DOWNTOWN

TUDOR 10
10 bungalows sharing pool and sauna, underground car park and 24-hour security.
10-min drive to most international schools and Orchard Road.

For Rent. 4+1+basement 4,450 sq. ft $16,000.
4,800sq. ft built in $18,000. For sale, $6 million. CLICK thumbnail to view bigger image.




_______________
EAST SINGAPORE

D'MANOR townhouses
near the Tanah Merah subway. From $3,000.

KEW GREEN. Roof terrace with spa).

KEW RESIDENCIA, KEW GAT, SUMMER GARDENS, SPRINGFIELD

NANAK MANSIONS maisonettes, East
For Rent. Around $5,500

_______________
NORTH SINGAPORE
LENTOR VILLAS houses, North . Pool for expats only. 8-min drive to American School.


_______________
SOUTH SINGAPORE
CASA PERLA bungalows, South, $14,000. Huge, 7-bedroom units in Watten Estate area.
BRIZAY PARK cluster bungalows, 4000 sq. ft built in area. South.
For Rent. Around $11,000.
HOUSES
with no pool or their private pool.
1. Gentle Villas 5+1 semi-detached near downtown and Novena subway
For Rent.
$5,500 - $7,000. Caucasian enclave.

2. Holland Grove View semi-detached, South Singapore
house hunting report.
For Rent.
$9,000 - $10,000. Holland Grove View.
Beautiful 3-storey
semi-detached. 4+1
bedrooms. 3900/2600 sq. ft.

3. Kingsville, South
Semi-detached. Around $8,000.

4. Regent Villas, off Sixth Avenue, South
For Rent. Semi-detached rents around $8,000.

5. The Lotus Sanctuary, Coronation Road West, South.
For Rent
3800 sq. ft built in/4000 sq. ft land $12,000. Big 4+1 rooms

6. D22. Mera Gardens, West
For Rent. Bungalows rent around $8,000.

7. D23. Woodlands houses near the The American School

8. D23 & 25. Near American School rentals - 1998 report

9. Niven Road conservation pre-war terrace houses around $4,000 (images)

10. Townerville colonial houses, near downtown and Suntec City.


2-bedroom $2,500 rent
3-bedroom $2,800 rent

Affordable $6.00 taxi fare to Raffles Place. Romantic Europeans love these 70-year old restored wooden floor board, colonial houses. No long bath. For Rent. 2-bedroom at $2,500. 3 & 4 bedroom houses from $2,800. Photo.

11. Newton Circus colonial townhouses houses for rent as home offices. Renovated. 2-min walk to Newton subway and 3-min bus ride to Orchard Road.



12. The Glencaird Residence. Bungalows with your own pool. For Rent. $20,000 - 25,000 per month.

13. Holland Green. For Rent. 3-storey bungalows from $12,000.

14. Black & White bungalows rent from $15,000. Many have no pools. From $12,000. Some still have snakes and bats from the forested vicinity.

Run down or poor location or the tenant self-maintain black and whites are renting around $5,000 - $8,000.

15. Unique homes

16. Conservation shophomes

17. Avant garde bungalows
Articles in response to queries from surfers:

Aug 21 00: $2,300 rental budget is too low for the single girl who wants a newer 3-bedroom 1600 sq. ft near Boat Quay

Jul 27 00: Can you rent a semi-detached in expat area for $3,000?

Detached with pool for $8,000?
Rarely available in 2000. Mostly renting above $10,000 in District 9, 10, 11.

Living in Johor, working in Singapore?

$8,000 - $15,000 houses for rent

Condos with balconies.
Dec 6 00:
Beverly Mai renovated 3-bedroom 2600 sq. ft $6,500. Near Orchard Road.

Aspen Heights v. UE Square

Dressed to Kill The N.Z pathologist - How a landlady rented faster than her neighbours?

Have you got a Tenant?

Responsive or calculating Landlord?

Valley Park - for sale

Orchard Road condos - report 1998

Caucasian favoured
housing - report 1998

Housing Allowances for expat - 1998 article

A Singapore tenancy agreement

Newer condos and houses: Condos developed by one developer.