1. CONSERVATION SHOPHOMES. The real conservation shophomes are the unrenovated ones but most Caucasians can't tolerate the old structures with non-air-conditioned rooms and wooden partitions.

Renovated ones, fully air conditioned, with wooden floor boards, a fish pond, roof top baths or lounge pool on top floor and air wells rent from $8,000 to $20,000 for the over 5000 sq. ft built in upscale ones with roof terraces.

The hottest ones well desired by single or creative type expats and CEOs are in the Emerald Hill Road.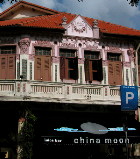 One studio with communal sharing of the lounge or kitchen in a conservation shophome in Spottiswood Park Road. There are smaller and darker shophomes in Spottiswood Park Road or outside the Chinatown, Kim Yam and Orchard Road. Cluny Road conservation shophomes near Singapore Management University.

Makepeace Road, Joo Chiat Road, Purvis Street conservation home are also for rent.

Most younger romantic Caucasians love the conservation shophomes at Blair Road. See Pictures of Singapore conservation shophomes

More details: Singapore Conservation shophomes.

2. COLONIAL HOUSES

Usually over 70 year old terrace or town houses with wooden floor boards throughout and an air well bringing in natural daylight to the living area and kitchen.

2.1 Townerville colonial townhouses.
Near downtown & Suntec City. Towner Road, McNair Road, May Road.

Two-, three- or four-bedroom restored 70-year old terrace houses for romantic expats who appreciate wooden floor boards and big balconies. NO long baths. Some houses have a back patio to sunbathe and this appeals to many Caucasian sun lovers.

2.2 Niven Road pre-war terrace houses. Over 70 years old. A 15-minute walk to the Dhoby Ghaut subway. Near Peace Centre and Little India. Very popular with Caucasian singles.

The 3-storey townhouses near the Sikh temple have 3 bedrooms, a big garage, 2 big balconies.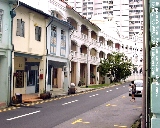 The 2-storey ones have wooden floor boards and an air well bring in natural daylight. A skylight translucent pane covers the air well so that the rain will not get in. There is a long bath for the master bathroom and marble floored tiles in the living and dining areas unlike the Townerville colonial houses.

Close to the Peace Centre supermarket and a 10-min walk to Orchard Road. A 15-min walk to Bugis subway. 2-min walk to the Little India subway. No problem getting taxis or buses.

3. UNIQUE FACADE - MODERN HOUSES

Off Bukit Timah Road. Custom built, one of its kind new townhouses with modern interiors and may have a Balinese garden. 3-storey 4+1 2,200 sq. ft at $10,000 or 2,800 sq. ft. An upscale townhouse
4. PENTHOUSES
Defined generally as the topmost unit in a condo. May be 2 or 3-stories and have a roof garden and a swimming pool too.
Europeans define a penthouse as a separate structure on the roof. Rents of bigger units of over 3,000 sq. ft are usually above $10,000 per month.

See: Singapore Housing Terms

Examples of penthouses. Rentals vary from $6,000 for a new Hillside penthouse to $30,000 for The Colonnade penthouse.

Ardmore View

8 Orange Grove penthouse 5800 sq. ft

Avalon penthouses over 4,200 sq. ft

Burlington Square Residence 4+1 $6,000 - $8,000.

Valley Park Penthouse l level 5+1 with big balcony 3,789 sq. ft

7 Nassim Penthouse 5+1 4,800 sq. ft

Nassim Woods 4+1 6200 sq. ft $20,000.

UE Square Penthouse 5+1. Duplex.
5. UPMARKET CONDOS

Grange 70 & Grange 80 condos.
Grange 70. 3+1 Upmarket 20 units only. Near downtown and centre of action. Good for newly married expat couples who don't want many noisy children around.

Grange 80. 4+1. Total 10 units. Upscale, exclusive, low density 8-minute walk to the Orchard subway. Facade said to resemble the upscale ones in Miami, USA.

The Colonnade
Downtown, 9-minute walk to the Orchard subway.

6. CLUSTER HOUSES
A gated community with a communal pool and usually 24-hour security. Not much green grass in backyard.

Barker Road townhouses
Near downtown. Terrace houses and 1 detached.

A 10-minute walk to the Newton subway and popular with Caucasian families whose children study at the Paterson Road International Singapore School and Overseas Family Schools. No security guard.

Lotus At Barker new townhouses completed in 2001. Communal pool. Small terraces and balconies.

Chancery Grove townhouses
Near downtown. For Rent: 5-minute drive to International Singapore School/Overseas Family School.

The Compass at Chancery townhouses
Near downtown. 20 brand new 3-storey townhouses with communal pool, security, 10-minute walk to Novena subway. Pool, children's pool, barbecue area, gym, steam room, 46 basement car park lots.

4-bedroom, 2506 sq. 5-minute drive to the Overseas Family School.

Bournemouth 8 cluster bungalow in the East Coast. Gated community but each of the 8 bungalows has its own pool. Rents around $10,000.

Casa Perla cluster bungalows at Watten Estate Road, 6+1, 5200 sq. ft. Communal pools, basement car parking and gated community.

D'Manor cluster townhouses in East Completed in 2001. Very small living and dining areas.

Kew Green & Kew Gate cluster townhouses in the East Coast with roof garden.

Sungrove semi-detached
29 units: near the Science Park.

Brizay Park cluster bungalows, Tudor 10 cluster bungalows, Residence 8 cluster semi-detached

Walton Road cluster bungalows of 4 units sharing a pool and barbecue area, in the East Coast, 5 bedroom, 3-storeys.

Northshore cluster bungalows with pool

7. UPMARKET MODERN BUNGALOWS

Newer bungalows with or without pool. The Glencaird Residence
bungalows with a large inground pool rents from $20,000 - $30,000. Exclusive, near downtown high class residential enclave.

Holland Green 3-storey modern bungalows rent from $10,000. Built in 1998. Near Australian School. 3-storey, small gardens and a jacuzzi or small pool.

Avant garde bungalows in high class residential enclave renting around $20,000. Completed in 2001. Small pool. Leafy suburb.

Black and white bungalows
Those renovated ones in Malcolm Park, Mount Pleasant Road and Gallop Road have pools and sprawling gardens of more than 60,000 sq ft of land and rent from $15,000 - $40,000.

Colonial Manor Heritage Bungalow, Sentosa, privacy and restored with modern furnishings inside.

8. UPMARKET WATERFRONT CONDOS

9. PENTHOUSES - WATERFRONT OR LARGE ONES FOR RENT:


Caribbean @ Keppel Bay. 3 brand new sea-fronting penthouses for rent.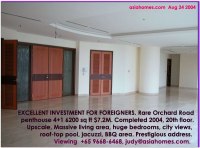 Cuscadence Residence For Sale. One of its kind Penthouse, big roof top pool, jacuzzi, entertainment deck. 4+1, 6200 sq. ft. Excellent investment for foreigners. For rent. +65 9668-6468,