9518Singapore real estate, good class bungalows educational stories for asiahomes.com realtors, March 3, 2001. Excerpts from "The Internet Realtors, Singapore", sponsored by AsiaHomes Internet.


Will the Chief Executive Office succumb to the domestic pressure?

"Honey, why don't we just offer the Landlady now? It is safe for the children. I will die if somebody rents this house!" The American husband was asked to take time off to see the house. The Landlady was asking $20,000.

"It's best not to negotiate now as you will be in a weak position," I said. The husband was much relieved. He had relocated from the top 10 suburb in the U.S.A and Singapore bungalows of less than $15,000 rentals are not up to his wife's expectations. Neither were the penthouses. The Four Seasons Park apartment-condos of over 3,000 sq. ft were asking nearly $18,000 and they could not be compared to this bungalow with so much tranquility and so much space for the children to run around.

The wife had seen various bungalows below $15,000 and these were unsatisfactory. There would be some unfavourable factors, like construction near by, too small a built in area, poor quality neighbourhood, near the expressway, no long baths, dated bathrooms, small pool, small garden and general signs of wear and tear.

She liked a Newton bungalow with pool asking $15,000 but there was a massive school construction nearby. Yet there was a British family who rented it soon.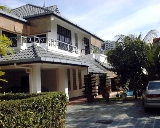 Mar 10 91: Dream bungalow with pool $15,000.

As we reached the hotel, the wife asked again. "Hon, why don't you give our realtor some instructions? I sure hate to lose this house to somebody."

"It will not be gone within the next 24 hours," I assured the wife. "Have a good dinner, take two pannadols and call me in the morning."

I didn't really mention the pannadols. It is a big headache for American wives used to a high quality housing in California to find that good newer bungalow in Singapore rents closer to $20,000 per month. What will the husband decide? The happiness of his wife and the safety of the two children? At what cost for him to maintain a peace of mind domestically?
---

Reference 1.

http://www.asiahomes.com/singaporerealty/expat/analysis/index.htm has several reports which will reveal to first time expatriates relocating to Singapore a real situation on the Singapore market rentals. Do email judy@asiahomes.com if you have more queries. Or tel: +65 9668 6468. This article is contributed by Realtor David Sing. http://www.asiahomes.com/singaporeealty/david
david@asiahomes.com

---
Tips for new www.asiahomes.com Realtors

You will need to know what's the lowest rent the Landlord wants by communicating with the Landlord's agent and be able to offer a good faith deposit immediately to effect a successful closure.
---


You Got Tenant, Condo Owner?

Looking for Tenants is like winning a war.
You need to know where your enemies can be found.

You need to advertise in www.asiahomes.com
where prospects interested in Singapore properties
are likely to be found.

Why not place an affordable internet ad
to contact prospects direct and save you
a few thousand dollars in agency commission?
Telephone +65 9668 6468, E-mail judy@asiahomes.com

Last updated:
16 Mar 2001