0306Singapore 3-bedroom condos along East Coast, waterfront Costa Rhu, Pebble Bay, The Sovereign Condos, Homes Singapore Classifieds, Internet Property Advertisements published by: Asiahomes
Internet
Owners & Realtors, one direct internet ad contact expats direct, may save you over $5,000 in agency or co-broking fees. Email your ad to: judy@asiahomes.com, visit Asiahomes Internet



Last updated: 10 Mar 2001

HOUSE HUNTING
Bungalows below $15,000.
Research supported by Asiahomes Internet

REFERENCES
House-hunting listings - Various condos and houses for rent.

Tips for first-time Landlords



Details of some condos are described in:
SUBDIVISION RENTALS
Friday March 9, 2001

American expatriate.
2 children less than 5 years old. Wanted to live near the American Club.

2pm
Meet at Four Seasons Hotel.

2.30pm
Near Botanic Gardens 4+1 12000 sq. ft land. Built in around 5,000 sq. ft . $13,800. Large inground pool.

5-min drive to the American Club. Exclusive multi-millionaire residential enclave.

Fell in love with the tranquil greenery, tall trees, the black and white bungalows, the manicured lawns and huge mansions of the neighbourhood.



Pool behind gated fence. Big driveway. Large family area. CLICK thumbnail to see bigger picture.

3pm
Queens Road 6+1 9000 sq. ft land. Built in 4,000 sq. ft. $10,000. Window air conditioners in bedrooms. Small garden. May be able to install a small above ground pool.

The Landlord's realtor had a good 2-page report (without her name and contact numbers showing her professionalism) and photos of amenities.
"Trying to sell me the house," was the feedback from the expatriate as the agent was sticky.

Note: Window air conditioners are not favoured by Caucasian expatriates.

3.30pm
Harlyn Road 5+1, 17000 sq.ft of land and 6,000 sq. ft built in. $15,000. No pool but long driveway and big garden. Large roof terrace of over 400 sq. ft with one room for dark room.

4.30pm
Jalan Jelita 5+1 8300/4000 sq. ft $12,000. Near Holland Road bungalow with above ground pool. Small garden.



4pm
Newton bungalow 4+1 10,000 sq. ft land/6,000 sq. ft built in + good sized inground pool, $15,000. 5-min drive to the American Club.

Modern design. Spacious bedrooms. Good floor plan. Beautiful speckled brown marble flooring. 2 big rooms with balconies upstairs. Guest room and large maid's room downstairs. L-shaped living area fronting pool A a separate dining area near kitchen. Two adjoining kitchens with pinkish grey decor. Small garden. A long driveway past a small old house.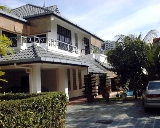 Big pool. CLICK thumbnail to see bigger picture.

Fell instantly in love with this 2-storey house although the kitchen pink decor does not make her heart beat faster.

Other bungalows with pool and penthouses to schedule.

---
Canadian expatriate. Wanted a neighbourhood with a rich cultural ambience, like Bencoolen Street.

5.15pm
Meet at Pan Pacific Hotel.

5.30pm
Kim Yam Heights 3+1 1350 sq.ft $3,500. Unblocked green field view. Small gym with 3 pieces of equipment.

5.45pm
Aspen Heights 3+1 1342 sq. ft $5,000
Balcony with city views of River Valley Road. Blk 263.
Liked this condo.

6pm
UE Square 3+1 1600 sq. ft $4,500. Parkwing unit, facing courtyard and other apartment of Riverwing.


---
6.15pm
Handover Aspen Heights, Blk 263, ground floor with big patio. Rented $4,800.

7pm
Handover Blair Road shophome. Rented $7,000.