Completed: Around 1998. Freehold units. Has a modern facade of high windows and steel. Tenants are mainly singles or couples without children.

Facilities:
Swimming pool with jacuzzi, wading pool, good-sized gym, playground, steam room, BBQ pits, big pool side lounge for private function, one meeting room in the St Thomas building (15 storey block).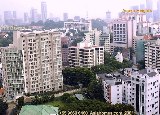 24-hour security and covered car parking.

Advantages:
1. Has modern bathrooms and kitchens.

2. Great location in the centre of action in Orchard Road.

3. Near subway. Two-minute walk via the 13 Devonshire Road entrance to the Somerset subway means that you don't have to wake up so early to go to work. You don't need to drive after a few drinks as your residence is really close to the subway.

4. Convenient. Many taxis and buses around this Orchard Road location. The Orchard shopping malls are just a 5-minute walk away and you can shop till you drop.

5. Life is great for the single expatriate if he or she lives downtown. Just stroll down to meet the singles at discos and pubs.

6. Unique features: Floor-to-ceiling glass windows make the rooms bright and bigger. Metallic external structures & full length windows always look "cool" and modern to younger Caucasian expatriates.
Comments:
The open concept kitchen means that the kitchen receives air conditioning. However, Asians who fry food may not like this layout.

No balconies EXCEPT for one unit with a large balcony.

Some older Caucasians do not like the "hotel-like" appearance, the high density feeling, small swimming pool and the lack of tennis courts.

Others love it for its great location, high glass windows presenting a "modern" facade and plenty of natural daylight.

Open concept kitchen makes the apartment look bigger.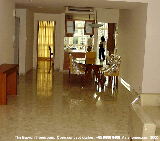 Larger 3-bedroom of 1851 sq. ft with open concept kitchen looks spacious.

No large garden spaces for children to run about.

RENT
Small 2-bedroom units of less than 800 sq. ft, the washer cum dryer will have to be in the kitchen.



ADVERT