TIPS FOR LANDLORDS

Security Deposits in Singapore

Last updated: 11 Jul 2002

Research update from Asiahomes Internet. This URL:
http://www.asiahomes.com/singaporeaur/3months_deposit.htm

The Singapore Landlord requires the tenant to pay a returnable security deposit. In 2002, the amount of security deposit is usually one month's, two month's and three-month's rent for a one-year, two-year and three-year lease respectively.

However, there are several corporate landlords who demand three months' rent for a two-year lease or they will not rent the unit. Much depends on negotiations.

What Can Landlords Deduct From Security Deposits?

The deposit can be used to cover non-payment of rent or for any damage that may be caused during the tenancy. We don't know of Singapore laws defining "security" and have used the California law as an example.

A "security," according to Civil Code 1950.5, is "any payment, fee, deposit or charge, including but not limited to, an advance payment of rent." The security may be used for the following:

Item1. "The compensation of a landlord for a tenant's default in payment in rent." This means: Pay your rent or your deposit may be used. Before you leave, 30 days' written notice is the California law.

In Singapore, the security deposit is NOT permitted to be used as payment of rent in the last 1, 2 or 3 months of the tenancy, as stipulated in the tenancy agreement although some Tenants try to do it.

There is no Singapore law, as far as we know, requiring 30 days' written notice although some tenancy agreement do state that the Tenant must give 3 months' notice of their intention to renew the tenancy agreement.

Item 2. "The repair of damages to the premises, exclusive of ordinary wear and tear, caused by the tenant or by a guest or licensee of the tenant."

The Tenant can either fix the problem or pay for it. Problems also arise in defining the terms "wear and tear." In Singapore, few prospective Tenants bother to take note of the condition of the place at the time they move in.

Write down or take digital pictures of damages in the unit when you go through the inventory list with your realtor or landlord. This list will be your best protection.

Common deposit deductions include repainting (especially if the tenant got creative and painted a new color), replacing window treatments and floor coverings.

In some Singapore tenancy agreements, the Landlord has demanded a new coat of paint at the expiry of the tenancy agreement and there is no dispute. However, there are Landlords who deduct the amount to repaint the unit at the expiry of the lease as the unit is not in a "tenantable" condition and there have been disputes over this deduction.

Some Singapore Landlords find that the patching of holes (used for hanging pictures) affect the overall look of the wall as the new paint on the covered holes make the wall colour look different. Most landlords do not deduct any amount to repaint the whole wall to get an even colour as they understand that the lease had been for two years and there would be a need for a new coat of paint for the new tenant.

However, in some bad relationships between the Landlord and the Tenant, the Landlord simply deducts the deposit for repainting as the unit is not in a "tenantable" condition. In bad relationships, some Tenants disallows viewings from new prospective tenants or break lease and the Landlord just wanted the wall to be in the original condition.

"Wear and tear" in the tenancy agreement is a great source of dispute. For example, a Tenant may feel that a worn out sofa or a scratch on the parquet flooring is wear and tear while the landlord may feel it's damage done by the movers or the children or pets of the Tenant. Damage according to the dictionary is "loss or detriment due to injury."

If something is broken or damaged in the apartment, the Tenant has the option of repairing the damage himself but this must be done to the owner's satisfaction. Or an equivalent value item may be replaced.

Item 3. "The cleaning of the premises upon termination of the tenancy."

The Tenant wants to save the expense and do the cleaning themselves, and the landlord wants professionally done cleaning. The Californian law
provides that cleaning can be deducted.

How clean is clean? Does it mean "broom clean" or "hotel room clean"? Unfortunately the law does not elaborate. List down the areas to be cleaned at the expiry of tenancy may be one way of preventing misunderstanding. Digital pictures of the apartment or house condition before taking up tenancy may be a good idea. www.asiahomes.com provides such a service.

Item 4. "To remedy future defaults by the tenant in any obligation under the rental agreement to restore, replace or return personal property or appurtenances, exclusive of ordinary wear and tear, if the security is authorized to be applied thereto by the rental agreement."

Appurtenances refer to anything and everything included in the rental agreement. Anything from personal property items, such as a stove, to everything outside, including the garden itself. The Tenant has to return the items, naturally, plus return them in the same shape he has started with, less wear and tear.

The Californian landlord has 21 days after the Tenant moves out to send a detailed letter and a check for the balance of your deposit. For more details on the law, visit www.leginfo.ca.gov.

In Singapore, the tenancy agreement usually has all the terms and conditions regarding the security deposit, but many problems arise from the interpretation of "wear and tear," "damage" and "cleanliness at the expiry of lease".

It is wise for the tenant to maintain an excellent relationship with the Landlord as much of the interpretation depends on the kindness of the Landlord.


Another article: http://www.asiahomes.com/singaporehouses/
9506appeasement.htm

---

INTERNET ADVERT
Digital photography services provided by asiahomes.com for Landlords & Tenants.

DIGITAL RECORD OF THE RENTAL PROPERTY
BEFORE COMMENCEMENT OF LEASE TO AVOID DISPUTES

Tenants or Landlords who want asiahomes.com to take digital pictures of their inventory such as furniture, lighting, curtains, flooring, colour of walls, defects and leaks before tenancy commences, email Judy, tel: +65 9668 6468 for an appointment.

The fees are around S$300 and you get two Compact Discs (CD) of the pictures for your record or give one to your Tenant and you keep one yourself.

The CD will contain a maximum of 100 digital photographs, each at either

a) a resolution of 1856 x 1392 or 2.6 mega pixels. This is equivalent to a 8R size photograph when printed on photographic paper or a smaller size so that you can print out from your own laserjet printers without using too much ink.

or

b) a width of 700 pixels x a height of 525 pixels.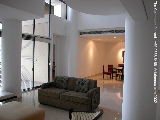 Click the thumbnail on the left to see the 700x525-pixel picture which can be easily printed on your laserjet or inkjet. The thumbnail has a width of 160 pixels and a height of 120 pixels.




Other services.
Please note that we can also get the pictures developed at a professional laboratory. A 4R print made from digital image from a photo lab costs about S$0.70 - 1.00. These are not prints from inkjets and lasers, but from $25,000 professional photographic machines that produce prints similar to those you get from your neighbourhood photo lab. A print made from these machines can last without fading just as long as conventional prints from film cameras.


© 1996-02 · Asiahomes Internet ·
Blk 1002, Toa Payoh Lor 8, #01-1477 · Singapore · 319074
Tel: +65 9668 6468, 6254 2728, 6254 3326, 9668 6469
judy@asiahomes.com


---
211. Jun 19 02. The Loft, Nassim Hill
$3,200 to $9,000 (penthouse)
210. Jun 18 02. Nassimville 4-bedroom $12,000, 3-bedroom $8,000
209. Jun 17 02. Black & white bungalows $15,000 - 17,000.
8-bedroom + pool new bungalow near Orchard Road $15,000.
208. Jun 3 02. Cuscaden Residence, upscale, downtown For Rent/Sale
207. Jun 2 02. The Fortredale with seaviews, 3-bedroom $3,300
206. May 23 02. The Bayshore with sea views $2,500
MANY RENTAL PHOTO ADS
CLICK FOR RENT TO EXPATS »

Tel: +65 9668 6468, 6254 3326, 6254 2728, 9668 6469,
9760 6466. email judy@asiahomes.com now!

Asia USA Realty (Singapore) asiahomes.com
Pte Ltd. Website: asiahomes.com.
House Agent's Licence No. AD041-07306B
Blk 1002, Toa Payoh Lor 8, #01-1477,
Singapore 319074, Republic of Singapore

Mobile Tel: +65 9668 6468, 9668 6469
Tel: +65 6254 3326, 6254 2728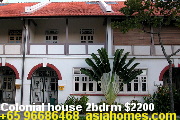 Fax: +65 6256 0501, 64545 843
Email: judy@asiahomes.com

SPECIAL PROMOTION
2-bedroom colonial house $2,200