Black and White Bungalows, Singapore
--- Heritage (Mount Pleasant) & Others

Singapore's black and white bungalows were built during the British colonial days and are located in various parts of the island. They are around 50 years old and have had been renovated extensively before rental.

THE BLACK AND WHITES BUNGALOWS AT SEMBAWANG.
In North Singapore (Sembawang), nearer to the American School, rentals are from $10,000. There are two types of bungalows: Japanese Style and British Colonial Style. All bungalows have air conditioners and ceiling fans in the bedrooms, living room, and dining room. The kitchens are furnished with a refrigerator, gas range/electric oven, and cabinets. The bedrooms are furnished with wardrobes. Washers and dryers are provided. Bungalows have maid's quarters and a small garage.

The majority of bungalows are black and white, British colonial style homes. The living space is located on the second floor of the unit. The ground floor is an open breezeway (covered patio). These units have three bedrooms and two baths. The living area is approximately 2,200 square feet. The second type of bungalow is Japanese Style, constructed of brick. These units have two or three bedrooms and two baths. The living area is approximately 1,700 and 2,000 square feet respectively.

THE BLACK AND WHITES BUNGALOWS OFF ADAM ROAD, ENG NEO ROAD, KHEAM HOCK ROAD, TURF CLUB, YARROW ROADS.
Various bungalows available for rent at small pockets of neighbourhood. The renovated ones with large gardens are easy to rent except for those facing the road.

Monthly rentals vary from $10,000 in Sembawang (North Singapore) to $50,000 (near downtown, Mount Pleasant area with 129,000 sq. ft, 3 units) to South-West Singapore (Portsdown Road, Rochester Road). They are mostly managed by two managing agents although a handful may be individually owned.

THE BLACK AND WHITES BUNGALOWS AT PORTSDOWN AND ROCHESTER PARK AREAS
At Portsdown Road, the 24 walk-up blocks are in great demand as they are located in a serene and green neighbourhood. However, there is a noisy flyover nearby. The flyover starts at Normanton Park, cross the Ayer Rajah Expressway (AYE) and ends at the archery field in Portsdown Road, in front of Colbar Restaurant (demolished as at 208) at Jalan Hang Jebat.

From 2005, the flyover will continue to be built from Portsdown Road to Queensway. In the Portsdown and Medway Road area, there are smaller black and white bungalows for rent and they are within walking distance to the Tanglin Trust School.

A 2-min drive to the United World College, Tanglin Trust and Dover Preparatory Schools, the bigger bungalows of Rochester Park rent from $8,000 per month. Some units face the subway train line but they are still rented as they have a large garden of over 10,000 sq ft of land.

THE BLACK AND WHITES BUNGALOWS AT MOUNT PLEASANT
In this report, the Heritage (Mount Pleasant) black and white bungalows are described in greater detail as asiahomes.com provide a service to connect prospective expatriate tenants to rent them.

FACILITIES, BENEFITS & BACK TO NATURE

Historical significance as British colonials had lived in them.
Spacious land size and built in areas.
Large bedrooms, living rooms and balconies.
Air-conditioning.
Swimming pool may be available or rented
Generally in quiet leafy residential enclaves unless there is subway construction.

SNAKES, TOADS AND BATS. The black and whites are not suitable for Caucasian wives who get hysterical when they see snakes and fruit bats as these will be your neighbours together with butterflies, birds, crickets and mosquitoes.

MOSQUITOES. There is an incredibly frequent number of insecticide fogging in the areas with black and white bungalows sometimes as much as once a week. In most areas, there is an absence of mosquitoes in most houses you visit. One of the aims of fogging is to eliminate mosquitoes which may cause denque fever in people.

POOLS may or may not be provided by the Landlord. An above-ground pool rents at around $300 per month inclusive of maintenance. It may cost $20,000 to install an inground pool. Some managing agents insist that the new Tenant buys over the pool from the incumbent who had paid for the installation or the pool would be removed by the ex-Tenant.
This Mount Pleasant black and white bungalow has an extensive garden of over 30,000 sq ft of land
The leafy expat enclave of Mount Pleasant Road and Gymkana Road have 33 black and white bungalows with or without above ground pools, one or two storeys.

A one-storey black and white bungalow with sprawling grounds is shown at left. Rental is around $15,000 - $20,000.
Heritage (Mount Pleasant) Black & White Bungalows
Monthly Rental Excluding 7% Goods & Services Tax
Deluxe (single-storey)
$15,000
Premier (double-storey)
$30,000
Rental rates in 2012 above are guidelines and exclude the 7% Goods and Services Tax. It is not possible to provide latest info in this webpage. As at Feb 2012, all units have been rented. Vacancy may be available in Dec 2012. E-mail judy@asiahomes.com or sms/tel +65 9668-6468 for latest info and to book a unit for you especially when you are still overseas and have plans to relocate to Singapore in Dec 2012 or in 2013.
THE BLACK AND WHITES BUNGALOWS AT MOUNT PLEASANT ROAD. Generally, there are 2 types and they are fully renovated to a high standard expected by Caucasian expats.

1. 13 UNITS. One or two storeys. 3 or 4 bedrooms. Built in 1,400 sq ft. Land 12,500 sq. ft. The main complaint is that the bedrooms are small. Rentals are from $13,000.
One-storey black and white bungalows of
Heritage (Mount Pleasant)
with 13,000 sq ft land

One storey bungalow
with big garden. Porch in the middle of the house.
Master bedroom and porch extending the living and dining areas.
Garage fully tiled and cabled, can be used as a maid's room.
Small master bedroom with modern bathroom. Ceramic tiled floor.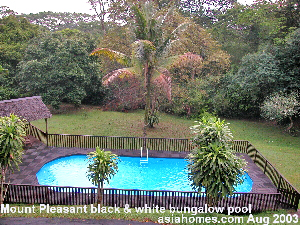 2. 17 UNITS. Two-storey. 3 or 4 bedrooms. Built in 4,300 sq ft. Land 40,000 - 70,000 sq. ft. The main complaint is that the gardening expenses will be S$1,000 per month and other air conditioning expenses. The living, dining and family rooms may not be air conditioned.

Picture of a bungalow (left) with over 30,000 sq ft manicured garden area! Large pool with deck and cabana. Far away from neighbours. Privacy. Song birds, crickets, bats, mosquitoes (rarely present), snakes and greenery.

3. 3 UNITS. Two-storey. 3 or 4 bedrooms.
Built in 7,200 sq ft. Land 130,000 sq ft. Rentals around $30,000. Very long driveways and lots of privacy.

A black and white bungalow at Malcolm Road with over 60,000 sq ft of garden

Big living area (foreground) from dining area. The Tenant provides his own lamp shades. Big verandahs are usually present at the master bedroom and one other bedroom.
The main kitchen which is next to an "amah's" kitchen.

The Tenant has to provide his own kitchen appliances as the rent excludes all these appliances..
60,000 sq. ft of garden and an inground pool seen from the living area upstairs.

The pool is installed and maintained by the Tenant.

This unit has two small "amah's" houses and an amah's bathroom and kitchen for the domestic worker. One has 2 bedrooms and one has a bedroom and a living area. Suits an expatriate family with 2 amahs and who wants a photography room.
Large bedrooms and living areas and gardens with land of from 10,000 - 60,000 sq ft characterise the 2-storey black and white bungalows in Singapore
2-storey bungalow with 3 bedrooms upstairs
Big garden to the right and behind the bungalow
Master bedroom
Big garden behind the left side of the bungalow
Left side of bungalow showing bedroom 3 and entry porch.
Master bathroom with the most modern appliances and long bath tub.
Large car garage (left), Maid's house & Guest's house (right).
Family room upstairs between master bedroom, bedroom 2 and bedroom 3. Ceiling fan.
Bedroom 2 next to the master bedroom has an enclosed balcony.
Large living room with a small pantry (top, left)
Dining room
Bedroom 2's large bathroom
Store room downstairs. Expect toads and maybe a python or two. Maybe some termites too?
Guests' house with 2 bedrooms behind the master bedroom & bedroom 2. (Picture taken before renovation in Dec 2001)
Maids' house with 2 bedrooms, next to the kitchen. Bedroom 3 (back view) is on top right. Maid's bathroom at one end.
Sprawling grassland of around 30,000 sq. ft at the back of the house, behind the maid's quarter and guest room. Complete tranquility and no traffic noise heard.

During renovation in Dec 2001. Bedroom 3 (top, left) has its own bathroom and balcony behind the window.
During renovation in Dec 2001. Master bedroom and bedroom 2 (right). Huge family room upstairs (top, left)



Modern Singapore bungalows (below) do not have the historical romantic ambience nor the large extensive grounds of black and white bungalows

Living area facing pool
Modern bungalow with small garden, sandwiched between 2 bungalows.
Waterfall cascading down small wall and surrounding tall trees.
The black and white bungalows attract expatriates who has a love of history and nature (as there may be bats and snakes in the backyard). Built by the British colonial masters, they usually have very high ceilings and wooden floor boards. Many of them are rented by ambassadors and have been enclosed for air conditioning. Suits expats who want spacious accommodation and be near nature while enjoying the amenities of a modern city
TO RENT BLACK AND WHITE BUNGALOWS: EXPATS TO NOTE THE FOLLOWING SITUATION IN 2012:

1. Caucasians who grow up with nature and love these black and white bungalows may have to search and make appointments for the best deal themselves as one Managing Agent (PREMAS) rents by tender.

2. To rent the Heritage (Mount Pleasant) black and white bungalows as described in this report, there is no vacancy till possibly Dec 2012. Expats will have to plan ahead and be committed to book these bungalows. E-mail judy@asiahomes.com or tel: +65 9668 6468 to update you and schedule viewing and getting the best rental package for you.

3. The incumbent tenant may demand that the new prospective tenant buy over the pool to favour a prospective tenant who can afford to pay for taking over the pool. He can do that if he markets his property as early as 3 months before the expiry of the lease. Usually he is reasonable as the depreciation of the pools, air conditioners, bamboo blinds and water heaters taken over from the previous tenant is taken into account. Such properties are usually not listed by the managing agent in the early stages and are known by word of mouth.

As at Feb 2012, there is no vacancy till Dec 2012, but some expatriates may terminate their leases prematurely.

MORE DETAILS ON THE LATEST RENTAL OR TO MAKE A BOOKING FOR HERITAGE (MOUNT PLEASANT) BLACK AND WHITE BUNGALOWS:
tel: +65 9668 6468, judy@asiahomes.com


INTERNET AD. Feb 5 03. Cluny Park new modern bungalows in a leafy Botanic Gardens area and a very high class suburb, $32,000. This unit may be available for rent now, depending on vacancy
more condos, page 2
EXPATS/SURFERS TO NOTE:
1. Please CONFIRM with your company and the human resource manager as to whether you are permitted to use asiahomes.com realtors (outside realtors) to book/lease apartments for you. You may have to let your company know that you wish to use outside realtors if you feel you receive unsatisfactory service from company realtors. However many Singapore human resource managers have firm policies stopping you from doing so.

2. Please note that we do NOT provide telephone numbers of Serviced apartments or any of the Singapore condos and developments to expats/overseas callers phoning us wanting to know name/tel of the developer or tenant.

Please do NOT phone 9668 6468 or get persistent/irritated trying to get the tel numbers. Our answering service operator doesn't have them personally. He just takes down your name and telephone number and gets the asiahomes.com realtors to contact you later after finding the rates for you.

Our agents provide a FREE service to expats/secretaries needing serviced apartments without the hassle of booking themselves and doing the paperwork. They contact the operators of Serviced apartments, get the best rate and book for the expats. We don't bring expats to view the units of any serviced apartments unless expats are willing to pay a service fee of S$300. Please try NOT to abuse this service if you just wish to shop around for the lowest rate and then book the apartments yourself or with your own agent.

3. Re-send your e-mail if there is no reply. Asiahomes.com gets 4,000 junk mails daily and these have taken up the allotted space from the service provider. Your e-mail may bounce back to you in such cases.
Asia USA Realty (Singapore) asiahomes.com
Pte Ltd. Website: asiahomes.com.
Blk 1002, Toa Payoh Lor 8, #01-1477, Singapore 319074. Republic of Singapore
Estate Agents Licence No. L3007306B
Salesperson Name/Registration No. Sing Kong Yuen/R030822Z

Asia USA Realty (Singapore) asiahomes.com Pte Ltd


Finding Affordable Homes For Expatriates
Singapore Serviced Apartments Page 1