3-bedroom: Around 2900 - 3000 sq. ft.
3 units/floor
Finishes:
Depending on renovation of each private owner. The living/dining area may be marble tiles or marble tiles in the living and ceramic tiles in the dining area or wooden. Bedrooms parquet. Renovated units may have no balconies. The family area may have a balcony or be converted into the 4th bedroom without closets.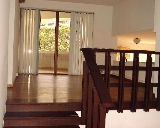 The family area with a balcony makes this condo spacious. Living area (right) and kitchen in foreground.
Facilities:
Upgraded medium-sized swimming pool, children's pool, playground, car park, barbecue area, 24-hour security.
Occupancy Rate: Almost 100% as this Condo is popular with Caucasians. Few new downtown condos have such big floor areas of 3,000 sq. ft.
Investors to note: Freehold. Units renovated to suit Caucasian tastes, are in great demand by older expats who don't need tennis or squash courts or gym.

Very rentable if Caucasian expats do not mind obstructed views from the living room - facing Elizabeth Hotel, Scotts 28 and Trendale Tower.

Certain rooms have clear city views. The family area has been used as SOHO (small office, home offices) by some expats or converted to a 4th bedroom by some owners. If the family area is not converted to a bedroom and has a good sized balcony, the apartment has that open spacious feeling.

Advantages: Location on top of a hill. Higher floors gives an impression of top of the world living with panoramic view of city.
Upgraded pool and new elevators in 2001. Well maintained grounds.

Privacy at 3 families/floor and only one building.

Floor plan suits most Caucasian families. Big family room, bright kitchen, one powder room and spacious bedrooms. Big living/dining area giving a sense of spaciousness.

10-minute walk to Orchard subway and Scotts Road (via short cut past Goodwood Park Hotel) to American/Tanglin Club or Newton subway.
At least 2 major supermarkets within 10 minute walk. Cheaper rental than newer condos. Value for money. Attracts many Caucasians who work in Orchard Road area as the spouse can wake up late and go to office within 15 minutes.

Have been used as SOHO (home office) for representative offices by Caucasians, saving considerably on rentals.

Upgraded swimming pool, good landscaping and looks very clean and (therefore well managed). Neighbours are from the elite class in general. Several buses to Orchard Road, Shenton Way. Many taxis.
Disadvantages:
Inside the Central Business Restricted Zone. You must pay an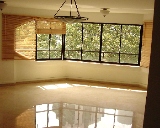 electronic road toll. Lack of unobstructed views for some lower units or units facing the Scotts 28 Condo and The Elizabeth Hotel.

Balconies appeal to Caucasian expatriates but many Owners have had closed up the balconies, either due to rainwater seeping into the living room or to enlarge the living area.

Only pool. No gym or tennis court. Has a big function room, meeting area and playground.

Some units have living rooms face the Elizabeth Hotel rooms - no view and are dark, especially the lower floors.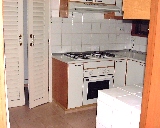 The strategy to attract Caucasian expatriate tenants is to provide a bright kitchen. The kitchen tends to be dark as it is located between the maid's room and the utility area (see picture above, maid's room on bottom right, dining room on left, air con compressors on right) but some Owners have had re-positioned it in the maid's room area so that the kitchen has windows and are brighter.

The powder room is near the main door and should be renovated in light-coloured tiles rather than retaining the glossy mosaic wall tiles.