February 20, 1998 2.30 p.m.
To: Greater China TKO Personnel Inc. California, USA.


RENTAL FOR SIMILAR ACCOMMODATION IN SINGAPORE

Date of visit: February 20, 1998
Time: 9 a.m to 10 a.m.
Tenant interviewed: Mrs. X
Address: Draycott Towers, Draycott Park, #FF-03, Singapore.

Completed: 1980

Total no. of units: 132. Freehold.

Type of units:
studio 122-149 sq m
2-bedroom
3 or 4-bedroom 245 sq m
Maisonette 244,259 sq m
Penthouse 496 sq m, over 5200 sq. ft. 2-level.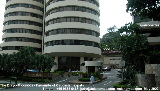 Panoramic city
views. Breezy.

Facilities:
Swimming pool & children's playground renovated in Oct 1997, Security. No tennis court.
3+1 bedroom apartment inspected: #FF-03
Area: 245 sq. metre (approx. 2750 sq. ft).
Finishes:
Living/Dining:
Parquet flooring. Characteristic circular living and dining area.



Kitchen (left) and dining area in an apartment of the circular tower block. The living area (foreground) is also circular.

Bedrooms:
Parquet flooring.
All have attached bathrooms. The master bedroom has a white long bath while the other 2 bedrooms have showers.

Kitchen: Old kitchen cabinets and mosaic/tiled floors for this unit.

Fittings: Built-in wardrobe, kitchen cabinet, Air conditioning system and fans in bedrooms.
Maid's room: Available, with separate bathroom.
Living/dining room: Faces morning sun.
Views from living/dining room: No views, although swimming pool can be seen from right hand side and roofs of low-rise 2-bedroom apartments seen from the left hand side.
Rental: $7,250 unfurnished, terminating in February 15, 1999 (tenancy agreement not viewed as the husband who is overseas). Unfurnished apartment as the wife said curtains in master and one bedroom were the only items supplied by the Landlord. The Landlord is reluctant to supply any other item for this rental but the management and response to problems said to be prompt.
Rental of similar accommodation: The development is considered aged, being around 18 years old. However, as it is well located in one of the most prime areas of Singapore, within a 10-minute walk to the Orchard subway and the tourist belt of Orchard shopping area and near to the American and Tanglin Clubs.
Being a low floor apartment with no unobstructed views of sea and city, it will not attract a high rental or immediate occupancy.

No renovation of the bathrooms, kitchens and bedrooms (others have marble rather than parquet flooring), the rental of $6,000 - $7,000 for this unit may attract some interest from expatriates who want spacious bedrooms and living/dining rooms in Orchard Road area, near international schools but not fussy about the old bathrooms and kitchen.
This is provided that the prospect wants this prime location and does not need the full condo facilities which include gymnasium, tennis courts, squash courts, meeting rooms, games room, library, aerobic rooms and clubhouse.
Rentals from the Straits Times Classifieds (February 18-20 1998)
(see sheet faxed separately via fax machine).
Ref: A. Advertiser said that there are no 3-bedroom units available. If you see his advertisement, it is true as he advertises 4 and 2 bedrooms. The advertiser has converted many of them to 4-bedrooms, asking $9,000 - 11,000 rental, after renovation. Most likely, they will renovate the Xth floor if it falls vacant.
Ref: B. Same Advertiser, different date. Advertises regularly as there are 2 bedrooms vacant.
Ref: C. Ground floor maisonette asking $10,800.
Ref: D. Similar 3-bedroom unit but facing Stevens Road, 7th floor, ending with "-02" asking for $7,500 - $8,000 partially furnished. Not renovated and facing main road, will be nosier. Higher floor.
Ref: E. 4-bedroom asking $11,500.
Ref: F. Fully renovated 3-bedroom asking $10,000.
Ref: G. 2-bedroom, usually 1,300 sq. ft, rentals around $6,000.
Advices:

The tenancy agreement can be assigned but the Landlord may want higher rental or will take over the unit to convert to a renovated 4-bedroom. Newer condominiums such as the penthouse in UE Square (see http://www.asiahomes.com report on UE Square) in similar prime city location have recently been rented for $6,000 - $8,000 and everything is brand new (in 1998).

I have an Owner who has a 2,700 sq. ft 4-bedroom unit in Lucky Towers, Grange Road, willing to rent at $7,000 after renovation. It is within a 10 minute walk from Orchard Road and is in the prime district.

There are many 3-bedrooms but few with the 2,800 sq. ft floor area in a city/central location in Singapore.

Thank you for your prompt reply and consideration. This is an unusual case in that the Tenancy agreement is NOT signed by the present employer but was carried forward from the first employer.

It is possible that the Landlord may accept existing rental in view of the glut of new condominium apartments available or he may want to renovate and convert to 4-bedrooms which cater to a different class of expatriate Tenant – those with $8,000 - $11,000 rental budget.

In the city/central area, there is a shortfall of 4-bedroom spacious apartments with living areas over 2,000 sq. ft. Rentals of such apartments in the Draycott vicinity are over $8,000 (depending on renovation, floor level and spacious living areas).

My conversation with the Landlord yesterday gave me the impression that he would go for conversion to 4-bedroom and this is supported by his advertisements in the Straits Times (Ref: A and B) which mentioned 4-bedrooms and corporate leases, indicating that the Landlord has devised a strategy to cater to the niche asking for 4-bedrooms in prime Orchard area.

This is sensible since he has 33 units (previously all 3-bedrooms) located in a quiet facing, away from the main Stevens Road. Also there are just too many newer 3-bedrooms in Singapore, in which case, rentals will decline drastically in the next 2 years.

Therefore, please consider the possibility of the Landlord taking over apartment for renovations.


---
December 2001 IMAGE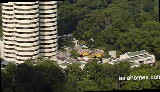 The Draycott circular tower and maisonettes (right).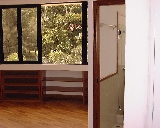 The Draycott 4-bedroom has a very small 4th bedroom.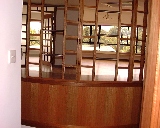 The Draycott has a circular living and dining area.


---

To:
All new-comer Expatriates coming to Singapore. Contact Asia USA if you wish to view The Draycott (ex-Draycott Towers) and get best units.
There are 4-bedroom units available with rentals from S$9,000 - $11,000. Please contact Asia USA (65) 9668 6468, (65) 254 2728 for apartment viewing.
Email judy@asiahomes.com

This condo has been renovated and is extremely popular with Caucasian expatriates because it is next door to the American Club, a 10-minute walk to Orchard subway and shopping malls, near to International Schools such as the International Singapore School and Overseas Family School
The renovated 4-bedroom rents from $9,000 - $11,000 partially furnished.

The unrenovated 3-bedroom rents for from $8,000 partially furnished.

The renovated 2-bedroom rents for around $6,000 partially furnished.
Occupancy rate is almost 100% and most expats are renting the nearby new 330-unit Ardmore Park at around $10,000 as at December 1, 2001.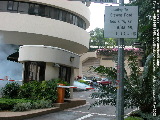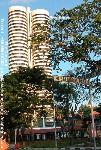 Low density.
Near downtown Orchard Road
Near American Club
Large Caucasian enclave.

Rentals are outdated and have had increased in 2011:
More info at: The Draycott, Habitat I & II in 2000