3 Nassim Road. Completed: 1999, 39 units. Freehold. An upscale condo.

3-bedroom: 171 - 224 sq. m (1841 - 2411 sq. ft)
4-bedroom: 270 - 326 sq. m (2906 - 3509 sq. ft)
Penthouse: 252 - 468 sq. m. (2713 - 5038 sq. ft)

Low rise building in great location: 4-levels only.

Living/dining areas: cream coloured marble tiles. Bedrooms - natural timber strips. Kitchen has stainless steel cooker hood and oven.

FACILITIES
Swimming pool, gym at basement, sauna, BBQ area, covered car park, 24-hours security, spa pools x 2 underground, multi-purpose hall.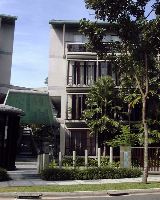 2 images:
Modern kitchen & pool

Wooden louvered windows

Investors to note: Freehold. Easy to rent owing to great location.
Advantages:
Location near Orchard Road and prime high class Nassim area where multi-millionaires and ambassadors live.

Upscale condo with a "wooden louvered window facade" which usually attracts most young Caucasians during house-viewing.

A small narrow balcony is present in most units.
Near many shopping malls and supermarkets in Orchard Road.
Low density. Privacy at sunbathing since there are only 39 units.
4-storey only, not so intimidating as 30-storey The Bayshore Condos.

Disadvantages:
Smaller bedrooms.

There is a "family area" which may be a dining area if the living cum dining area is deemed small for the smaller units.

The bigger 3000 sq. ft may have a bigger living cum dining area and a 5th study room near the main door.

No privacy as most units face each other but you can close the louvered windows which will bring in the air.

Units above the guard post face greenery but will have some traffic from Nassim Road which is a minor road.

Email judy@asiahomes.com for a free house-hunting service.