Asia USA Realty (Singapore) asiahomes.com Pte Ltd
Estate Agents Licence No. L3007306B 19 Mar 2011
Focus: 
We get for you affordable Singapore homes
Rent or Investment
CAMELOT
East Singapore

Tanjong Rhu Road. Land tenure : 99 years leasehold with effect from June 1996. Completed: mid 2000. 99 units.

3 and 4 bedrooms.
Penthouses have 4 bedrooms on level one and a bedroom with an attached bath on level two. A roof top terrace with jacuzzi extends from the upper level of the Penthouse. There are only 9 units of 3-bedroom condos.

Penthouse with roof terrace & jacuzzi are in great demand. Penthouse rentals of 4+1 3035 sq. ft were from $10,000 - $13,000 in 2002. Rentals are closer to $16,000 for the 5000 sq ft penthouses in 2011.

Most Caucasians just love these penthouses or the spacious balconies, usually swept by fresh river breezes and seeing clear and green river ripples make them closer to nature. Most units have no problem finding tenants.

Interiors:
Marble flooring in the living and dining areas and wood in the bedrooms. Walk in wardrobe for master bedroom and wardrobe for all bedrooms. Big balconies from living and dining rooms capture the sea and river breezes.

Private lift. CCTV provided to basement service lift lobbies. The Powder room has no shower. Audio-visual intercom. Proximity card access for vehicles to car park, lift lobbies at basement and pedestrian entrance gates.

The kitchen has a central island counter complete with cooking hob and hood. Yard area has kitchen cabinet with cooking hob and hood. Upper penthouse family area has kitchenette cabinets.

Stainless steel Elba hob, hood, cooker, oven. Stainless steel sink.
Smeg dishwasher. Hot water supply to all bathrooms and kitchens except powder room, kitchenette and wet kitchen and maid's bathroom.

Facilities:
Leisure pool 240 sq. m. Wading pool 30 sq. m. Lap pool 180 sq. m (narrow rectangular pool). A large jacuzzi pool under a roof, 5 sq. m, near the lap pool.

One tennis court. Children's playground near the main pool.
Gym & BBQ area at one end of the lap pool. Steam baths in male and female changing room.
Function room. Landscaped garden with water features.

Advantages:
Waterfront bedrooms and living rooms in some units. Spa pool at roof terrace area for penthouses. High quality interior finishes. Big sundeck beside main pool favoured by Caucasian sun lovers. Within a 10-min drive to Suntec City or the East Coast Recreation Park and beaches.

River Views from the master bedroom of the 4+1 fronting Kallang River. Camelot's bay view units are in great demand. Rentals from $8,000 - $10,000 in 2002. Rentals have increased in 2011.

Type
Sq. ft
A1G
3240
A1
2820
A1P (4th & 5th floor)
5360
A2G, A3G
2723
A2,A3
2433
B1G
3218
B1P (2nd & 3rd floor)
5490
B2G
3186
B2
2842
B2P (3rd & 4th floor)
5500
B3G
3294
B3
2874
B3P (6th & 7th floor)
5500
B4G
3186
B4
2745
B4P (7th & 8th floor)
5113
B5 (4th-10th floor)
2637
B5P (11th & 12th floor)
5048
B6 (4th-13th floor)
2648
B6P (14th &15th floor)
no figures given in brochure
B7G
3025
B7
2626
B7P (14th & 15th floor)
no figures given in brochure
B8G
3531
B8
3035
B8P (19th & 20th floor)
5834
G: refers to ground floor with patio or private enclosed space.
P: penthouse with two floors and rooftop jacuzzi.

FOR RENT

March 19, 2011 For Rent
Advert by Realtor:
1. Mar 9, 2011. Camelot 4+1 3025 sq. ft $13,000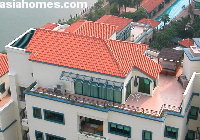 2. Mar 19, 2011. Camelot Penthouse 5+1 5048 sq ft $16,800
New renovation. 2-levels. Rooftop jacuzzi.
Other units available
E-mail judy@asiahomes.com Tel: +65 9668 6468.
TIPS FOR TENANTS

Case written in 2002.
The corporate landlord will test your patience to the limit.

1. "Our lawyer will have to engross the tenancy agreement, not your client's lawyer." said an angry executive of a rental property for the corporate landlord.

2. "He has not replied in writing to our counter proposals to his amendments dated earlier."

3. "He gives us a tenancy agreement printed out in his Europe's office, stamped and signed by his Company. This tenancy agreement has not been engrossed by our lawyers yet." The prospective tenant had downloaded via email the tenancy agreement and to expedite matters, had signed and engrossed it first before sending it to Singapore's corporate landlord.

4. "Tell your client that nothing has been confirmed till we give him the tenancy agreement."

5. "If you don't know our procedures, let us deal direct with your client."

"You don't expect us to give you our lawyer's tenancy agreement within 2 days just because your client wants it."

For most expatriates not experienced in the laws of tenancy agreement, "engross" means "to prepare the final hand written or printed text of (an official document).

In this case, the prospective tenant managed to get the tenancy agreement in an email file attachment and had his lawyer in Europe to read through and download the Landlord's counter proposals. He brought the agreement which had been signed and stamped by his company.

However, the Singapore corporate Landlord was not interested in this efficient action. His lawyer would have to engross the tenancy agreement first, then courier it to Europe and then courier it back to meet the deadline.

Nothing is finalized till the tenancy agreement has been signed. Expatriate tenants are often left to wait as long as 8-12 weeks for the corporate Landlord's lawyers and the administrators to produce the final agreement. The bigger the corporate landlord, the more levels of decision makers that the tenancy agreement with its amendments will need to pass through.

If the prospective tenant email or pressurize the administrator in charge via email or telephone calls, they may get an antagonistic reaction and this may be detrimental to the closure of the case.

The Singapore corporate landlord with one or two exceptions are not nimble (in 2002).

UPDATE:
In 2011, many corporate landlords employ more supporting staff and they work hard, sending e-mails, doing open houses and interact with realtors.

The individual landlord can get a tenancy agreement signed within 24 hours and get the tenant, but the corporate landlord has "procedures" and many bureaucratic layers of busy officials who have to approve the lease terms and the lawyers to vet through.

Letter of Offer. There is firstly, the Letter of Offer from the Landlord. The "Letter of Intent" submitted by the Realtor is usually ignored but used as a basis by the corporate Landlord to produce the Letter of Offer. This may take a few days. The private individual landlord may take a few minutes.

Forfeiture of good faith deposit. One corporate Landlord wants to forfeit the good faith deposit (of one month's rent) if the prospective Tenant disagrees with the term and conditions of the Tenancy Agreement, after signing the Letter of Offer. No Tenant is going to agree to this when he has not even read the tenancy agreement. It is a win-lose situation.

The only solution is to submit both together once the terms and conditions of the Tenancy Agreement have been agreed by both parties.

Bureaucracy. Whether it is the corporate landlord's lawyers or the executives, but you will need several weeks to finalize a tenancy agreement.

Usually the "decision maker" is busy or has gone overseas and therefore is not available to sign the documents.

This delay is a common in most of the Singapore's corporate landlord, disrupting furniture shipping plans.

It causes so much worries that the apartment may not be leased to the expatriate as the offer to lease from the Landlord is "subject to contract".

Take it or leave it attitude. Of course, the process will be faster if the prospective tenant has no objection to any clause in the Landlord's tenancy agreement, but then, the Tenant's lawyers must have their say and amendments too, contributing to the delays.

In conclusion, it is best for the first-time expatriate tenant to be patient and not to contact the Landlord's administrator direct.

Work with your realtor. In most cases, the tenancy agreement will be engrossed by the Landlord's lawyer and the tenant gets his apartment if your human resource manager or lawyer does not throw obstacles or objections in the tenancy agreement.

However, if you really like the unit, be prepared to accept the demand of a 3-months' security deposit instead of 2 months as some corporate landlords will not negotiate on this aspect. Some corporate landlords even want you to pay their legal fees for the preparation of the tenancy agreement!

I can only recommend that expats have a sense of humour to cope with such a stressful situation or look for other units to rent.

For first-time individual Landlords, it is good news that the corporate Landlord is as slow as the bigger dinosaurs. However, many of his executive officers are very good as some do get a small compensation to close the case in addition to their regular salary.

One of two corporate landlords are really prompt and therefore, you still have to be nimble and quick to compete with the big boys!

CAMELOT & PEBBLE BAY CONDOS
Caucasian expats who love cycling by the river and to the East Coast Park and beaches will enjoy this breezy upscale residential enclave.
A 5-minute walk to the Indoor Stadium's supermarkets and entertainment (using a suspension bridge across the Kallang River).

Subdivisions (condo & house details) has some of the details of the advertised condos.
Tel: +65 9668-6468, e-mail judy@asiahomes.com for viewings
ŠAsia USA Realty (Singapore) asiahomes.com 
Pte Ltd.  Website:  asiahomes.com. 
Blk 1002, Toa Payoh Lor 8, #01-1477, Singapore 319074, Republic of Singapore
Estate Agents Licence No. L3007306B
Salesperson Name/Registration No. Sing Kong Yuen/R030822Z

Asia USA Realty (Singapore) asiahomes.com Pte Ltd


Finding Affordable Homes For Expatriates