YOU WANT to rent or buy Singapore homes?
Email details to judy@asiahomes.com or Tel: +65 9668 6468, 6254 3326, 6254 2728, 9668 6469; Fax: +65 6256 0501, 64545 843 for viewing or updates.



INTERNET ADS


Waterfront condos in the East Coast for rent - Jan 2003.
---
Camelot 4+1 3000 sq ft $9,000. Blk 112, 18th floor. Waterfront views. Construction of expressway seen.



The Sovereign 4+1 3305 sq ft $7,500. High floor with sea views .....-02. Dated bathrooms and kitchen.


Pebble Bay 4+1 2600 sq ft $8,500. Lobby H, 8th floor. Low floor. No waterfront views.



Costa Rhu 4+1 2239 sq ft $5,500. Blk 9, 10-09. Waterfront views on left. Pebble Bay condos in distance acrss the field.




Camelot penthouse $10,000



Pebble Bay condos 1-bedroom to penthouses for rent


Nov 12 02. The Palisade renovated, with large terrace and sea views, 3300 sq ft $9,500

River fronting Costa Rhu 4-bedroom with big balcony for rent in Jan 2003

Details of above condos are at:
Subdivisions (condo details).
---
SINGAPORE CONSERVATION SHOPHOMES

OVERVIEW OF CONSERVATION SHOPHOMES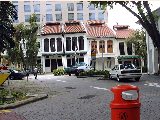 1. Conservation shophomes vary in quality. Most popular ones will be the Emerald Hill conservation shophouses which are within a 5-minute walk to the Somerset subway and Orchard Road. One or two units are available for rent. One of the units in the image was rented to an oil executive for $20,000! Click on image to view bigger image.

Owners do get $10,000 - $20,000 rent for remodelled units as there is sufficient demand from expats who want to experience nostalgia an history in a great downtown location. No condo facilities obviously and no privacy.

Orchard Road, Somerset subway and the Chatsworth International School is a 2-minute walk to the right. Surprising quiet during daytime as the area is off-limits to outside traffic and there are more convenient parking lots at the Orchard malls!.

2. Some of the Cairnhill Road conservation shophouses are quite pretty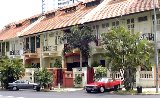 but some are really run down. See image on right. They have a loft or attic room with skylight.

One or two units are available for rent from $10,000. Some owners have divided the house into 2 parts for 2 tenants or 3 parts for 3 tenants but this is not common.

3. The ones in Chinatown area within walking distance to the Outram subway are in demand. They are located at Everton, Blair, Neil and Spottiswood Park Roads. One or two in this area may have wall cracks. Do be careful in the selection. A handful of units are available for rent.

4. One Peranakan shophome in Petain Road has great appeal to Caucasians. 5-bedroom, 4500sq. ft built-in area.
This renovated unit with metallic mesh staircase has a unique one-of-a-kind appeal to Caucasian bankers. This is for rent at $7500 in 2000. Petain Road is north and a 10-minute drive to downtown. It is not near any subway.

5. Kim Yam Road. One big shophouse is available for rent at $13,000. 5-minute walk to Clarke Quay and the Singapore River. This waterfront al-fresco cafe area has great appeal for Caucasians despite on-going construction activities and worries about house security. Unit available in December 1999. One unit for rent at $14,000.

The four remodelled 2 bedroom models renting at $6000 have been snapped up over the past 12 months.

6. Makepeace Road. A recently re-modelled
wood board flooring. 3-level with one loft. Around 10-minute walk to the Newton subway. Fully air conditioned and enclosed air well. Asking rent is $10,000. Brand new. Fully air conditioned and all wood flooring. Large roof terrace. The air well has 2 plantar boxes (see image of air well and roof terrace below).

7. Bugis Street's one bedroom with loft and other areas rent from $2,500 but usually there is no vacancy. Others are at Liang Seah Street, Mohd Sultan Ismail Road, Spottiswood Park Road. Communal kitchen or you have a kitchenette.

BASIC LAYOUT.

Narrow width around 20-foot wide. 2 or 3-storeys. Less than 3 years old if remodelled.

Usually there is no car parking lot in the Chinatown shophomes. The Cairnhill ones may have one lot at the back. Emerald Hill ones have public car parking nearby.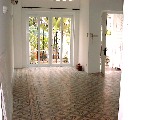 Small garden or patio. Living area goes to dining area and then the back with kitchen, bathroom and store room or maid's room. The living area may be ceramic tiled with old type or just plain modern type seen in condos, (as in the image on left, unit is for rent) or wooden floored. There may be a patio or small garden outside the living area.
Email judy@asiahomes.com or tel: +65 9668 6468
Level 2 may have 2 or 3 bedrooms, usually with wooden strips although some may have parquet flooring common in new condos.
Owners are proud of the "original" wooden strips which are replicas of those in the old days. Bathrooms are modern and so are air conditioners. Click on image to view bigger image of wooden floor strips.


The area near the air well between the front and the back rooms may have a long bath with open windows at the side. It can be a family area or part of the study room connected to the master bedroom.

Level 3, if available may have attic room and high loft with an attached bath and skylight to appreciate the stars with the other signifcant ones.

May have 2 bedrooms. One in Joo Chiat Road has a lounge pool at the back area.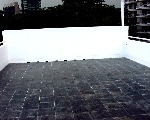 A roof terrace may be present. A jacuzzi bath for those who love to bathe in the public view. Large entertainment area for those who love barbecues and impress friends and associates. This Makepeace unit is available for rent at $11,000.


The air well may be enclosed or open. If open, the living and dining areas are usually cooled by fans. If enclosed, the whole areas are air condtioned. Most homes have a plantar box in the air well area (see image on left).

More expensive ones have water globe fountain. Very few have a koi pond. Unit available for rent.

Renovation cost usually exceed S$1 million. Rent in the Emerald Hill ones are $15,000 - $20,000 per month for the upscale units.

Of all the conservation shophomes and Balinese-style house I have had seen, I like one at Everton Road. The front faces Everton Road. On entering, the living area is separated from the dining area by a display partition. Ventilation is provided by the air from the open air well as the living and dining areas are fan-cooled, not air conditioned.

As from the living to the dining area, there are a few steps on the side to access the kitchen and backyard.

At this side, cascading water flows down the steps into a good-sized koi pond which is the floor of the air well. Bright daylight and air comes into this area.

The nostalgic ambience of the wooden floor strips, the historical past romances you while gently flowing waters and the orange koi fishes calms you after a hard day's work.

The koi fishes will swim to one corner to avoid you as you are a stranger but for the Tenant, they look forward to meeting you.
9. Geylang Road shophomes. Historically, Geylang is known as the red light district. This neighbourhood is being gentrified with at least twenty new condo apartments being built.


Two rows of very beautiful 2-storey conservation terrace shophomes renting from $6,000.



Brand new heritage shophomes for single Caucasians $2,000, 5-min walk to Paya Lebar subway and supermarkets.
Heritage Award winning Conservation bungalow at Geylang, modern 3-bedroom 2300 sq ft $4,000. Five years old only. 2 attached bathrooms. One attached bathroom. Impressive facade and entrance. Side garden for barbecue and entertain friends. Parking lot. Security guard 24 hours



MANY RENTAL PHOTO ADS
CLICK FOR RENT TO EXPATS »

Tel: +65 9668 6468, 6254 3326, 6254 2728, 9668 6469, 9760 6466. email judy@asiahomes.com now!

Asia USA Realty (Singapore) asiahomes.com
Pte Ltd. Website: asiahomes.com.
House Agent's Licence No. AD041-07306B
Blk 1002, Toa Payoh Lor 8, #01-1477,
Singapore 319074, Republic of Singapore

Mobile Tel: +65 9668 6468, 9668 6469
Tel: +65 6254 3326, 6254 2728
Fax: +65 6256 0501, 64545 843
Email: judy@asiahomes.com