Mission of sinpets.com
To specialise in publishing narrative picture pet stories and videos to entertain and educate the time-pressed internet generation to be kind to pets and to all creatures big and small.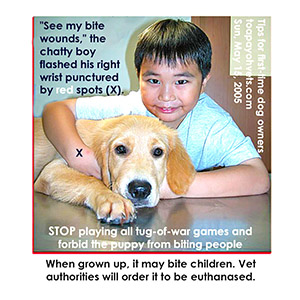 Vision
1. Aims to be the leading how-to book for the first-time pet owner and the pet industry operators in Singapore. Research on current trends and contributions from pet lovers, young people and experienced people in the pet industry.

2. Education features in each book. Best practices. Tips on popular practices in pet health, nutrition and care.

3. Bigger, bolder images, more dramatic layouts and an updated colour palette to make this book more modern.


For archives only:

050827Singapore family parenting stories, published by internet advertising agency for owners & realtors of condo, house, apartments; internet classified ads. Information below is taken from:
http://www.asiahomes.com/singapore_classified/AI_links.htm
Jan 7, 2001. Some links may be dead ones.

LINKS

USEFUL LINKS FOR PARENTS AND STUDENTS

Useful sites for parents:

1. http://women.com/family
Advices from the best-selling book, Doctors' Book of Home Remedies for Children and other info.

2. http://www.parentsplace.com
Includes "Kids Only" bulletin boards and kid-friendly web sites.

3. http://family.go.com
"365 TV-free activities",
"parent problem solver",
"parent's survival guide" for new dads and other info.

4. http://www.bhg.com/
features/parenting.html
10 years' worth of articles from the 75-year old "Better Homes and Gardens" parenting section. One for Singapore parents: the article on defusing tuition trauma at http://www.bhg.com/
guidpags/guidmain.html gives good guide on good toys, computer software and CD roms.
http://www.familyvillage.wisc.edu for disabled children info.

5. http://www.fathers.
com/index.html for fathers and grandfathers.

6. http://www.ala.org/
parentspage
/greatsites/parent.html
More than 700 sites for parents, caregivers and teachers. Pre-school to age 14 kids.
7. http://www.science
videos.com/
California-based firm produces science videos for teachers and parents - kindergarten to 12 year olds.

8. http://www.son-rise.org/
The Autism Centre of America

Websites for secondary school students

A good place to start is:
Association for Science education at: http://www.ase.org.uk
Physics links: http://www.ase.org.uk/
physics.html with 5 subject areas in measurement, physics notes, oscillations, atomic & nuclear physics around the world wide web and links to website reviews.

http://physics.digiweb.com
http://ourworld.compuserve.com
/home-pages/scienceman/ appealing exercises for Year 11 science students.
http://pdg.lbl.gov/cpep-html high energy physics for "A" level students.
http://www.nmsi.ac.uk/
online/electron Science Museum website.
http://www.nasa.gov
/NASA_hompage.html
http://www.ect.hobsons.com Educational Computing & Technology magazine.

1. Singapore's website for Kids
http://www.sg/kids/ has Singapore facts, national symbols, places of interest maps. It has links to:
1.1 http://www.cyberkids.com - games and creative exercises.
1.2 A learning centre with links to 4 sites to help students with their homework.
1.3 http://infoseek.go.com/
Center/Kids?svx=CTOC_Kids
The Go Network is a good entertaining site for children. Links to sites offering help with homework, including Ask Jeeves for Kids, a translator and a customised search engine based on various school subjects.

2. Parenting websites.
http://www.moms4moms.org/

3. When marriage ends, start over again. http://www.divorcedoc.com/
Perfume websites
Singapore's first online perfume store:
www.perfumeville.com.sg
Useful fragrance tips:
http://beauty.about.com/
style/beauty
Perfume allergies:
http://allergies.about.com/health
/allergeries
Collecting perfume bottles:
www.cicat.com/montage

Links Co-operatve

> 380 active members as at Aug 1 00 - A U.K site co-op website, where members spends about one hour per month to provide related links. Register at: http://www.linktopics.com
/hallways/default.asp. If you don't have time, your links will be dropped.


1. Mum & Pop Businesses: You don't need the expensive merchant account to do e-commerce and may be better off getting a third party to process credit card payments. Compare such parties at: http://linz1.net/
eCom/3Pcompare.
html

2. http://www.audioload.
com
Download music for a price.
3. http://www.efusion.
com.sg
Make new friends.

4. http://www.ihive.com/
Companies that need to outsource work to meet service providers and freelancers.

5. http://www.courses.
com.sg
Courses offered anywhere in Singapore.

sinpets.com books
focus on "How To" Pet Health, Nutrition & Care Education Reference Book for children and young adults living in cities and have little contact with animals. Graphics and pictures of case studies and research, teaching relevant information to young pet owners are the unique selling points of the books. Details are www.sinpets.com l

Adverting queries to: judy@sinpets.com, +65 9668-6468.
This webpage: www.sinpets.com

© sinpets.com
Blk 1002, Toa Payoh Lor 8, 01-1477, Singapore 319074
Mobile Tel: +65 9668-6468. Tel: +65 6254-3326
Fax: +65 6256-0501. judy@sinpets.com

Copyright © SINPETS.COM
All rights reserved. Revised: August 27, 2005