0729Singapore real estate, housing, condo apartment "You got Tenant" ad by AsiaHomes Internet.


You got Tenant, Surfer?

---

Singapore Properties shown in this report are for sale to foreigners.

For sale.
Foreigners can buy.
Jewel of Balmoral.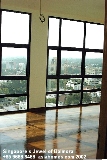 Image of the master bedroom of The Jewel of Balmoral maisonette penthouse with panoramic city and greenery views. Selling $3.1 million.
8 units of The Claymore
for sale from $4 million.

1 unit of Four Seasons Park for sale from $5.8 million.

10 units of Ardmore park for sale from $4.2 million.

Grange 70 at $4 million.
See:
Good condos for foreign investors

Contact: judy@asiahomes.com or tel: +65 9668 6468.

---
Is it possible to stop chain smoking to treasure your everything?

"Shish... Let's keep quiet for a moment," said the American husband as we reached the lobby of The Claymore. His wife and I were deep in discussion on how to close a deal on a high floor unit just inspected on this sunny weekday afternoon.

His wife, a frail looking chain-smoking brunette with blue eyes was quite excited about this apartment and could not stop talking. He did not smoke although I would expect a director of an American multi-national company to do so.

"Honey, you have to get me this apartment. I like it immediately I stepped into the apartment," said Mrs Hazell in a low steady tone.

It was more like a royal decree and no "but you said the same for The Draycott Apartment" reply was unacceptable. She was weary of another round of house-hunting with various realtors.

Both The Claymore and The Draycott were asking $10,000 rent, way above the company budget.

In Hongkong, the husband had a housing allowance of S$19,000 but was now relocated to Singapore which has less costly housing for expats.

Now, why did the husband want us to keep mum at the lift lobby and move to another place to discuss?

He noted that another realtor who had waited to view the same apartment while we were inside, was at the lobby area. He was observant as to be expected of an ex-West Point military officer. He did not want
the enemy to know we were interested.

Not after his wife said matter of factly:
"Kelvin, I would feel depressed if the other realtor closes the deal." Such a powerful sentence.

His wife had earlier wanted him to see a well renovated The Highpoint apartment on a 3rd floor facing a hotel and which rents with an American Club membership but has no balcony. In any case, the Owner's representative of The Highpoint did not respond to paging for 2 hours. He was in Johore.

This Claymore unit was on a high floor and The Claymore has full condo facilities unlike the Highpoint.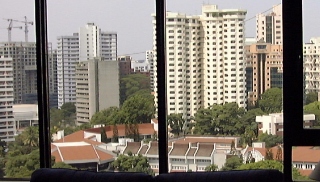 No beautiful views as the living area was facing buildings like the Highpoint, but the interior was tastefully renovated.

White with maroon streaks of Italian marble in all rooms, replacing the dull brown colour of The Claymore's original tiles (see image above).



A timer and thermostat control for the air conditioning of the living and dining rooms. An electrically powered switch to draw open the curtains.

Thoughtfully concealed wire ducting under the floor so that you can use power points at the coffee table area and at the foot of the bed in the master bedroom.

The plaster false ceiling with down lights and track lights at the entry lobby from the private lift brighten the narrow passageway. The dining area had a higher ceiling to vary the height and to accomodate the air conditioning outlet.

The dated rectangular bar counter of The Claymore, taking up so much space (see image), had been eliminated and a cozy corner for hi fi was in place.

The balcony had similar Italian marble tiling unlike the original dirty dark brown tiles. There was space sufficient for a round table and 4 chairs.

What's so important about a balcony? To dine al fresco?

No. The wife felt that she could enjoy smoking outside, without polluting the apartment. She must be concerned for her non-smoking husband who will be affected by secondary smoke. The Draycott, the Highpoint and The Waterside condos have no balconies and were not in competition really.

"What positive factors would induce the Owner to rent to him at a lower rent?" Mr Hazell asked the Realtor.

1. All the beds, dining table and new leather living sets to be removed? Yes, if the Owner needs them. No, if the Owner has no warehouse to store it.

2. They have no children and pets to wear out or dirty the apartment? Yes, it is a good factor for the Landlord.

3. Starting tenancy 2.5 months later? No, I said. Most Owners do not want to wait for than one month. One month was agreed.

4. Providing testimonials of good care of the house in Hongkong. Yes.

5. The Tenant to buy his own American-sized washing machine and dryer, costing $2,200? Yes.

6. Cleaning of the apartment and appliances by the Tenant? Yes.

7. No request for change of the pinkish and blue curtains and the old carpets? The Tenant will install such items at his own expense.

Yes. Provided the carpets belong to the Landlord at the expiry of the lease.

8. A company lease? Definitely a big plus here.

9. A multinational company leasing the unit? Definitely a big plus too

10. A top management position of the husband? Well, it does not matter, analyzed the husband as most prospective tenants would be in the similar position to afford a $10,000 rental.

11. White enamel spraying of the dark brown wall tiles of the kitchen, characteristic of The Claymore, at the Tenant's expense? This will cost money if done by the Landlord. The Landlord does not mind if the Tenant enhances the value of his property.

12. A 3-year lease? Yes, if the Landlord does not think rent will shoot up by the end of 2 years.

It was 1 p.m. He had to go back to more meetings. But the wife comes first. He invited me to a nice French restaurant in the Balmoral Plaza for lunch with his wife. I had to decline as I had to contact the Owner's agent and think positively on how to offer a rent 20% below the asking price.

Would it be hopeless and unrealistic task?
Would the co-broking realtor not be giving priority to this case and would there be a bidding war as in the case of
The Man from Manhattan bidding for his waterfront beauty?. No time for negative thoughts. A letter of intent was faxed to the co-broking agent.

At 6.30 p.m, I was waiting for the co-broking agent at Sheraton Towers together with the expats.

"Richard is a top gun of the ERA," I assured the ex-military husband now in a top ranking position in the civilian sector. Top guns are supposed to be efficient and achieve the missions impossible.

"You are a top gun yourself!" he laughed over his beer at the Sheraton Hotel bar.
"I wish I was." What does it take to be a top gun, I often wondered.

No more request to change the blue carpets as this would give the Owner an opportunity to "think it over". We were asking for a 20% reduction in rental and we tried not to give the Landlord cause for objections.


A request for a T.V and balcony furniture should not be a problem. Mr and Mrs Hazell agreed.

A good faith deposit was essential. The husband did not want the Owner to cash his personal cheque in US dollar till the Company signatories come back to Singapore to get the Company's cheque signed 7 days later.

I told him the Owner had to cash in, otherwise the Letter of Offer would not be valid. There was no consideration (money received) and the Owner might get a higher offer and return his uncashed cheque. Would he want to take the risk? He seemed reluctant to foot the good faith deposit.

The best solution would be for me to issue a cheque and get reimbursement from his company later. He gave me his US Dollar Cheque as collateral.

9 hours later at 9 p.m, the co-broking agent gave me the signed Letter of Intent from the Landlord. He had achieved the impossible target. This must be how he earned his "top gun" badge.

"We had the deal closed?" the husband reiterated from his mobile phone in East Coast's best sea food lobster.

"Yes, yes" I shouted over the static and the sound of waves.
I asked him to have an extra beer at the Jumbo chilly crab restaurant. His wife was jubilant.

How much was the rent? $10,000 was definitely too high. The Landlord considered the $8,000 offer low.

It was $8,300. The Owner saved at least $15,000 of changing the curtains and carpets, a lot of money by the Tenant taking it "as it is".

The apartment had been marketed for $10,000 for the last 2 months and there was a $9,500 offer. However, it was not a genuine offer as the prospect rented a bungalow instead.

For Mr Hazell, his wife was his everything. The human resource manager had not even initiated any employment pass application procedures as he was not expected till October and this was only July 2000.

"You are my everything......... , ..............brown eyes....." (a song) seemed to be specially written for this loving American husband who does not mind using the "maid's room" as his study since The Claymore 3-bedroom was short of one bedroom he wanted. As long as his wife is happy, that's paramount.

"Take an apple a day and you will smoke less, Mrs Hazell"
I had asked her during our house-hunting trip.

It just seemed so sad that all her husband's love of 20 years could be come to nothing if she were to wake up to find she has a chronic smoker's cough and become ill.

She would be able to appreciate the eternal flame and feel the same love by living a healthier life-style.

I could not understand why she would not treasure all his love and enjoy life now that she has no responsibility of upbringing the children and no need to make ends meet.

Well, she has only one life to live and if she has to chain smoke and cough a lot, so be it?


---

House-hunting listings.

Some units are for rent. Tel: +65 9668 6468, email judy@asiahomes.com

Surfers renting out units:

You got tenant?

If not, place an affordable targeted asiahomes.com
internet ad for $13.50 for 90 days, not just one day as in the newspaper. Asiahomes Internet's focus on Singapore housing attract many rental realtors.

A Letter of Intent elaborating the benefits to the Landlord, as in this case, will always help in your closure. . This is a training article for first-time realtors of Asia USA Realty supported by Asiahomes Internet.