0506Singapore real estate, good class unique bungalows, penthouses. "You got Tenant" ad by AsiaHomes Internet.

Last updated: 06 May 2001



Properties shown in this report are for rent to expatriates. Email judy@asia
homes.com
Tel:
+65 9668 6468.

---

AsiaHomes Internet.
supports the BE KIND TO PETS community education project using education and images to promote good care of companion animals.

Case 1. Rabbit with a double chin?


Extensive neck wounds need to be washed daily. Therefore, it is better to tell the groomer to clip off the hairs of a larger area. The new coat will have a different colour tone.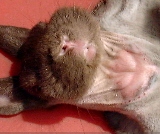 Neck itch likely due to irritation from an allergic reaction to the leash. The rabbit could not stand the itch anymore. Seek veterinary treatment early.

Case 2. Rabbit with a strangulated leg wound.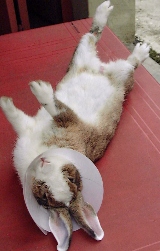 Left hand leg with a strangulated wound caused by the leash which entangled the leg when the rabbit jumped.

This rabbit is an intelligent one and can play "dead".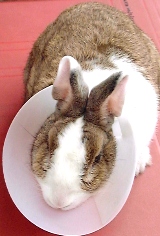 An Elizabeth neck collar prevents the rabbit from inflicting damage to its own body wounds.

Better to seek veterinary treatment early for small wounds as many animals lick their wounds causing more injury and delaying healing.
Unique Singapore bungalows

May 6, 2001. For Rent.
New bungalow with pool $23,000.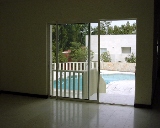 Living area facing pool. Dining area and kitchen, car garage to the right. Basement to the right, below ground. Bedrooms upstairs. CLICK thumbnail to view bigger picture. Note it is 480K bytes.

5+1
16,000 sq. ft land
8,000 sq. ft built in.
Inground pool.
6 unique bungalows with own inground pool built by an Italian master and craftsmen.

2 levels and a big basement room which can accommodate a billiard table.

The living area of pastel brown marble opens to the pool.
Upstairs, there are 5 gigantic bedrooms of wooden flooring. They have their own white foreign branded bath tubs.

The master bedroom has a sit-down bath tub and stainless steel sink.

The kitchen is bright and has a central island table and the best foreign branded stainless steel appliances.

The courtyard is a tiled place of at least 600 sq. ft.

The garage can park 2 cars.

The high class residential enclave is tranquil, yet downtown is a 5-minute drive away.

Competitors.

1. The one likely to take your breath away is: The Glencaird Residences. Asking rent is $25,000.

"Modern" bungalows with the soul and facade, satisfying the American Caucasian expatriate chief executive officer are rare in Singapore. They are usually found in the category of "good class bungalow areas".

2. Condo competitors to the above two "good class" bungalow developments :

2.1 Nassim Woods
Penthouse 5+1 6000 sq. ft $20,000. An upscale 35-unit condo with a bug roof terrace for entertainment, BBQ and jacuzzi bathing on level 3. One bedroom on level 1 and three on level 2. Available in August 2001.

2.2 Ardmore Park Penthouse $35,000. Brand new. May be available in June 2001.

2.3 The Colonnade
Penthouse $30,000
House hunting.
Thursday May 3, 2001

12.15pm
Meet at The Regent Hotel

12.30pm
Futura Penthouse 6+1 8000 sq. ft $19,000
Roof Terrace with inground pool on 3rd level. Close to Orchard subway.

1pm
7 Nassim
Penthouse 6+1 4800 sq. ft $19,000. Newly renovated like a top class resort hotel. No split level in the living and dining areas unlike lower apartments. Light brown marble flooring. White long bath tubs. Large family area. One bedroom off the living area and 4 bedrooms facing greenery. Large attic room with roof terrace. Door step of Orchard Road.

1.30pm
The Draycott
Penthouse 6+1 5600 sq. ft $20,000. Fully renovated 2-levels with guest room downstairs. Most child safe as there is a very small balcony area (BBQ). Panoramic city views all round on 33rd floor. Circular floor plan. Near American Club.

Friday May 4, 2001

1 p.m.
8 Orange Grove
Penthouse 5+1 5000 sq. ft $17,000. lst level has a very large living and dining area with open views. Grey ceramic tiles in kitchen. Great location.
Door step of Orchard Road.

1.30pm
Thomson 800 Penthouse 4+1 5186 sq. ft $11,000. Roof terrace of over 1500 sq. ft on 2nd level. Greenery and reservoir views. Location is not so good as it is a 5-minute drive from downtown.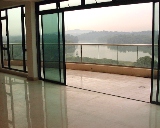 Reservoir views from all rooms.

3.30pm
Avalon
penthouse 4+1 4200 sq. ft $18,000. Living and dining area may not be spacious depending on floor plan. Upscale low density condo.

Nassim Mansions
Penthouse 5900 sq. ft $22,000. A garden terrace off the big living and dining areas. Blood red floor tiles in the kitchen. Sprawling 200,000 land but many condos are dated.

Cost Rhu
Penthouse 4+1 5050 sq. ft $10,000. Kallang River views. 5-min drive to Suntec City. Photos at: Pictures of The Glencaird Residence asking rent is $25,000.

Expats relocating to Singapore:

Email judy@asiahomes.com or tel: +65 9668 6468, 254 3326 to make appointments for viewing.


---

You got tenant, bungalow owner?

If not, place an affordable targeted asiahomes.com
internet ad for $13.50 for 90 days, not just one day as in the newspaper.

You may get the agents to call you and close early so that you can rent out faster and let the tenant pay for your mortgages.

Email your ad to Judy@asiahomes.com now.