Avalon
23 & 25 Anderson Road, completed around October 1999, 82 units, Tower I and II. Freehold.

Features:
Five water features ponds with plants beside building impart a resort anti-stress feeling. Reflecting pool near driveway to basement car park.

Private lift to most units. Pool deck. Greyish-blue lap pool looks cool (see image below).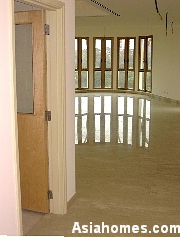 Interiors:
Natural marble flooring in the living, dining areas, bathrooms and powder room.

Penthouse living area
Maple or teak timber strips for the flooring in bedrooms. Built-in wardrobes to
all rooms. Window glass panels are tinted.

Ductless air conditioning in the living and dining areas, split units mounted on walls in other rooms. Audio-visual intercom.


Kitchen.
White counter top, white hood and hob. Bosch microwave cum oven.
An expensive type pinkish double-bowl single drainer
sink.
Light coloured kitchen cabinets with big windows and light.


3 attached baths in 3-bedroom units. Master bath has one white long bath and a shower cubicle. Jacuzzi and bidets in penthouses
Most 2-bedrooms have private lifts. Electronic safe in master bedroom. dimmer light switch to master bedroom, living and dining.

Built-in dishwasher in penthouse kitchen.

The powder room with its natural marble vanity top with one semi-recessed wash basin and mixer tap and cabinets below a looks good. It has a shower cubicle (Type C only).

Advantages: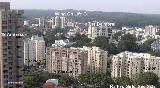 Great location, being a 2-minute walk to the Stevens Road or a 10-min slow walk to Orchard Road and Jason's Supermarket (catering to Caucasian expats).

2 or 3 units/floor with most units having a private lift. Low density, upscale condo, near Orchard Road.
Private lifts to most apartments.


Very few modern 3-bedroom condos have such a large living area and such excellent floor plans for living. You can place large sofa sets in the living area and still have space. Bedrooms are spacious too.

Notes: No balcony.

Facilities:

Swimming pool (25-metre), children's pool, sauna, 4 BBQ pits in BBQ area, tennis court, gym, basement car park, function room, playground and 24-hour security.

Proximity card access control system for private/passenger lifts to apartments and car park barrier system.

Rent asked in 2002:
2-bedroom from $5,500 - $7,000
3-bedroom from $7,000 to $8,000
Type D1 penthouse $17,000
Type D3 penthouse $15,000
Type C2, Tower 1, $9,900
Tel +65 9668-6468, e-mail judy@asiahomes.com for updates in 2012


Avalon, (foreground), off Anderson Road, is near Orchard Road. To the right is the Balmoral Road area (red-roof low No. 1 Balmoral Road condos, off Stevens Road).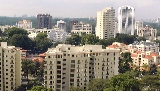 Stevens Road leads to Orchard Road in a 3-min bus ride to the far right of the image.

The tall white buildings in the background is Wing On Life Gardens which have huge bedrooms and balconies.


Avalon Building is low rise. Palm trees and breeze makes one feel like being on holiday. Water feature ponds (not seen) are rectangular ponds with plants beside the Avalon buildings impart a resort feeling too.
Avalon
sq. m
sq. ft
Comments

2-bedroom
Type A1
Tower II
108
1163
Type A2
Tower II
123
1324
Type A3
Tower I
112
1206
no private lift.
Type A4
Tower I
89
958
no private lift.
Type A4-1
Tower I
100
1076
#01-02. PES (Private Enclosed Space) or simply, patio or garden.
3-bedroom
Type B1
Tower II
164
1765
Type B1-1
Tower II
155
1668
Type B1-1
Tower II
164
1765
Type B1-1-1
Tower II
155
1668
Type B1-1-2
Tower II
173
1862
#01-03. PES
Type B1-1-3
Tower II
164
1765
Type B2
Tower II
147
1582
Type B2-1
Tower II
147
1582
Type B3
Tower I
170
1830
Type B3-1
Tower I
187
2013
#01-05. PES
Type B4
Tower I
147
1582
Type B5
Tower I
148
1593
Type B5-1
Tower I
156
1679
Type B5-2
Tower I
150
1615
Type B5-3
Tower I
145
1561
3+1 bedroom
Type C1
Tower II
208
2239
Type C1-1
Tower II
208
2239
Type C2
Tower I
213
2293
4-bedroom
penthouses
Type D1
Tower II
394
4241
#10-05
Type D2
Tower II
422
4542
#10-03
Type D3
Tower I
383
4123
#09-01
Type D4
Tower I
485
5221
#10-05
PES: Private enclosed space or outdoor patio.

Cool lap pool. Wading pool at end, near the umbrella.
Low density and low rise (up to 10 floors) - popular with Caucasian expats. Rents asked are higher. Avalon building is at the junction of Stevens Road and Anderson Road, see Avalon from Balmoral Road going to Anderson Road
Penthouse 4+1 4200 sq. ft & 3-bedroom for rent. Email judy@asiahomes.com or tel: +65 9668 6468 to rent the condos.
---
TIPS FOR ASIAHOMES REALTORS
The internet brings you business

Jan 8 03. Downtown condos $6,000 - $8,000. Prospective tenant procured a chauffeur and had the services of 3 competing realtors to view properties in one day. - a memorable house-hunting case.

Prospect contacted asiahomes directly via surfing. His secretary arranged for the other 2 realtors. This is one of several cases that shows that the internet brings in business to realtors.

It would be impossible to get to know this prospect via his secretary who would have her favoured realtors lined up. Many human resource managers in Singapore have retained realtors and it is practically impossible to get business from such corporations unless the Managing Director or Chief Executive Officer recommends the outside realtors.


Tips for asiahomes.com realtors
Case study

A realtor was given $2,000 by an Owner to advertise a bungalow for sale in Braddell Road but he was not given exclusive rights to marketing. He advertised irregularly with big ads in the Straits Times newspaper once in a while. The valuation price was $5.8 million but there were no takers as the market had gone soft.

Would you advertise regularly and more than once weekly?

One small advert frequently is said to be better than one big advert occasionally, if costs are your concern. Of course, small ads do not get noticed, but then, readers can't miss them if they see them many times.

Much depends on the type of property you advertise and your budget. Many of the above-mentioned condos are described in Subdivisions (condo details)
Rentals are higher in 2012. Tel +65 9668-6468
judy@asiahomes.com for updates and appointments to view the condos

243. Jan 10 03. Brand new Queens condo and penthouses near Queenstown subway for rent
242. 120 Grange Road
241. Dec 25 02. Regency Park 3 bedroom 2300 sq ft, $6,500 4th floor. Available end Feb 2003. Many Caucasian families.
240. Dec 10 02. Horizon Towers 4-bedroom rent $4,000 - $6,000 or sale $1.2M. The Aston, Montana, Mutiara Crest, 7 Claymore Road.
239. Dec 15 02. 1 Holt Road penthouse $10,000. Has a roof terrace and balcony.
238. Dec 902. UE Square 4-bedroom 2200 sq ft with balcony. Rented in Dec 2002.
237. Jan 5 03. Cluny Park new bungalows $32,000
236. Pebble Bay 3-bedroom $5,000. 1-bedroom $3,000.
235. Jan 5 03. 6 Hullet Road, near Somerset subway
234. Jan 4 03. Brand new 8 Hullet Road, near Somerset subway

233. Jan 4 03. Heritage award winning bungalow, Geylang, $4,000

232. Nov 12 02. The Palisade renovated, with large terrace and sea views, 3300 sq ft $9,500