Asia USA Realty (Singapore)


asiahomes.com Pte Ltd - Gifts Department
Last updated: 16 Oct 2004

BENEFITS OF AN ANTI-STRESS ULTRASONIC
BUBBLE MASSAGE HOME SPA
To de-stress, detoxify and rejuvenate your body and mind, the portable home spa shown in this web page is most appropriate for families and women who do not have much time and money to spend on resort and other spas.

The portable home spa provides hydro-therapy and thermal therapy.
When combined with aroma-therapy, it de-stresses spouses who may have neck muscle aches arising from office work or attending too many management meetings, stressed children highly motivated to top the class or are given tuitions to excel academically. Consult your doctor if you have medical problems like diabetes, high blood pressure or heart problems before using the home spa.

THE HOME SPA MAY BE USEFUL IN THE FOLLOWING SITUATIONS - Recuperating from illness/skin disease using aromatherapy n addition to medical supervision by your doctor.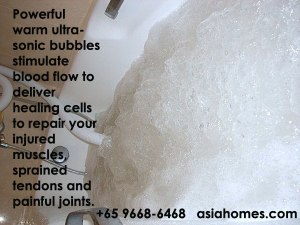 The home spa is sold with the essential oils (various types) made in Germany. The oils will provide homeopathic relief for people who have asthma, respiratory problems or skin problems. However, do consult your doctor for advice and monitoring. Your doctor most likely will not have any experience with the SG-2000 as it is a recent introduction and may be against the use of any spa for skin problems, saying that it will aggravate the problem. You can ask him about the SG-2000. If he does not have any idea about this appliance, his advice will be general. It is up to you to decide and use the spa under medical monitoring.


SELF CONFIDENCE. If you use the home spa daily (before going to work), you will feel good and look good after 3 months. If you have dandruff, you will not find any on your shoulders of you blouse or shirt as the ultrasonic bubble bath removes them from your scalp efficiently. The heat therapy brings increases blood circulation to your face. Your face has a healthy glow (ask your friends). Your eye bags shrink and you just feel. You don't need to buy all sorts of anti-dandruff soap to get a dandruff-free head. You can wear coloured blouses or shirts now. This is the best thing that can happen to a sufferer of dandruff of many years.

BUSINESS OPPORTUNITY. Singapore and overseas readers interested in a trial bath to check out the home spa and be a distributor in their own country.

The uses of the home spa depend on your vision of usefulness to prospects. They can be useful in beauty saloons, medical hospitals, upscale condos developers, psoriasis & arthritis clinics, racehorse jockeys, members' clubs massage parlours and as unique presents. There are several thousand condos and these will have long bath tubs. Penthouses with large roof terraces will find this home spa great to relax at the end of a hard day's work.

Each condo is a prospective user of this home spa. Realtors or entrepreneurs will find that the home spa is a very good recommendation to home owners as they are value for money. Tel: +65 9668-6468 or email judy@asiahomes.com for more information.


---
If your home has no long bath, install a bath tub barrel ($500). You will find that the dandruff has been thoroughly massaged away. You will feel more confident meeting people as you don't have dandruff scales falling onto your shirt and car seats. Your friends will find that you "look younger and better." The bubble massage bath does a facial massage of your face. With use over a month, your face looks fairer and healthier. The eye shadows are not so noticeable and you look good to others. It is hard to believe until you see a person who uses this machine regularly.

You will need to relax, get a good diet, exercised (if possible) and not stressed out by your work, if at all possible. If you have no time to exercise, the home spa use of 15 minutes is equivalent to a 3-5 km jog. Of course, a private gym will be good but most hard-working and hard-driving entrepreneurs seldom have time for exercises. They prefer to shower in the long bath tub than to relax in a long bath as they don't deprive any pleasure from an ordinary soak in a long bath. The home spa will change their mindset.

AROMATHERAPY
Essential herbal oils of 5 - 10 ml are added to the bath tub or barrel. Presently there are 5 types of essential oils manufactured in Germany sold by the company. They are used to de-stress you or make you breathe easier if you have asthmatic conditions, skin conditions like dandruff and psoriasis or joint and muscle pains. A brief description of the uses of various aromatic oils as an alternative non-drug medicine is described below.

Eucalyptus - Room to Breathe.
Latin name: Eucalyptus globulus. Family name: Myrtaceae. It is distilled from the leaves and is imported from Australia. It has a strong camphorous odor. Aborigines have used eucalyptus leaves to remedy many ills. Some traditional uses: for colds, as a decongestant, to relieve asthma and fevers, for its bactericidal and anti-viral actions, to ease aching joints. Avoid if you have high blood pressure or epilepsy. Emotional profile: to help with explosive-heated emotions, irrational thinking. Blends with: rosemary, lavender, marjoram, pine, cedarwood, and lemon.
German Chamomile - Anti-Inflammatory
Latin name: Matricaria recutica. Family name: Compositae. The oil is steam distilled from the flower heads and is grown mainly in Hungary and Eastern Europe. it is no longer grown in Germany despite its name. It has a strong, sweet and warm-herbaceous aroma and is blue in color. German Chamomile has many of the same properties as Roman Chamomile. But, with a much higher azulene content its anti-inflammatory actions are greater. Some traditional uses: to relieve muscular pain, to heal skin inflammations, acne and wounds, as a sedative, to ease anxiety and nervous tension, to help with sleeplessness. German Chamomile should be avoided during early pregnancy and may cause skin reactions in some people. Emotional profile: to relieve hysteria, fear, nervousness, grief, worry; promotes patience. Blends with: bergamot, marjoram, jasmine, patchouli, neroli, lavender, clary sage, lemon, rose and ylang ylang.
Roman Chamomile - Calm Acceptance
Latin name: Anthemis nobilis. Family name: Compositae. The oil is distilled from the flowers grown in the USA. It has a sweet and fruity aroma. Chamomile was a sacred herb of the Saxons. Some traditional uses: to relieve muscular pain, as a sedative, ease anxiety and nervous tension, to help with sleeplessness. Roman Chamomile should be avoided during early pregnancy. Emotional profile: to relieve anger, hysteria, fear, spirit disconnection, grief, worry. Blends with: bergamot, cypress, jasmine, juniper, neroli, frankincense, clary sage, vetiver, rosemary and ylang ylang.
Juniper Berry - Empowering Determination
Latin name: Juniperus communis. Family name: Cupressaceae. Juniper Berry oil is distilled from the berries and is imported from Italy. It has a fresh, pine-needle aroma. Believed to be magical, juniper was used to avert and protect one from evil. Some traditional uses: to energize and relieve exhaustion, ease inflammation and spasms, for improving mental clarity and memory, purifying the body, to lessen fluid retention, for disinfecting. Juniper Berry should be avoided during pregnancy or if you have kidney disease. Emotional profile: for guilt, unworthiness, discontentment, abusive experiences, empathy, defensive behavior. Blends with: vetiver, sandalwood, cedarwood, cypress, clary sage, pine, lavender, rosemary, and geranium.
Lavender - Healing Expression
Latin name: Lavandula officinalis. Family name: Labiatae. Lavender oil is distilled from the flowering tops of the plant and is imported from France. It has a sweet, fresh scent. Lavender has been used for centuries as a fragrance and a medicine. Some traditional uses: balancing emotions, relieving stress, tension and headache, to promote restful sleep, heal the skin, to lower high blood pressure, help breathing, for disinfecting. Emotional profile: for panic, hysteria, fears, insecurity, trauma, worry, burnout, addiction, obsessive and agitated behaviors. Blends with: most oils including citrus, florals, cedarwood, clove, clary sage, pine, geranium, vetiver, and patchouli.
Pine - Nature's Helper
Latin name: Pinus sylvestris. Family: Pinaceae. Distilled from the needles and imported from France. It has a strong, coniferous, woody aroma. Native Americans placed dried pine needles in their mattresses to ward of lice and fleas. Some traditional uses: to ease breathing, as an immune system stimulant, to increase energy, for relieving muscle and joint aches, to repel lice and fleas. Avoid use if you have prostate cancer. Emotional profile: to transform regrets, self-blame, feelings of inadequacy. Blends with: cedar, lemon, marjoram, rosemary, tea-tree, eucalyptus, lavender and juniper berry.
Rosemary - Remembered Destiny
Latin name: Rosmarinus officinalis. Family name: Labiatae. Rosemary oil is distilled from the flowering tops of the herb and is imported from Spain. It has a camphor like aroma. Ancient Greeks and Romans gave rosemary sacred status for its many beneficial uses. Some traditional uses: to energize, for muscle pains, cramps or sprains, brighten mood, for improving mental clarity and memory, easing pain, to relieve headaches, disinfecting. Rosemary should be avoided if you are pregnant, if you have epilepsy or high blood pressure. Emotional profile: for disorientation, indecision, burnout. Blends with: frankincense, cedarwood, peppermint, basil, pine, citronella and lavender.
Bath
Full bath: Add 5 - 10 ml of an essential oil to the tub after the water has finished running. Stir the water to mix the oils evenly. It is best not to use soap - simply the essential oils. Baths are very effective as you breathe the vapors and absorb the oils through the skin.


Cost
One unit is selling in Singapore at S$2,310 inclusive of Singapore Goods and Service Tax.
1 bottle of the aromatic oil of 200 ml - $100.
For more information or a bath trial email judy@asiahomes.com or tel: +65 9668-6468 for more info