Eco-tourism & trekking in Lake Inle
:
Myanmar Travels and Tours
Customised tours, eco-tours for young people and international student tourism

The purpose of the tour is to appreciate the flora, fauna and cultural heritage of Myanmar not tainted by mass tourism. This is the scenic and unpolluted Lake Inle where you see lotus and water hyacinth flowers blossom to their optimal size and thrive as healthy plants.

Lake Inle is in Shan State, 880 metres above sea level. Although it is a tourist destination, it has not been spoiled by mass tourism. This travel is meant to be relaxing and enjoyable, touring in a tranquil and seeing the natural areas of Lake Inle in Myanmar in a leisured manner. This is to allow travellers to know each other far away from the concrete jungles of Singapore.

Not to visit as many towns as possible or go shopping for inexpensive goods. This travel is time out and be one with nature - crystal clear waters of Lake Inle, blue skies, blue green mountains and golden sunset, breathing in unpolluted fresh air. Friendly villagers. No high rises. Peace of mind away from deadlines and the daily grindstones. Spend the night in a 4-star hotel villa with spacious bathrooms, outdoor shower and extremely beautiful waterfront views. Get pampered and receive excellent service and food.
Day 1




Singapore

-

Yangon

by Silk Air. (ETA 9.30 am). Yangon - Heho Airport (ETA 5 pm). Heho-Myanmar Treasure Resorts Inle - (ETA 7 pm). Welcome cocktail reception. Dinner in hotel. Relax and appreciate the star-lit black skies and breathe in the cool fresh night air. No high rises around and no traffic noise. Just tranquil silence to refresh your mind.

---
Day 2
8am Breakfast at Myanmar Treasure Resort Hotel.

9 am. Trekking starts from the hotel with trekking guides. We travel up the hills and previous "tin mines" along tracks used by the hill tribes. Meet and see lifestyle of the hill tribes. View waterfall and power generation from waterfall by hill tribes.

11.30 am - 12.30 pm
Lunch at the 100-year-old Forest Monastery. Meditation for 30 - 60 minutes or appreciate scenery. Elderly tourists can rest here if they do not wish to continue trekking.

Trek continues after lunch. Total trekking hours will be around 6-7 hours including 1-2 hours relaxation and rest on the hills.

6.30pm Dinner at View Point. See Lake Inle and rice fields from View Point.

7.30pm Return to Hotel by boat.
---
Day 3

5-6am Local Bird Conservationist will accompany the group to watch birds.

8am Breakfast at Myanmar Treasure Resort Hotel.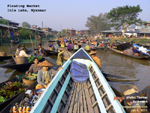 9 am - Relaxing Lake Inle Boat Excursion. Sightseeing. Visit floating farms (tomatoes, other vegetables and fruits). See the native leg-paddling fishermen at work. Ask the boat man to stop if you wish to take photographs of certain scenes.
1 pm - Lunch near the Phaung Daw U Pagoda. Visit the Pagoda - one of the 3 principal shrines in Myanmar. Houses five 12th century Buddha Images).

3 pm - Visit to the Cat Jumping Monastery (160 years old) and visit surrounding villages and the lotus weaving village.

5-6 pm. Local Bird Conservationist will accompany the group to watch birds.

8 pm. Dinner at Myanmar Treasure Resort Hotel
---
Day 4
7am Breakfast at Myanmar Treasure Resort Hotel. After breakfast, visit boat jetty and nearby town area.

Then a drive to Heho Airport to catch a flight to Yangon. Return to Singapore taking the afternoon flight by Silk Air.

---
NOTES
Update of costs will be given during our meeting as much depends on the date of travel to Myanmar. This tour package with good food, transport and internal airline costs (excluding Silk Air costs to and from Singapore) and an upscale hotel stay may cost more than a less luxury hotel accommodation.

The Myanmar Treasure Resort hotel is rated 4 star. The guest room is 800 square feet. 220 square feet for bathroom plus outside shower. The rest areas are Bedroom, living room and veranda.

Please keep your notebooks, handphones and PDAs in Singapore. They may not work in Lake Inle.

May weather. Temperature is around 32-38 degrees C. Rainfall may be present for a short period of time or there may not be rainfall.

Sep - Apr weather. Little rain. Best time to visit Lake Inle.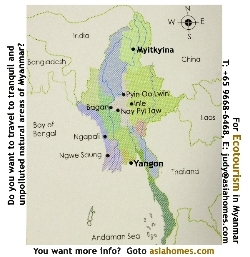 Lots of excellent picture-taking opportunities for amateur photographers.
A few pictures of a custom tour of Lake Inle (taken by Dr Sing Kong Yuen, founder of Design Travel Pte Ltd) during a tour in October 2008 are shown below.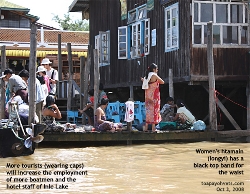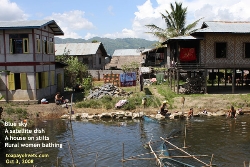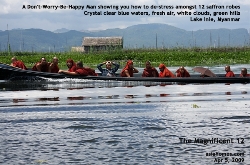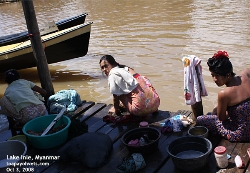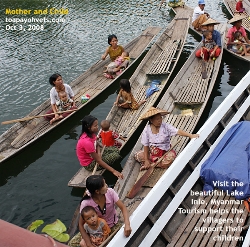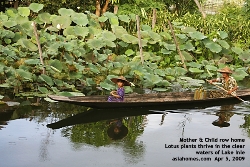 Lotus-weaving village
Lotus plant fibres are used to make fabric. Such fabric are more expensive than the others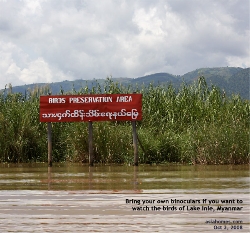 See the spectacular sunset and feel the gentle waves of the tranquil Lake Inle as your boat takes you back to the Myanmar Treasure Resorts, Inle.

Dinner under the stars and moonlight under a black blanket of sky for romantics and young at hearts. Live next to nature. Far from the big crowded, harried and stressful urban jungle of Singapore
Myanmar Treasure Resorts, Inle
is an upscale villa hotel with spacious modern bedrooms and bathrooms. It has open air showers and wooden floor boards in its waterfront villas.

No noisy surroundings. Serene and tranquil surroundings with lotus plants blossoming well. You deserve to pamper yourself at room rates much lower than equivalent luxurious hotel in Singapore.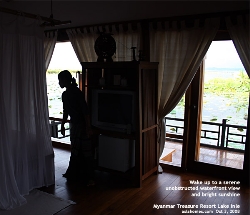 Your ecotourism tour helps to create income and jobs for the local communities
while you learn more about their culture. Flora, fauna and cultural heritage of Lake Inle are the primary attractions of ecotourism rather than shopping. Boat excursion tours on Lake Inle and visit some floating farms e.g. tomato farms and the lotus weavers.
T

his Ecotourism Package Tour will be most enjoyable and memorable for Singaporeans and people who simply love nature and unpolluted environment whether they are younger and for older couples who love walking and slow trekking. You will meet the ethnic tribal people and learn more about their culture. The trekking tour will not be strenuous. Not Mount Everest with its harsh climate.

If you do not wish to trek 4-5 hours but prefer to go on boating excursions, let us know.

The ecotourism is a special interest travel. It is suitable for photography groups from schools/universities and parents who want to create bonding with their children away from the well developed shopping attraction destinations.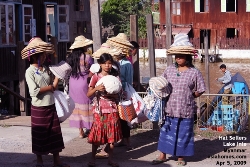 Helping The Villagers of Myanmar to upgrade their standard of living. Your ecotourism tour definitely helps to create income for the local communities and help them earn a livelihood.

Boat Excursions in good weather. Blue skies. Green hills. Clear lake waters. Friendly villagers and farmers of Lake Inle.

Lots of opportunities to take photos of the scenic boat excursion of Lake Inle. Visit vegetable farms and do bird watching. Bring your own binoculars. See lotus weaving village.

To get more info about this tour or forthcoming tours or arrange your personalised travel and tours to Myanmar, tel: 9668 6468, e-mail judy@designtravelpl.com now!

Personalised tours to Bagan, Mount Poppa, Mandalay, Yangon and various parts of Myanmar for travellers who want comfort and good food, better luxury hotel accommodation and services are available. Want to scale ice-mountain climbing in Myanmar? It is possible. To make a booking or enquire further, tel: + 65 9668 6468, e-mail judy@designtravelpl.com now!

Adverts

JOB VACANCIES FOR TRAVEL AGENTS
Experienced tour guides and managers wanted
More information or to book tours to Myanmar:
contact judy@designtravelpl.com
tel/sms +65 9668 6468
Design Travel Pte Ltd
Singapore licensed travel agent TA No. 02035
judy@designtravelpl.com +65 9668 6468