0984Singapore Real Estate, Rental The Lotus Sanctuary, Residential Apartments, Condos, Homes Singapore Classifieds, Internet Property Advertisements published by: Asiahomes
Internet
Owners & Realtors, one direct internet ad contact expats

direct, may save you over $5,000 in agency or co-broking fees. Email your ad to: judy@asiahomes.com, visit Asiahomes Internet

Last updated: 03 Apr 2003

129 - 154 Coronation Road West semi-detached houses
Research supported by Asiahomes Internet.
REFERENCE


RENTALS
Semi-detached.
4+1+1
2900 sq. ft land
3,100 sq. ft built in. $10,600

4+1+1
4000 sq. ft land
3,800 sq. ft built in. $12,000.

FOR RENT

| American School housing
| Bungalows for rent: Sep 18
| Cluster houses
| House-Hunting Rentals
| Penthouses & others
| Recent Rentals
| Serviced
apartments
| Subdivision Rentals
| Unique homes | Upscale, waterfront
condo






District 10. Coronation Road West. Two and a half storey semi-detached houses. 12 units completed in February 2000.
4 + study + maid.

4+1+1
4000 sq. ft land
3,800 sq. ft built in. $12,000.

However, the maid's room is very small.

Very light brown marble flooring in the living and dining areas, open concept kitchen.

The backyard is divided into a small back garden with carpet grass (for your dogs) behind the kitchen. Lush landscaping.




Back garden opens to a beautiful long piece of grassland outside the gate. Good for exercising the dog or just to jog. Note that patches on carpet grass were caused by a big dog.

A tiled back garden for BBQ equipment form the second half of the backyard. An open grille door from this tiled back garden goes to the utility area.

Fans for all rooms except the kitchen. Kitchen is not air conditioned.

Bigger units have a jacuzzi bath tub with wooden platforms at the side of the house, a study room next to the air well which brightens the house

3200 sq ft - 4110 sq. ft (renting over $11,000 per month).


3 bedrooms with attached 3 baths. Master bedroom in front & 2 other bedrooms on level 2.

Guest room with parquet flooring on lst floor in bigger units can be used as a child's playroom or study. The family area on level 2 is very spacious.

Since completion in February, 2000, response had been excellent.

A good example of a housing development that knocks the socks off the expatriate who wants new modern houses.

Ability to attract top rent for a location not near any subway or public transportation but in an expat favoured location of District 10.
UPDATED CASE STUDY REPORT
written in April 20, 2000.

The corporate Landlord opens the market to all rental realtors in Singapore and is responsive to viewing appointments. At $10,000 rental, there are some older bungalows but they don't have the "newness & modern" appeal to many Caucasian families.

One disadvantage may be the lack of parking lots for visitors. No balconies. No fans or air conditioning in the spacious kitchen.

This is a case study of success in renting to Caucasian expatriates.

This report gives tips to Owners who want to invest or rent out their houses to Caucasian expatriates.





Wooden slats theme makes semi-detached houses look good. Apparently, wood was the rage in European architecture in the 2000. Light-coloured tiles for the car porch.
There is no railing on the landing of the 2nd level above the car porch, but residents are not meant to go to the "open" terrace.

The master bathroom of the latest more upscale houses and condos now have a shower stall in addition to the white long jacuzzi bath.

Use a borderless (no white plastic on the joints and edges) if you want a classsy shower stall.

Dual sinks are a big advantage for busy couples who do not need to fight for the use of the bathroom.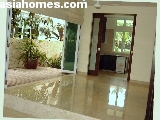 Light-coloured marble flooring, not black granite types are favoured by Caucasian expats. It is extremely difficult to rent a house with black flooring.

Open concept kitchen makes it look bright but some expats with a maid do not like the lack of privacy as the maids will be in the kitchen.

The expats love the wooden boards (left of house). The bigger units have a jacuzzi bath. An air well brings in more natural daylight to the rooms upstairs and natural ventilation although it does decrease the living area. Expats don't like dark living areas and bedrooms.

Glass sliding door at the side of the semi-det brings in natural daylight and ventilation.

A big door, revolving on a hinge, makes the door looks big and unique.

Watering tubes are connected to the plants from a water tap in the airwell and in front. Maintenance of the air conditioning, garden and pest control are provided by the Landlord.