HAMSTERS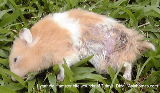 SEPTIC BITE WOUNDS CAN KILL YOUR PETS.

This good conditioned one-year-old hamster looked well after being bitten on the back by another hamster. At the 7th day, it was panting non-stop, indicating a fever and septic blood infection. It died within 10 minutes of arriving at the veterinary surgery. It was too late for treatment. The death was extremely sad for a young lady.

Any fight or bite wound in a dog, cat hamster or any pet must be taken seriously. It is best to consult a vet.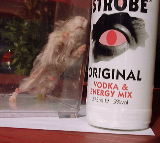 WARTS ON EARS IRRITATE THIS HAMSTER

Warts on the ear lobe tend to irritate this hamster. Several warts develop on the legs and body. Could this be due to a wart virus and stress?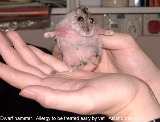 ALLERGIC RASHES CAN BE VERY ITCHY FOR HAMSTERS TOO

This one-year dwarf hamster had a suspected dry feed allergy. After the first outbreak, it was fed on vegetables and was all right for around six weeks. Dry feed pellets were fed. The joints became red and swollen.

It is best to consult the vet as soon as the hamster's joints and lower belly are reddened with inflammation and itchiness.



DOGS

Generalised pustular dermatitis. Pimples all over the body under the long coat. Needs grooming and veterinary attention.
http://www.asiahomes
.com
/singaporehouses/
9159towner
ville_photos.htm

12-year old poodle passing stools too many times was the complaint to the veterinarian. Hungry and thirsty all the time. Check with your veterinarian regarding diabetes in the dog.
http://www.asiahomes.
com
/singapore_bungalows
/9158_
SD_UE_OrangeR.htm

Ear trouble, backside itching, cough and cold? Buying a new puppy? 4 photos at:
http://www.asiahomes.
com
/singaporetpvet/tips
/animal/
9_animal.htm

Vomiting Jack Russell puppy need prompt veterinary attention.
http://www.asiahomes.
com
/singapore_real_
estate_law
/singapore_law/
maids.htm

Well-loved 15-year old Chihuahua survives another hypersensitivity or allergic attack occasionally. Puffy and itchy eyes. Recovered after veterinary treatment. One of the oldest Chihuahua in Singapore.
http://www.asiahomes.
com/singaporerealty
/judy/index.htm

Dog with big 50-cent coin-type wound on fore-leg tends to lick it continually, preventing healing. Consult a veterinarian early.
http://www.asiahomes
.com
/singaporerealty/joice/

Photo case. Are dogs vengeful? What is a dangerous dog?
Dogs must be leased when you walk the dog in public is a requirement by law.

In December 3, 1999, the Straits Times reported one Alsatian and one cross-bred killing a toy breed being walked in the Dalkeith residential area. Now, owners bring a stick when they walk their small breeds. Big dogs do "escape" from the houses when the gates are open and some do go after cyclists and passers-by.
http://www.asiahomes.
com/
singaporerealty/
james/index.htm

Must newly imported puppies die?
http://www.asiahomes.
com/
singaporetpvet/tips/
animal
/9_animal.htm

DOGS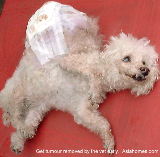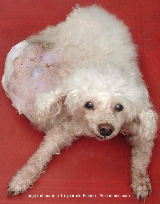 BICHON FRISE CARRIES A HEAVY LOAD

Some Owners may worry that the pet may die under anaesthesia and do not want any operation to remove any tumour. This big tumour can be removed but it is best to remove it when it is small. Consult your vet regarding the dog's health and risks..


CATS

Cats tend to lick its big leg wound continually, preventing healing. Early veterinary treatment will help considerably.
http://www.asiahomes
.com
/singaporerealty/
regina/index.htm

The Terror of Toa Payoh will investigate any meowing to find out who are the new kids on the block. This photo shows bite wounds on the neck. They become septic but a kind Malay woman brought it in for veterinary treatment. For this Terror, it is back to the hawker centre war zone again. What can we do?
http://www.asiahomes.com
/letters/9155thankyou.htm

Photo cases.
1. HDB restrictions on cats as pets - info for expats renting HDB apartments.
2. Do cats have itchy backsides? Anal sacculitis in a cat.
3. Buy older, >3-month old pups
http://www.asiahomes.
com/
singaporerealty/
haneef/index.htm

RABBITS

Rabbits with rough ears, nose, paws and skin. Do not abandon it. The veterinarian can cure this skin disease.
http://www.asiahomes.com
/singaporerealty/
colleen/index.htm

What causes the "crusty skin lump" to grow on the rabbit's nose?
http://www.asiahomes
.com/singaporerealty/
regina/index.htm