YOU WANT to rent or buy Singapore homes?



CLICK

SEARCH. Then email reference number & details to judy@asiahomes.com or
Tel: +65 9668 6469, 9668 6468, 6254 3326, 6254 2728, 9668 6469
Fax: +65 6256 0501, 64545 843 for viewing or updates.
---
MANY RENTAL PHOTO ADS
CLICK FOR RENT TO EXPATS »
Tel: +65 9668 6468, 6254 3326, 6254 2728, 9668 6469,
9760 6466. email judy@asiahomes.com now!


LOCKED ONE ROOM RENTALS AND OTHER HOUSING INFO FOR NEWLY ARRIVED EXPATRIATES



Cul-de-sac houses are in demand by expatriate mothers as child safety is paramount in their minds. However, houses with a pool, in the popular near downtown Newton area, as in this photo, rents from $10,000 - $20,000 depending on its location and condition. The demand is greater than supply although most expats think that there are desperate landlords with lots of vacant properties to rent. This is true of condos, but not good class renovated decent bungalows

Condos like Sommerville Grandeur and Gallop Gables, off Farrer Road, are

favourites with the Caucasian families as they are a 5-minute drive to Orchard Road, less than 5 years old and are near the "Holland Village" where expats congregate for lunch and dinner and the International Schools.
Oleander Towers is in Toa Payoh, a 3 stop and 5-minute ride from the Toa Payoh subway to Orchard Road.

Most expats here are French as the school in Ang Mo Kio 3 is just a 10-minute bus ride.

It is a 5-minute walk to the Toa Payoh subway and is newer and has full condo facilities. Email james@asiahomes.com for the penthouse and other 2, 3 and 4 bedroom units.


Many Caucasian and Japanese expats are living in the Housing and Development Board (HDB) estates although nowadays, the private condos are relatively cheaper in rent than 2 years ago. It is a great way to understand the locals and experience the real Singaporean way of life! Try not to lease a "locked one room" HDB apartment as this may be illegal. A 3-bedroom Bishan HDB apartment rents around S$1,200 per month.

The HDB does not permit leasing of the whole apartment unless it gives an official approval. The authorities allow rooms to be sublet without the need for official sanctions. Hence, the "locked one room" practice is to show the HDB that the Landlord is still residing in the apartment.

It is quite risky for you as you may be evicted if found out. As at August 2000, Landlords are responsible for ensuring that they do not rent to illegals. Therefore, renting one room nowadays entail much heavier responsibility.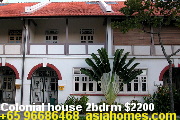 SPECIAL PROMOTION
2-bedroom colonial house $2,200

MANY RENTAL PHOTO ADS
CLICK FOR RENT TO EXPATS
Tel: +65 9668 6468, 6254 3326, 6254 2728, 9668 6469, 9760 6466.
email judy@asiahomes.com now!


I hope this short introduction to Singapore housing is useful. Do let me know if you need more information. I am an email james@asiahomes.com away.
---
Community Education:
BE KIND TO PETS

Proper care makes your pets live a healthy and longer life. Do you think dogs are vengeful? Do they have enemies?


In this case, the Labrador used to bark at the Doberman from within its house. But one day, the Doberman saw it outside the house and pounced on it. The owner could not control this Doberman. The Labrador was savaged badly. It was treated at the veterinary clinic.

The owners could not separate the dogs when they were fighting. Sometimes, it is risky to intervene. However, "BE KIND TO PETS". Get the injured dog treated promptly as bacterial infections of the sound set in overnight in hot and humid Singapore.

BE KIND TO PETS is a community education promoting health care of pets, is supported by AsiaHomes Internet.
© 1996-2001 · Asiahomes Internet.
Affordable Internet Ads for Singapore Owners & Realtors
$13.50/40 words/90days targeted at global expatriates relocating to Singapore. Email your advert to judy@asiahomes.com now!