1213Singapore Real Estate, Blair Road, Niven Road Conservation shophomes in You Got Tenant, shophome owner ad?
Singapore Classifieds, Internet Property Advertisements published by: Asiahomes
Internet


Last updated: 13 Dec 2000



CONSERVATION SHOPHOMES

You Got Tenant, shophome owner?


Why not be first to get your expatriate tenant direct with one affordable $13.50 ad from http://www.asia
homes.com?

Email judy@asia
homes.com for details or tel: +65 9668 6468.
REFERENCE:

Unique Singapore homes for the romantic young Caucasian expats. More reports on Conservation Shophomes.

Oct 11 00: house-hunting for a $5000 conservation shophome.

Niven Road Shophomes: Interiors taken for a European couple.
1. A Blair Road shophome which knocks your socks off. CLICK photo to see bigger picture.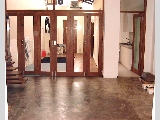 Image shows dining area and staircase with metallic bars. There are squarish night lights along the staircases.

The glass folding doors bring in natural daylight and let guest admire the koi fishes or plants. There is a shower and W.C at the far right. The kitchen with stack up washer and dryer in on the right of the fish pond.

The translucent glass door to the kitchen gives some privacy to the cook.

This Blair Road 2-bedroom, around 2,400 sq. ft shophome with a black and white theme really knocks the socks off of any Caucasian and one western educated South Korean yuppie.

The interior designer renovated to suit Caucasian expats. Plenty of light, many closets, 3 bathrooms, a fish pond (behind glass doors), grey concrete flooring in the living area (in front of glass door) and dining area instead of fanciful coloured ceramic tiles.
White long bath, shower stall in contrast to black granite counter top in the master bathroom.

The master bedroom upstairs, in front, has a loft where you sleep and a space below to laze around and look out.

Bedroom 2 is of a good size for 2 beds or you can use it as a study room. There is a shower stall bathroom at the back. A row of closets with grainy brown coloured doors line the right side, outside this bedroom. One can't resist touching the door laminated cover.

Fully air conditioned, with ducted air conditioning, avoiding the ugly looking hanging split unit blowers seen in ordinary condos.

You may have your own car parking space too.


Rent asked: $8,000.

Most single younger Caucasian expats seldom have $8,000 as a rental budget but there are a handful. Available mid Jan 2001. Don't hesitate to tel: +65 9668 6468 for a viewing.

Email judy@asiahomes.com for updates.

---
2. Niven Road 2-storey conservation shophomes.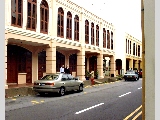 Fully leased as at Dec 13, 2000.

Rent around $4,000.

One unit available in April 2000.
However, there may be break leases. Email judy@asiahomes.com for updates.




Living area near the main door. Quality marble flooring. Staircase separates living area (near main door) from the dining area.
Plenty of natural daylight seeping through from the covered skylight above staircase. Master bedroom in front and 2 bedrooms behind. More photos of interiors at:
Niven Shophomes for a young European couple.

---
3. Three-storey 4-bedroom Niven shophome (right half of image).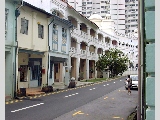 3 bedrooms upstairs, one downstairs. Large balconies on level 2. A big car garage, usually used as study room as cars are too expensive in Singapore. Many Caucasians use these houses for start up home office or representative . One unit may be available at end Jan 2001.

Rent around $6,000 - $8,000
However, there may be break leases. Email judy@asiahomes.com for updates.

Tel: +65 9668 6468. 254 2728, 254 3326.
http://www.asiahomes.com