0909Singapore real estate, housing, condo apartment "You got Tenant" ad by AsiaHomes Internet.


You got Tenant, Surfer?

---

Singapore Properties shown in this report are for sale to foreigners.

Pictures of Wing On Life Gardens



For sale.
Foreigners can buy.
Jewel of Balmoral.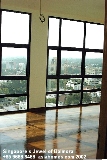 Image of the master bedroom of The Jewel of Balmoral maisonette penthouse with panoramic city and greenery views. Selling $3.1 million. Contact: judy@asiahomes.com or tel: +65 9668 6468.

---
For Sale:

Wing On Life Garden, 335 Bukit Timah Road, 18 years old, freehold 81 unit
condo. Premises and facilities upgraded in 1997. Some individual units have had
been renovated and are very spacious.
4-bedroom 301 - 359 sq. m
Penthouse 643, 655, 707 sq. m

Impressive visitor's atrium flanked by water features.
Swimming pool with a large area to entertain guests,
children's pool, tennis court, 24-hour security, BBQ area, covered car park, gym
of good size, squash court and in-house management. Big playground.

Units facing the main road may get traffic noise but overall, the floor spaces are
spacious and this is a low density one-block condo with excellent views of
greenery on higher floors.
A 5-10 minute drive to Orchard Road or Suntec City/Raffles Place.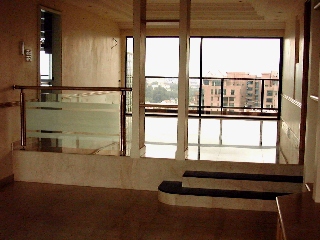 WING ON LIFE GARDEN, above 20 floors. Dining area in background, kitchen on left, bedrooms on right.


"You are damn crazy! Your ang mo (Singaporean term for Caucasian) is serious or not? You shaved off half a million dollars from the selling price and you want me to give this offer to the Owner? I am in a depressed state."

Realtor Valerie's disgust over the mobile phone was palpable on this hot and humid September afternoon.

"There were only 2 sales transacted for District 10, freehold Wing On Life Garden in 2000. $2.9 million and $2.65 million for the approximately 301-307 sq. m apartment on January and April 2000." I said.

As it takes 3 months for caveats to be lodged, any transaction done from June 2000 would not be available in September yet. Unfortunately, the valuers tend to undervalue when there are only 2 transactions. and for loan purposes, the valuation price is important.

Of course, acting as a
Buyer's broker, I try to get him the best lowest possible price.

It was a miracle that I could find the magic words to get him to offer $3 million when he had just been in Singapore for 48 hours.

He wanted to wait till Saturday and Sunday had passed and to decide on Monday. That meant a danger period for me as he would be checking out with other realtors and finding something better.

Valerie countered:
"The transacted units may be unrenovated and on low floors. This unit is on a very high floor (Wing On Garden has 28 levels and this unit is above 20 floors) and had undergone $400,000 renovations with no expenses spared."

Clear unblocked greenery from the large balconies all round. Specially imported pale yellow bamboo wood were crafted into the floor of the bedrooms. Greyish green slate tiles in the dining area.

The light yellow marble tiles in the living area makes it look bigger and the view from here is just lush green trees and some buildings in the horizon. No traffic noise. A tropical tranquility of blackness and some building lights when viewed at night.

Light yellow sandstone tiles for the bathroom walls stand out in contrast against the pitch black granite tiles. The kitchen has the modern metallic hob with an extractor fan for the hood and a metallic wall above the kitchen counter. A built in wine cooler with lots of chocolate too.

The balcony of the kitchen is walled off from the dining area and the views of Shangri-la Hotel and city views were beautiful at night.

The stainless steel metallic sinks in the bathroom add a touch of class, although surgeons will have seen them in operating rooms.

There was also the unique beige type of cereal "wall paper". It is not your typical type of wall paper as it felt like many cotton fibres weaved in pattern and glued onto the wall. You will not find it in ordinary apartments.

The brown louvered sliding doors behind the glass sliding doors to provide privacy (actually redundant in this very high floor) and to let the breezes into the living area balcony were much appreciated by the American prospective buyer. It seems to be the in-thing seen in the upscale Nassim Jade and the Glencaird Residence and in Europe probably.

"Is the selling price non-negotiable?"
I asked Valerie.


"In negotiations, is there such thing as a counter offer if both parties are bona fide?"

She had earlier told the American that the condo was "not on the market".

But don't expect him to believe that. He is in the Asia Pacific sales and marketing business.

Reluctantly Valerie decided to make the long distance call to the Owner.

It was a relief to me as some realtors seem to take low offers as a waste of time and curse me. See:
Can you read the mind of the Owner, exasperated rental realtor?

Co-broking agents:

Life in a quiet residential sales market is extremely difficult and it is likely that you will not be the exclusive marketing agent for the Owner.
As a buyer's broker, I have my own competitors. Just to get a prospective buyer to offer is not easy for me as there are so many choices for him and so many realtors willing to show him anything.

In this case, I have had somehow just found the right words to make the ang mo give an offer at the door-step of his serviced apartment. I had done my part just to get him to make an offer. No matter how ridiculously low it is to you, it starts a dialogue going with the Seller.

Now it is up to you.

An offer is just the beginning of a long process. There should be counter offers.

Give the Owner any genuine offer. If you have a good case of comparative market analysis and can write a good report, you may be able to sell at a counter offer.

Your income depends on closure. Try not to have negative thoughts overwhelm your mind.

Go deep sea fishing or take a break if you reach that stage when an offer is not appreciated. Or get out of the business.



---

Surfers renting out units:

You got tenant?

If not, place an affordable targeted asiahomes.com
internet ad for $13.50 for 90 days, not just one day as in the newspaper. Asiahomes Internet's focus on Singapore housing attract many rental realtors.



Many realtors are disgusted with low offers and just give up. Do remember: An offer is better than no offer. This case was closed within the next 24 hours. This is an educational article for first-time realtor of Asia USA Realty supported by AsiaHomes Internet