You got tenant, exasperated owner?
Can you read the Owner's mind, Realtor?"

"It is a ridiculous offer! I don't want to waste money to phone the Owner in China to give him inform him an offer of $2,000 for his apartment. You said the expat had a budget of $2,300 to $2,500? If the Owner was in Singapore, I don't mind. At the most I get a scolding".

"The $2,000 is an opening offer and the Owner could counter-offer. Did the Owner give you a base rental acceptable to him?" I asked.

"No. I know the Owner would accept $2,400," said the agent.

"Why not let the Owner know you have a prospective Tenant? It will be a corporate lease for 2 years and the expat is a single, without children (meaning less wear and tear) and could pay rent immediately (meaning immediate income).

These were plus points.

I explained this was an opening offer. In any case, there must be a counter offer from the Owner and as an realtor representing the Owner, would he not inform the Owner? Is this a case of a bird in the hand is worth two in the bush? There was a bird in hand and none in the bush in this case.

Many Realtors do not know how to present offers to Owners. It is best to do so in writing, stating the advantages.

A a written report or letter of intent seems to focus the Owner and his co-Owner.

Nowadays, Owners of suburban condos may not find a Tenant for as long as 6 months.

Some prospective Tenants do give a very low offer. As a Realtor representing the Tenant, I am obliged to present her instructions.

How do you then negotiate? This skill seems to be inherent in a person's. Those who don't have the know-how may acquire the knowledge by going to the Library and borrow books on Negotiations.

Was the Owner of suburban condos in a strong position in August 2000? Generally, No.

Was the condo brand new? No.
Has it got marble flooring in the living and dining area? No.

Has it got unblocked views from the living area? No.

Has it got a balcony? Yes, but not a good-sized one.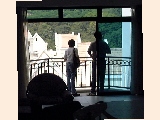 The views of this condo were much better than others but there were the obstructing roofs of the other apartments as seen from the balcony.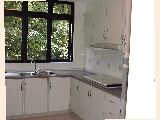 The kitchen window was next to Nature but this expat was a city girl who did not cook and therefore was not excited about green trees. What she liked were the split level of the living and dining area and the balcony. as well as the feeling of tranquility.

Her first choice of another apartment with unblocked views and city lights was not successful. Hence, this case could have been closed if the Realtor were to make an overseas call and get back to me.

The expat would accept at $2,300 but I could not say that to the exasperated Owner- Represented Realtor as I was looking after the interest of the prospective Tenant.

6 days later, the Realtor called to say the Owner would accept $2,200. He was back in Singapore. In that 6 days, a deal was closed on a brand new Parc Palais 4-bedroom (not 3-bedroom as in that rejected offer), 1,600 sq. ft at $2,300 partially furnished.

Much time and money had been spent in advertising and showing the apartment. How much will it cost to make a call to China?

If you could read the mind of the Owner, you would know the feeling of the Owner. But you can't.

In a seller's market, some buyers (tenants) have no qualms about giving very low offers. Do not get irritated.

Therefore, make a trunk call and come back quickly to negotiate and get that closure. The trunk call could be around $20.00 but that closure would have given you $1,150 co-broking fee for a 2-year lease in this case.

---
Exasperated Realtors:

You got tenant?

If not, place an affordable targeted asiahomes.com
internet ad for $13.50 for 90 days, not just one day as in the newspaper.

You may get the co-broking agent to call you and close early so that you have more time to be with your young ones.

Email your ad to Judy@
asiahomes.com now.
Last updated: 28 Aug 2000

"You Got Tenant?" is an education article for first time realtors of asiahomes.com supported by
AsiaHomes Internet.