0507Singapore Real Estate, Unique Bungalows, Detached, Semi-detached, terrace houses. Rental Houses, Apartments, Condos, Homes Singapore Classifieds, Internet Property Advertisements published by: Asiahomes
Internet
Owners & Realtors, one direct internet ad contact expats direct, may save you over $5,000 in agency or co-broking fees. Email your ad to: judy@asiahomes.com, visit Asiahomes Internet




Last updated: 11 May 2001

SINGAPORE'S
UNIQUE HOMES
of interest to the Caucasian expatriates.
Research supported by Asiahomes Internet

House-hunting research reports

Six bungalows you have never seen before
These houses take your breath away
May 6 01: Good class bungalows v. upscale penthouses
Mar 8 - 31 2001 bungalows and others
Feb 23 - Mar 7 2001 rentals
Feb 1 - 23 2001 rentals
Jan 11 - 31 2001 rentals


Dec - Jan-10 2001 rentals
Feb 18 - 28 2001 townhouses & semi-detached
Feb 2001 condos & bungalows
Jan 11 01 bungalows & others
Dec 29 00: House-hunting. 3 bungalows with pool $9,000, $16,000, $17,000
Photo of a modern bungalow.

Dec 27 00 report:
Sep - Dec 2000 bungalows for rent in Districts 5, 9, 10, 11 & others

Dec 16 00: Overview of rentals of good expat favoured bungalows

Dec 2000 rentals.

Oct 14 00: Singapore bungalows $8,000 - $15,000

Sep 18 00: Bungalows & others for rent.
A few pictures of the unique bungalows in a high class residential enclave. Three of the 6 do not have basement rooms.

5+1 bedrooms. 17,000 sq. ft land, 8,000 sq. ft built in. Inground swimming pool plus jacuzzi pool.. Rentals around $25,000 per month.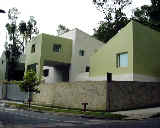 The "green" bungalow in a leafy high class residential enclave of Singapore.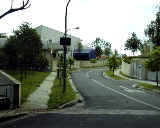 3 bungalows on either side of this road which ends in a cul de sac.

No high rises seen in the neighbourhood.



Another bungalow on ground level. It has no basement. 6.30 p.m on Sunday May 6, 2001.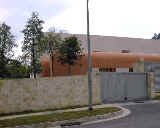 The "orange" bungalow has no basement.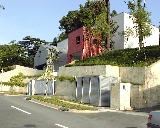 The "red"bungalow has a slope of green grass just like the "blue bungalow.

All six bungalows do not have the traditional sprawling gardens as most of the lower level of the 8,000 sq. ft of built in areas are tiled..

Generous living spaces and pastel colours with lots of natural tropical lighting with least maintenance characterise these 6 designer bungalows.

The road is used by occupants of six bungalows only.


---
New and old bungalows of over 15,000 sq. ft of land, with or without inground pools or big gardens dot the neighbourhood. Rental around S$20,000 per month for most of them. Examples of two newer constructed bungalows are shown below.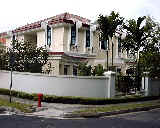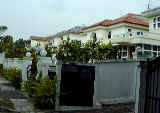 Description of the "blue" bungalow. 8,000 sq. ft of built in spaces and 16,000 sq. ft of land.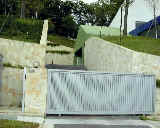 Autogate. A sharp 45 degree gradient slope up to garage for 2 cars for this unit. A large air conditioned bright kitchen with branded stainless steel Gaggenau kitchen appliances and ice maker fridge is to the left and behind the garage. A central island table in the kitchen for food preparation.

The courtyard (blue structure) is large and is on the right as you enter.

You will unlikely encounter snakes as the area is built up such that there is no jungle in this house.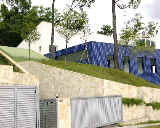 Courtyard (blue) is large and tiled. The "garden" is the grass slope. The huge bedrooms with branded bath tubs are on level 2, behind and above the blue courtyard. There are 5 bedrooms each with their own white bath tubs. Stainless steel sink and sit down bath tub in master bathroom.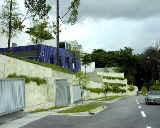 The bedrooms are above and behind the blue courtyard. Maid's room on ground floor.



Master bedroom (2 square glass windows). Dining area (1 square window) below. Swimming pool and sundeck to the right of the dining area. Below the dining area is a very large basement room which can accommodate a billiard table and still has sufficient space. The retaining walls in front is the front of the basement room.

The living area will be behind the pool. Lots of privacy and greenery.

Expats interested in renting the unique bungalows?
email: Judy@asiahomes.com
tel: +65 9668 6468.