Asia USA Realty (Singapore) asiahomes.com Pte Ltd - Singapore Condos, Apartments & Houses
Estate Agents Licence No. L3007306B
28 Feb 2011
Focus: We get for you affordable Singapore homes. Rent or Investment
YOU WANT to rent or buy Singapore homes? Email details of your specifications to judy@asiahomes.com or Tel: +65 9668 6468, 6254 3326, 9668 6469; Fax: +65 6256 0501 for viewing or updates. Email or fax house-hunting form to us at 6256-0501 and we will contact you within 24- 48 hours.
VILLA MARINA, THE ATRIA AT MEYER

& HOUSE-HUNTING FOR EASTERN SINGAPORE CONDOS

Villa Marina

Jalan Sempaden, near Fernhill Tower and Mandarin Gardens. 4-level apartment. Completed in 2000. 486 units.



Facilities:
Karaoke room, roof terrace, 2 BBQ pits, gym, aquagymnastic pool, steam baths, gent's spa, ladies' spa in changing room.


Beautiful big air conditioned club house facing pool. Basement car park.



The pool has water falls. 6 white jacuzzi beds (see image, CLICK thumbnail to see bigger picture) inside water to pamper you.

In each apartment, white jacuzzi bath tubs. Marble flooring in living and dining area. Wooden strips in bedrooms. No shower stall in master bathroom. No balconies in maisonettes. Safe in closet.
White Elba ovens, cooker hood and hob. Use of tank gas, not piped gas.

A shuttle bus runs to the Bedok subway every 15 minutes during weekday as at March 12, 2001.

A 3-minute walk to the underpass, from one exit, past Mandarin Gardens condo, to get to the East Coast Recreation Parks and beaches or the bus interchange.

A short walk to the cafes at the other exit facing East Coast Road. Siglap shopping centre within a 5-min drive from this exit.

A tropical newer resort ambience condo. Suits expats who work near Changi Airport or work from home.

Disadvantage:

Ground floor with tiled patios facing the hot afternoon sun or near the mosque may not be favoured by Caucasian expatriates.

Spiral staircase in maisonettes may worry some mothers with small kids.


Wooden flooring preferred by Caucasians over dark maroon marble flooring. Kids love this spiral staircase!
3 bedrooms downstairs and 1 upstairs.

No balconies off the living area.

Around 30 minutes by bus to Suntec City even if you use the Bus Plus executive buses which do not stop at every stop.



A gate may prevent one-year-old kids from going upstairs, but you may need wire mesh at the side too as they will soon discover they can climb from the side to go upstairs.



Villa Marina has a few maisonettes. They are on the 4th floor. The upper level has a big family area which can be used as a study for the expatriate tenant. The master bedroom and two other bedrooms are on level one.


Entrance (girl in blue) & kitchen door (right). 2 small bedrooms to the right.
Master bedroom in lower right corner. No balconies.
Maisonette on 4th floor. The main door (left), kitchen door (right). Staircase to level 2. Master bedroom at lower right. Very breezy. Note that flooring is wooden strip. Some units have a rich maroon marble flooring. Caucasian expats do love wooden stripped flooring though. Maid's room is too small. Utility area sufficient for a stack up washer and dryer.

On the upper level, there is a spacious bedroom with an attached bath and a large family area. (see image) There is a door opening to a roof terrace which is shared by 3 other families. This roof terrace can be used as a private BBQ area.

The kitchen has an unusually tall floor to ceiling fridge.


For Rent:

One Maisonette with maroon marble flooring facing pool. Attic room with family area upstairs.
4+1 2056 sq. ft $3,800. Tel: +65 9668 6468. Email judy@asiahomes.com



Good-sized attic room with attached bathroom upstairs in a Maisonette.


Bright. Family area which can be used as a study area outside.
Bright roof terrace in concrete for barbecue parties. Use of space is shared by 3 Maisonette families.
Villa Marina's pool villas have views of the rejuvenating Roman-style spas, rarely seen in any Singapore condo.
A huge high ceiling club house facing the pool (right, not visible) impresses all visitors.
Aquagymnastic exercise pool (right) and the gents' and ladies' Turkish steam baths (left). Entrance to clubhouse (top right) and basement car park adorned by climbing green plants.
Big basement gym near the aquagymnastic exercise pool.

The Atria at Meyer
61 Meyer Road.
Completed: Around 1999.

White La Germania cooker hood and hob, piped gas, split level living and dining area, light brown marble flooring in living dining area, audio-visual intercom, light yellow long bath in master bathroom. 2nd bedroom in 3-bedroom unit has an attached bath with shower. No separate shower stall in master bedroom. No private lift as in most Costa Rhu condos.

Facilities: Squash, sauna, table tennis room, tennis court, playground and pool but NO gym as at July 3 2000.

Units ending with #....-02 and #...-03 are more spacious and are 3- bedroom units. Metallic sided elevators and overall landscaping and surroundings give an impression of a modern low density condo which most Caucasians love.

Bus Plus executive bus goes to Suntec City in around 20 minutes.
Research sponsored by AsiaHomes Internet

House hunting case study:
What does the Caucasian expatriate want in a Singapore condo?

The expatriate wants an ideal dream condo. New, low density, low rise, big, more bedrooms, full condo facilities, many expatriates, and affordable.

The year 2003 will see many smaller realtors being wiped out as the prospective expatriate tenants become more choosy, seeing as many as 50 - 100 condos, free of charge, by rental realtors. At the same time, these expatriates use other realtors too, such that it becomes a very expensive business for a small realtor to become a free "tourist guide" showing a few units and getting no closing, in many cases.

If the expatriate knows which condo he wants, as in this case study, it becomes much easier to close, but still you will have to show at least 20 condos if not more and hope that the expatriate has not seen a unit with other realtors.

House-hunting on Sunday July 2, 2000

First house-hunting by husband did not result in a successful closing for The Bayshore, Jaundice in Singapore cats condo as the Landlord could not wait for his wife to come and approve the apartment. His flight was postponed. The Landlord returned the good faith deposit.

Below is a second house-hunting with the wife in Singapore. A German couple with one 14-month boy who just started walking. He was very fast handed and could sweep daddy's papers off the coffee table in the wink of an eye. 2 hours will be the maximum time possible to view apartments when you have a toddler or baby. 3-bedroom condos, East Coast.

Tips for new asiahomes.com Realtors

It gets more difficult to close in 2001 as there are more newer condos available for rent. Too many choices confuse the expatriate. In this case, the German husband wants the wife who liked the low rise Villa Marina condo to live in The Bayshore, Jaundice in Singapore cats where there is a large group of Caucasian families and she will be able to get help when necessary. The full condo facilities, the fully air conditioned club house with a reading room, billiard room, gym, function room, aerobic room, 3 pools, tennis courts, golf driving range and landscaping are very attractive. The wife loved the Villa Marina condo but there would be less Caucasian expatriates there. There are more Caucasian expatriates as at March 12, 2001.

The Tanjong Ria or The Atria are low density and modern condos less than 3 years old and are good alternatives. In this case, the husband has set his mind on The Bayshore and it is the best of all the condos viewed as long as the apartment does not face construction of the Costa del Sol condominiums. Sea views become secondary.

The internet and the property portals have direct listings of owners and it will become much more difficult for agents to represent owners in the rental of investment condos on a non-exclusive basis.

In the next 2 years, agents will need to be more sophisticated and selective and not advertise for owners who advertise for rent themselves.
Property
Room/sq. ft/Rent
Comments
House Hunting Report, 7 April l2003
Eastern Lagoon II
Blk 202, #...-04 above 10th floor.

Spacious grounds as blocks are far apart unlike new condos such as The Bayshore, Jaundice in Singapore cats . Very beautiful sea and ship views from the large balcony of over 200 sq. ft from living area.

No maid's room.
3+1, 1,378 sq. ft
$2,500

Ceramic tiled, separate living and dining area makes this apartment look dated. Renovated bathrooms. Blue long bath.
The Bayshore, Jaundice in Singapore cats Tower 1A #..-01, above 20th floor.


3+1 1,275 sq. ft $2,800

Resort ambience and near the East Coast beaches and parks. Highest number of Caucasians of all condos viewed today. Large glass-top dining table with 6 chairs and big light pink living sets.

Unblocked city views, not facing construction. No balcony. Quiet.
The Bayshore, Jaundice in Singapore cats Tower 1A #..-01, above 10th floor.
3+1, 1,275 sq. ft $2,700
City views but lower floor than above. Big blue fabric sofa set.
The Bayshore, Jaundice in Singapore cats Tower 2A #...-07

3+1, 1,200 sq. ft $3,000
Master bedroom faces tennis court, bedroom 2 and 3 face pool. Not facing construction. Living room has view of golf driving range and playground.
The Bayshore, Jaundice in Singapore cats Tower 2B #...-01 above 10th floor.

3+1. Master bedroom has glimpse of construction of Costa del Sol (right end) on left and sea views which will be blocked when Costa del Sol is completed in 2003.
Tower 3 which houses the clubhouse is seen from living area and city views. Pool views if you look below.
The Bayshore, Jaundice in Singapore cats Tower 2A #...-03, above 25th floor.



3+1, 1,227 sq. ft $3,500

Buyers said to pay an extra $80,000 for the sea views but now, the over 30-storey Costa del Sol will block out all views.

Buffet parties by the pools seem to be popular with residents. Overall impression of high activity of families - Caucasian and local, during this extremely hot and sunny Sunday. The master and 2 bedrooms do not face construction and have beautiful sea, airplanes flying up and green tree views.
Tower 2A has been considered the best block in The Bayshore, Jaundice in Singapore cats . However, #..-03's living room faces directly active construction of Costa del Sol condos.
Tanjong Ria Tower 1 #...-36
(above 15th floor).

3+1, 1,200 sq. ft $3,300

Two blocks, low density.

Very small maid's room of 5 feet 5" long and 3 feet wide.

Unblocked sea & ship views from living dining and master bedrooms. Very little traffic noise when windows are closed.
The wife liked the bright kitchen.
Tanjong Ria Tower 1
3+1, 1,206 sq. ft $2600


Villa Marina
..-02, Tower 8.

Low rise (4 storeys) and resort ambience. Big BBQ area on top of a luxurious clubhouse.


3+store room, 1,410 sq. ft $2,800

Big private terrace 200 sq. ft heated up by afternoon sun.
behind front door. No utility room. Washing machine in kitchen.
No maid's room but a small store room. Completed around 2000. Few Caucasians.



Beautiful resort ambience with water falls and spas. Air conditioned clubhouse.

Shuttle bus service to the subway available every 15 minutes on weekdays.
Fernwood Tower Blk. 28
#...-01
Above 15th floor.


3+1, 1,647 sq. ft $3,500

Suits expats who want space but do not mind the lack of marble flooring.
Ceramic tiles in living/dining area & striking deep blue and "fluorescent-like" green lift doors did not give a good impression.
Value for money.
Has mini-mart and hair dresser. Spacious maid's room. A big storeroom.


Beautiful sea and ship views from living area which has high windows. No afternoon sun. Piped gas.

Dated look after you have seen new condos.


Costa Rhu
Oliva block,
#.....-16 below 5th floor.


2 bedroom, 1,250 sq. ft $3,200
High density, resort and river/sea fronting ambience.

Balcony but no maid's room.


Facing pool although Oliva block units do have river fronting units. Can hear noise from swimmers.
The Atria at Meyer
No balcony. Carpeted.

3+1, 1,615 sq. ft $4,000
One block, resort ambience.
Maid's room of good size.
No gym but has squash court, tennis court, beautiful pool and sea breezes. Table tennis room may be converted into gym if there is management approval.


FF-02 facing pool plus green trees/expressway. Below 5th floor. No traffic noise heard when windows are closed.
RENTAL ADVERT IN FEB 10, 2011

Mandarin Gardens are available for rent.
3+1 2024 sq. ft $4,800.
Breezy with sea views seen from the dining area.
Brand new granite tiles of spacious living and dining areas.
Brand new yellow kitchen cabinets with dark blue counter.
Brand new bathrooms. Master bathroom has a big white bath tub.
Split unit air conditioners in master bedroom which has a big balcony.
Note that the other two bedrooms have a window unit air conditioner.
Tel: +65 9668-6468 or e-mail judy@asiahomes.com for updates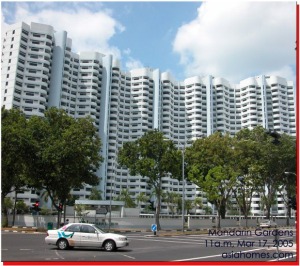 Mandarin Gardens (lef) is a massive development in the Eastern Singapore but the apartments are much more affordable than the newer condos.

MORE LISTINGS
Subdivisions (Other Singapore condos and houses for rent/sale).
E-mail your advert/query to judy@asiahomes.com or tel: +65 9668-6468.
EXPATS LOOKING FOR SINGAPORE HOUSING:
Contact David or Judy at asiahomes.com
Mobile Tel: +65 9668 6468, 9668 6469.
Tel: +65 6254 3326, Fax: +65 6256 0501
Email: judy@asiahomes.com to get a list of housing or to view housing in Singapore or to make appointments to view houses or condos for rent.

ŠAsia USA Realty (Singapore) asiahomes.com Pte Ltd
Website: asiahomes.com.
Blk 1002, Toa Payoh Lor 8, #01-1477, Singapore 319074, Republic of Singapore
Estate Agents Licence No. L3007306B



Asia USA Realty (Singapore) asiahomes.com Pte Ltd
Finding Affordable Homes For Expatriates
SERVICES


PROPERTY DIVISION
Subdivisions
(condo & house details)
VETERINARY & GROOMING DIVISION
TRAVEL DIVISION
ADVERT