1119Singapore Real Estate, Ardmore Point, Rental Houses, Apartments, Condos, Homes Singapore Classifieds, Internet Property Advertisements published by: Asiahomes
Internet
Owners & Realtors, one direct internet ad

contact expats direct, may save you over $5,000 in agency or co-broking fees. Email your ad to: judy@asiahomes.com, visit Asiahomes Internet

Last updated: 11 Dec 2001

ARDMORE POINT
Research supported by Asiahomes Internet


FOR RENT:

Subdivisions: condos & houses for rent



JULY 10, 2001.
FOR RENT.

One-bedroom 1000 sq. ft for rent $3,500. Renovation 100% will be completed in AUGUST 1, 2001. Your own choice of furnishing and lighting.



Living room of a typical unit before renovation. Note high ceiling and upgraded large pool.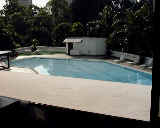 Pool view from bedroom. Additional storage space below bay windows.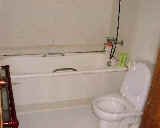 Dated bathroom will be remodeled.



Dated kitchen and utility area will be remodeled 100%. Small bathroom on left.

SINGLE EXPATS who want all new and own choice of curtains and furnishing, a very good landlord guaranteed by asiahomes.com

Tel:
+65 9668 6468 or
email judy@asiahomes.com now!


Competitors:
Newer condos in the Ardmore Park areas but the rentals are much higher.

Newcomer expat: Please contact Asia USA judy@asia
homes.com to help you get the best deal.
1A Ardmore Point.
Completed: 1985

47 units.
Studio:
82-92 sq. m
3-bedroom:
168, 191 sq. m.
4-bedroom:
281, 311 sq. m
Maisonette:
284, 295 sq. m
Penthouse:
417, 419, 428 sq. m. Big roof terrace.

Around 15 studios, maximum 20th floor, one block.

Units ending in "FF-01" are 3+1 bedrooms which are of 2 sizes at 1,800 sq. ft (even-numbered floors) and 2,000 sq. ft (odd-numbered floors).

Units ending in "FF-02" are 4+1 units and are of 2 built-up areas, i.e. 3,024 sq. ft and 3,346 sq. ft. The 3,024 sq. ft types do not have the additional storage space below the bay windows in the master bedroom & 2 small balconies as the 3,346 sq. ft type.

Penthouses are of 3 floor plans. Around 4,500 sq. ft. 3 levels with bedrooms in level 1 below, immense separate living and dining room in level 2 and roof terrace of at least 1,000 sq. ft level 3 with panoramic city views on 20th floor.



Big roof terrace for the penthouse

Ceilings are unusually high approximately 50-100 ft high.
Finishes: Living and dining - ceramic tiles unless renovated. Bedrooms -parquet flooring. Singapore Cable Vision available.
Facilities:
Swimming pool, tennis court, squash court, children's playground, covered car park, audio-intercom system only, 24-hour security. No gym. Koi pond. putting green.

A $300,000 upgrading of the common areas and the pool was done in 1999/2000.

The guard sits outside the elevators unlike most condos where guards are at the entrance.
Occupancy Rate: Estimated 90%.

Extremely popular with Caucasians owing to great location, space and high ceilings.

4+1 renting for around $8,000. 1-bedroom if renovated, rents around $3,000 partially furnished.
Investors to note: Freehold. A one-bedroom was sold at around $900 per sq. ft in 2001. Some investors buy this condo in the hope of large capital gains on enbloc sale.

Advantages:

Great location near Orchard Road. 1-minute walk to the Shangri-la Hotel and 4-min walk along Orange Grove Road to Orchard Road. Around 10-min walk to the American Club.

Spaciousness and high ceilings. A distinctly separate family room area is present to the side of the big living room in 4+1.


Extremely popular with Americans & Europeans owing to location within a short walk to the American Club and Orchard Road in a 2-min walk. Bigger areas and high ceiling compared to newer condos.
Value for money.
Building looks grey and white but clean-looking. Condo looks well-maintained.
Many buses/taxis from nearby Orchard Road.
Low density. 47 units only.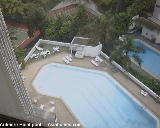 Big swimming pool, no crowds

Big bright kitchens.
Disadvantages:
Not modern in that living and dining areas have only ceramic tiles and bathrooms are multi-coloured in many older units!

Some newly renovated units with white ceramic tiles look good.

No gym which means that energetic expats will not take this condo.

---

Having problems renting your condo?

Why not pay $13.50
to advertise in www.asiahomes.com.
Expats relocating to Singapore use this website frequently as a starting point as it is full of information and photographs on Singapore rental housing.

You have 90 days and 24-hour exposure of your property direct to other prospects including realtors. Email judy@asiahomes.com