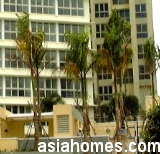 North, 5-minute drive to r downtown Orchard Road.

Lorong 1 Toa Payoh
Freehold. 384 units, 30 stories.
Completed: March 2000.

PICTURES:
Trellis Towers, photos 2-bedroom
Trellis Towers: gym facing pool

Studio: 51 sq. m. Expect the living and dining area to be small.
2 bedrooms: 66, 78 sq. m
3 bedrooms: 106, 108 sq. m
4 bedrooms: 138, 153 sq. m
Penthouse:
311, 450 sq. m.

Expats who want big roof terraces. However, the bedrooms and the livinga areas are relatively small. The master bedroom can fit a queen-sized bed but not a king-sized bed with two bedside tables. The rent of the penthouses are around $8,000 and are of interest to expats who want big roof terraces of over 50 sq. m.
Interiors:-
Living/Dining - polished marble.
Bedrooms - laminated floorboard with timber finish. Kitchens can be quite small. 3rd bedroom in the 3-bedroom units may be very small.
Facilities:
Swimming pool, children's pool, gym, tennis court, playground, sauna, jacuzzi pools, covered car park, golf simulator, outdoor exercise station, BBQ pits, games room, karaoke room, 24-hour security. The big lap pool has no depth, being around 4 feet deep throughout the length.

Competitor:
The only competitor is the other private condo, Oleander Towers which is a short 5-min walk to the Toa Payoh subway too.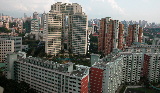 A 5-minute walk to the Toa Payoh subway and 3 stops to Orchard subway. Rent not as high as downtown condos, yet you are near downtown within 5 minutes by subway ride.
A vibrant town with at least 5 McDonald's!

Formerly known as "The Chicago of Singapore" but no more triads and mobsters in sight.

The French School is within a 10-minute bus ride.
French families and single expats working in Thomson Road or Novena area and are on local pay terms will be interested in this new condo.

Some Caucasian expatriates dislike the high density, pre-fabricated slab block condos. Others dislike the road facing units and the nearby HDB apartments which almost encircle the Trellis Towers. Toa Payoh is the oldest HDB housing estate in Singapore and the highly built up areas are to be expected. Rentals are lower though.

The location is surrounded by high rise apartments and there is a much higher percentage of Singaporeans staying in Trellis Towers and Oleander Towers compared to downtown condos.

The advantage is proximity to the Toa Payoh subway and downtown. More younger Caucasian expatriates are seen residing in this Trellis Towers and the neighbouring Oleander Towers.