DIRECTORY OF SINGAPORE'S PRIVATE VETS
16 September, 2003.
0615Singapore Fox Terrier capped elbow pet health and welfare educational for animal lovers, excerpts from Tips For Pet Lovers, sponsored by AsiaHomes Internet.

The Fox Terrier has a capped elbow.

Do you believe that related events happen in threes?

Recently, two pet owners complained about their dogs having elbow sores. One Labrador mix had a bad brown and wet sore and had been licking the skin of both of its elbows.

Dogs do traumatise their elbows as they lay on the rough floors anywhere. The elbow skin will be injured as some dog just flop onto the floors. A bit of skin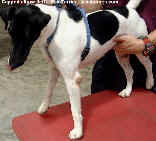 abrasion and some infection. The dog licks at it continuously and soon the sore becomes bigger and wetter. Both elbows were affected. Washes, protective creams and more care to prevent maggot infestation would be needed for such dogs as Singapore's flies lay maggot on the wounds in dogs.

Elbow sores are common in big dogs and owners seldom take notice of them. The third case of elbow complaint came in on a quiet and grey clouded Christmas morning. This was a "capped elbow" rather than an elbow sore and occurred in only the left elbow. The fluid inside the elbow joint had been produced more than normal and causes a soft and large swelling.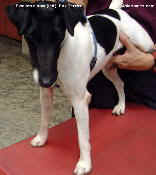 Capped elbows in racehorses and active dogs are uncommon and the veterinarian is always excited to encounter a rare case.

"Did your dog usually drop onto his left elbow area when lying down?" I asked the Owner. He did not know. This was a very active Fox Terrier, always on the go and a restless soul.

"Would surgery guarantee that the capped elbow will not recur?" the Owner asked.
There was no guarantee. The capped elbow was not bothering the Fox Terrier, said the Owner. The success rate in the surgery of the capped elbows in racehorses is not very good and this will apply to the dog too. What causes the synovial membranes of the elbow joint to produce more lubricating fluid to swell up the elbow joint? It may be trauma.

If the swelling bothers the dog, it may need to be operated on. The Fox Terrier did not need an operation and was happy to go home to enjoy its Christmas.

Pet owner education card No. 7 - Stray Cats Volunteers - Feeding is not enough. De-worm, vaccinate, treat their illness and de-flea them to give them a higher quality of life.
©

ASIAHOMES.COM

SEP 12

2003.

Asiahomes.com INTERNET ADVERTS - SINGAPORE KITTENS & PUPPIES FOR SALE/EXPORT AS AT 16 September, 2003. asiahomes.com/kitten.htm. Puppies for sale at: asiahomes.com/puppy.htm

BE FIRST TO GET A HARD TO FIND GIFT for your best friend !
Hills' Fashion berets for dogs and people (top quality Merino wool from New Zealand) for sale. Fashion buyers, hoteliers, airlines, pet shops, goto: asiahomes.com/berets.
YOU can prevent
costly & painful diseases.

Vaccinate and
get your vet to examine your pet yearly.


ENQUIRIES: 9668-6468, judy@asiahomes.com

---
DIRECTORY OF SINGAPORE'S PRIVATE VETS