The hamster has a sticky eye

"The hamster cannot open his left eye," Ms Hamzah said. "Some sticky thing had glued his eyelids. Is he blind?"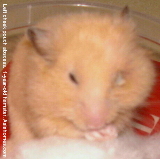 The Golden hamster was busy rubbing his left cheek back and forth and his continuous scratching of the cheek had caused some hair loss in that area. He was irritated by some itchiness in that swollen left cheek.

"What is the problem with my hamster and is there a cure for his big swollen cheek?" Ms Hamzah enquired.

I held the hamster by the skin on his neck to have a closer look. He was very energetic and did not like me to hold him.

"It is common to have sticky pus in a sick hamster," I replied. "In this case, there must be a bacterial infection in his left cheek pouch which holds and stores all his seeds and food."

"Could durian cause this problem as he loves durians," Ms Hamzah asked. "Eating too much durian can cause heatedness and sore throat." It is a local Singaporean belief that too much consumption of the durian, a strong smelly fruit with spikes, would lead to sore throat and loss of voice. In this hamster's case, Ms Hamzah believed that would cause a sore eye.

I did not believe in the concept of "heatedness" till I had suffered from sore throat one time when I ate durians for several days. I just lost my voice and therefore am a believer in the heatedness concept of excessive ingestion of too much of a good thing.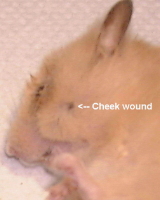 As for durians causing this hamster's condition, I did not agree that this was possible. But there are always new incidents to discover.

Now, what should I do with this hamster?

"A soft swollen left cheek indicated it was infected with pus," I explained to Ms Hamzah.

"What is pus? How did it happen?" Ms Hamzah asked.

"Pus is the sticky yellowish discharge formed as a result of the body's white blood cells fighting against bacterial infection. It is usually yellowish in colour like those in face pimples." I said. "In this hamster, he could be bitten by the other hamster as there seemed to be a wound in his cheek."

The hamster could smell a different environment and was restless. It would be best to examine him under gas anaesthesia as too much handling might stressed him and he might just die of heart attack.


A light anaesthesia should not kill him. There was no other way to open his mouth to examine his cheek pouch. I put him into the gas container for less than 60 seconds. Once he was not so fidgety, I took him out to check his mouth.

Was there a necessity to incise the skin of this swollen cheek pouch and release the pus while the hamster was under anaesthesia and not suffering from pain? This would be the standard procedure.

I looked at the limp body. A small blob of greenish yellow pus oozed out from inside his mouth. In this case, the abscess had burst on the inside surface of the cheek pouch and therefore I needed not do any incision on the outside skin of the cheek pouch.

This was the advantage of anaesthesia which immobilised the hamster to enable me to examine the hamster properly. The hamster must have tried to get rid of the pus with his hands and in the process, had rubbed the pus onto his left eye lids, sticking them together. He felt more irritated but could do nothing. He stopped eating and would have died of starvation and infection.

I massaged his left cheek pouch to express out more pus. The pouch was deflated soon. I swabbed off the sticky pus of his left eyelids and his black protruding eye was not infected. He could see clearly now.

It was kind of his owner to bring the hamster for treatment early. Under anaesthesia, I could see that the hamster had overgrown front teeth. The front teeth grows daily unlike human teeth and they have overgrown because the hamster was not using them to chew his seeds for some time. The infected cheek pouch would be painful for him to eat well. Now, what should I do with his overgrown teeth?

I used a clipper and trimmed them short. He should be able to eat normally now. The hamster recovered from anaesthesia quickly. He was given antibiotic injection and a bottle of eye drops. As to why he got his left cheek pouch infected, I could only
guess that he was bitten by the other hamster as there was a skin wound but this scab could be due to his pawing at the painful cheek. A sharp seed could have penetrated his pouch lining and bacteria colonised the cheek pouch forming pus when the immune system's white blood cells attack them.

Nobody knows the cause but Ms Hamzah was happy that her hamster survived the cheek pouch infections in time to celebrate Hari Raya Puasa.