SURGERY HOURS:
*10 a.m - 5 p.m (Mon - Sun, except Sat). Dr Sing Kong Yuen. By Appointment Only.

*6 p.m - 10 p.m (Mon - Fri). 10am - 5pm (Sat). Dr Jason Teo. House-calls available.

Appointment preferred.
Tel: 6254-3326, 9668-6469
EMERGENCY
11 p.m to 6 a.m
Dr Teo
Tel: 9853-1315,
9668-6469, 6254-3326
judy@toapayohvets.com
Fax: +65 6256 0501
Hamster Anaesthesia and Surgery in 2001
Case recorded: Dec 18, 2001
Update: Sep 16, 2008
Dr Sing Kong Yuen, BVMS (Glasgow), MRCVS

The hamster has a swollen eye


"My hamster bites," warned Ms Tan as she put on two pairs of cotton socks to use her hand to take her hamster out of the carrier. She had to restrain her pet for examination of a swollen and half closed left eye.

The hamster moved all the time, up and down Ms Tan's hand, squeezing away nimbly from her grip. As it wriggled towards her arm, she quickly pushed it towards the protected hands area to avoid being bitten. She must have been bitten a lot of times.

"It has a cut below its left eye," I said. "It had rubbed its sore and you could see a swollen left eye area without any hair. It was trying to relieve itself of the itch."

"How old is the hamster and how long had it been rubbing its left eye?" I asked. The older the hamster, the more risky it will be to anaesthesize it for treatment.


Ms Tan said "It is two years and nine months old and it just has this swollen eye."

This was a sprightly ball of geriatric dynamite and in good bodily condition. Most dwarf hamsters seldom live that long and Mr Tan could not believe it was that old. A quick phone call to his wife confirmed the age.

Definitely, it would be impossible to inject it with the anti-itch and antibiotic injection as it does not stay still for a second.

We could wrap it round a towel but it would still wriggle out. Maybe it would just die suddenly of fright and this would be traumatic for the ten-year-old Ms Tan and her slightly older cousin Elsie.

I could put it under a gas anaesthesia so that it would stop moving and then inject it. What if it dies of stress under anaesthesia? Should I warn the young owner of the risk? She might start to cry. Should I just leave it alone and gave some medication? Most owners find it difficult to medicate a dwarf hamster. Based on its general appearance of good health, the risks would be lesser. I recommended a gas anaesthesia.

"How much it would cost?" asked Mr Tan. He had taken some time off to bring the pet to a vet who was open at 5 p.m on this Hari Raya Puasa day and had to rush to celebrate the breaking of the fast with his Muslim friends.

"Fifty dollars for the gas anesthesia, the consultation and treatment," I said.

The two cousins said "wow". It was two times more than the cost of a new dwarf hamster.

The general practitioner charged around fifteen to twenty dollars for a consultation and medication of a common cold in human beings. I said nothing. Mr Tan agreed to the fee.

The hamster was put into a small plastic container padded with cotton wool. It was given a whiff of the anesthetic gas. "A strong smell," said Ms Tan covering her nose as I put in the anaesthetic soaked cotton wool into the box.

"Will it suffocate inside this box?" asked Ms Tan.

"No," I said. "I will take it out once it stops moving." I thought it would be good to educate the pre-teens on how a hamster was anaesthesized and reinforce their love and care for small animals by their active participation in veterinary anaesthesia.

After ten seconds, I took out the half dazed hamster, put it on a table and searched for its skin to inject it. The cousins were watching like a hawk. Suddenly the hamster moved, extended its head and the two girls screamed loudly.

A shrilling scream of worry in reaction or in anticipation of the hamster biting or escaping?

My heart missed two beats. I pulled back my injection hand in a reflex action. What were the girls screaming for? It is natural for females of the homo sapiens to scream when they get surprised but then I did not know human psychology, being an animal doctor.

The hamster was not fully knocked out to minimise the risk of death under anaesthesia. But it should be just right for the antibiotic and anti-inflammatory injection. It moved and it would bite soon and I guessed the girls were worried. Or it was just their personality. This scream could be distracting for a vet attending to a biting hamster.

"I guess you girls must go outside the operating room if I have to do my job properly," I said as I banned them from watching and asked them to go into the consultation room to wait. It was more traumatic to them. I put the hamster back into the container to give it another whiff of the anaesthetic gas.

As the hamster just closed its eyes, I took it out and injected it. Then I put him back into the plastic container to prevent him escaping and falling off the surgery table. "No more dusty wood litter or pellet food for the next ten days," I said as I put an eye drop onto this hamster's left eye and put tissue paper into its container. The hamster was already moving just after the injection.

The cousins changed the tissue paper as the hamster had just passed water. "It would be best to leave it alone just after anaesthesia," I said. "It may just die of heart failure."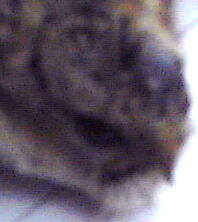 The hamster soon recovered as if it had a short nap. The cousins went home happily. They knew that the dwarf hamster may have only three months of its life span left as dwarf hamsters seldom live more than three years. Nobody knew what caused this facial cheek wound as the hamster was living alone. There were no sharp wires inside its cage.

What will happen if this hamster was not given an antibiotic and anti-itch injection? Most likely, it would rub and rub its left eye till the whole area loses more hair. Then the ulcerated skin would get infected badly. It would then lose appetite as it developed bacteraemia, an infection of the blood by bacteria.

By then, it will be too late to do any treatment as it will be too sick to survive. The vet will then be blamed for killing the hamster after the injection.

I wonder how such affected hamsters will survive in the wild? Most likely they will not survive such itchy wounds. They would rub the wound till it became sore and festering. Bacterial infections on the wound would finish off the hamster.
Hamster Anaesthesia and Surgery
& Photography in 2008
Case recorded: Sep 16, 2008
Dr Sing Kong Yuen, BVMS (Glasgow), MRCVS

A one-visit cure for the hamster with an irritating wound.
Can the Vet Give What the Customer Wants?

Times are really bad for many self-employed people in the trade that has not much demand. Another famous Lehman Bank had collapsed while the Singapore Government keeps increasing prices of consumer goods and erected more ERPs (Electronic Road Pricing toll gates). Now, there is even one ERP at the only entrance to my Surgery from Braddell Road. My surgery is in the heart lands.

Bad luck to me and all the Toa Payoh residents as they now can't escape paying tolls if they drive into the only road to Toa Payoh from north of Singapore. The Singapore bureaucrats could have erected the ERP at the exit point from Toa Payoh town. But they do it at the only entrance road to Toa Payoh town. Why should they care about increasing the cost of living?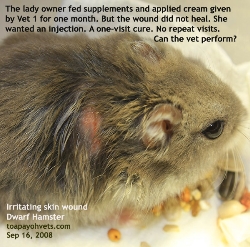 For this self employed hamster owner, I empathised with her and understood that she had to cut down the expenses. Her trade was not one which had many customers. She was passionate about her business and sometimes passion does not translate to dollars and cents so fast.


She wanted her hamster cured in one visit at the least cost and had phoned for an estimate of an injection. She had used past medication from Vet 1 who is reputed to be the most expensive vet in Singapore. But she had not cured the hamster.

"I wish to have the injection to bring down the itchiness," the lady owner said. "Will this cure the hamster if there is no itch and therefore he will not scratch the wound."

I said, "I can't guarantee this. Sometimes it works. If it does not work, you will have to come back again. I can feel a small lump under the skin. Around 3 mm in diameter. It could be an inflamed foreign body. A small object penetrated into the skin and causing irritation for the past one month.


I continued, "Therefore, it is better that the irritating lump by excised. Did you feel it?"

The lady owner nodded her head. Now, surgery and anaesthesia would be more costly than an anti-inflammatory injection. She has to decide whether the $50.00 injection would work or pay double. Or return for another treatment and pay again? She needs to PAP (Pay and Pay)?

It was hard for her to decide. A one-visit cure was what she wanted. If only the vitamin supplements and other medication from the most expensive veterinarian in the country for a previous hamster problem had worked.

"Why don't you just give the injection?" the lady said.

"OK," I replied. "If the injection does not cure the hamster, you will need surgery." I did not want misunderstanding later and therefore repeated my comments a few times.

These remarks caused a hesitation and a dilemma. A repeat visit costs money and time. What should the lady do now?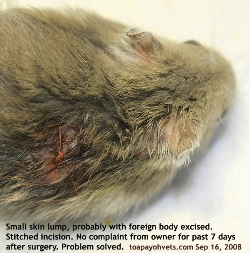 "It is best that the lump be excised out," I advised as this procedure would most likely cure the hamster and reduced her veterinary costs of repeat visits and frustrations considerably.

The lady bargained hard. The hamster probably had a penetrated foreign body under the skin. Removal of this small 3-mm piece of skin and subcutaneous tissue and stitching up cured this hamster. No complaints for the past 7 days. I presumed the hamster was now OK as the owner was asked to phone me if there was problems.

Sometimes the advice to perform surgical excision is needed to remove infected skin and irritating skin wounds. All pet owners want a one-visit cure to save on veterinary cost.

If the vet cannot perform, he just will not get repeat business! No repeat business can lead to veterinary bankruptcy sometimes.