0818Singapore race horse competitive advantage thoroughbred pet health and welfare educational for animal lovers, excerpts from The Glamorous Vets, Singapore, sponsored by AsiaHomes Internet.

Competitive Advantage

Racehorses need to win races otherwise they are of no use to their owners. To win races, a top jockey must partner with a top horse. Still there needs to be that element of luck as can be seen in a highly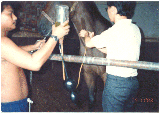 competitive race won by Mr Saimee (see article below). In horse racing, being second is not good enough and only winning jockeys get recognition and more opportunities to ride top quality race horses.
In the 1982 - 1990 period, some horses would be given an intravenous multi-vitamin dextrose saline drip 24 hours before racing to give them a competitive advantage during races.

Sometimes they get a drip after the races to enable them to recover faster. Some horses received Vitamin ADE injections via the neck or back muscles and Vitamin B pick up injections.

Anabolic steroids to build them up 2 weeks before racing were permitted and though scientific articles in the past said that there would be no competitive advantage in using steroids, I believe it did give the horse the competitive advantage in a competitive field.

The equine superstars, all housed in air conditioned stables, would compete in the Singapore Gold Cup, the richest race with prize money as much as S$500,000. The horses themselves were built up with multi vitamins and anabolic steroid. Some were feeling the tension as they entered the starting stalls and some of them broke out before the starter could release the gates.

Around 2001, anabolic steroids are banned in the Singapore Turf Club horse racing. Racehorses have to win races or they get "deleted". There are several factors that enable the racehorse to win races but the most important will be the horse quality, the jockey's skill, the trainer's skills and management. The training to build up a horse just fit for that race, just like a flower about to blossom is an expertise possessed only by a good trainer. Luck plays a part in a highly competitive field.

---
Singapore jockeys seldom get the opportunity or chance to ride good horses for the past decades. They need to win races to be noticed by the iwners and trainers and then be given the opportunities to excel. See article below.


EXCELLENCE FOR SINGAPORE AWARD 2000
GIVEN BY THE SINGAPORE TOTALISATOR BOARD.

Source:
http://www.gov.sg/singtote/w00_saimeejumaat.htm

Mr Saimee Bin Jumaat is undoubtedly the best jockey ever produced by Singapore. In the 9 short years since he started riding in 1990, Mr Saimee has achieved almost everything that could be achieved as a jockey in the Singapore/Malaysia circuit.

In 1998, Mr Saimee broke a 29-year-old record when he rode 111 winners that year in the Singapore/Malaysia circuit, surpassing the previous record of 90 winners set by an Australian, Glynn Pretty, in 1969. This feat garnered him the Straits Times/Coca Cola Sportsman of the Month Award for October 1998. In 1999, besides being crowned Champion Jockey for the third time, he
also won six major feature races in Singapore and Malaysia.

Mr Saimee's crowning achievement came on 4 March 2000 when, under the eyes of more than 1 billion television viewers worldwide, he beat some of the best jockeys in the world in the Singapore Airlines International Cup, riding OUZO. He won praises from world-renowned jockeys like Michael Kinane, Pat Eddery and Frankie Dettori as being on par with the best jockeys in the
world.

Mr Saimee was invited to ride in Hong Kong (where only world-class jockeys are invited to ride) by the Hong Kong Jockey Club from mid May 2000 to mid June 2000. Mr Saimee has also been invited to participate in the Shergar Cup at the Ascot Racecourse, England, in August 2000. The Shergar Cup is a
series of 6 races which pit top horses owned by European connections ridden by top European jockeys against top horses owned by non-European connections ridden by top jockeys from outside Europe (Rest of the World). He will be joining the Rest of the World Jockey Team, which comprises Frankie Dettori from Dubai, Damien Oliver from Australia, Basil Marcus from Hong
Kong, Ebina from Japan and either Jerry Bailey or Hall of Fame Jockey Laffitte Pincay Jr from USA. These jockeys are currently the best in the world and for Mr Saimee to be selected to join this team is indeed a rare privilege and honour for a Singaporean.

For his outstanding achievements as a jockey, which have earned him a place among the best jockeys in the world, and for making Singapore's presence felt in the highly competitive world of horse racing, Mr Saimee Bin Jumaat is conferred the Excellence for Singapore Award 2000.

---

Advertisement.

Horse owners:

You got tenant?

If not, place an affordable targeted asiahomes.com
internet ad for $13.50 for 90 days, not just one day as in the newspaper.

You may get the agents to call you and close early so that you can rent out faster and let the tenant pay for your mortgages.

Why not place an affordable internet ad
to contact prospects direct and save you
a few thousand dollars in agency commission?
Telephone +65 9668 6468, E-mail judy@asiahomes.com