"9421Singapore Urticaria in a racehorse thoroughbred pet health and welfare educational for animal lovers, excerpts from The Glamorous Vets, Singapore, sponsored by AsiaHomes Internet.

Urticaria in a racehorse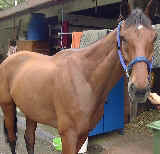 The hot noon sun was brightest but the stable was cool. He put his left side of his neck on on the top of the back wooden wall of the stable, swept his muscular neck against it and then repeated the action on the other side. This looked like normal behaviour for a retired thoroughbred. Was he bored? His owner had just visited him and had called me to treat his skin lumps. Click thumbnail to see bigger picture of urticarial lumps.



Click thumbnail to see bigger picture of urticarial lumps. The soft swellings under the skin from a few mm to big 50-cent coin ones are obvious and itchy. An acute urticarial attack lasts for less than 6 weeks while a chronic one goes on for years.

The above 8-year old racehorse had an attack of urticaria recently. The owner said that a complete change of sawdust and wood shavings lead to more hives the next day. Was the environment the cause of the urticaria? Should bedding be changed partially? Should the owner use a more expensive type of sawdust which looks like pinewood in colour rather than the reddish brown ones commonly used?

I saw the horse at noon. I could tell from his eyes that he was not happy to see me. Perhaps he remembered the needles of white coated veterinarians taking pre and post race blood samples frequently, during his racing days and I was wearing a white shirt. His owner said he was gentle but he moved off from me despite the owner holding the halter. I cannot blame him. Who likes needles poking into their jugular vein and muscles many times a year? We did have steroid injections, multi-vitamin injections and intravenous multi-vitamin drips for racehorses to enable them to beat their competitors in the old days.

I used the fine 23G needles but he just moved his neck and bent two needles. A hand to cover his eyes by the owner was not sufficient as a good restraint. There were no others around. I could grip the neck skin tightly with my fingers to quieten him for the injection into his neck vein. but this could not be done today. The owner could grip the skin and he was injected.

Flies were buzzing around his neck lumps, attracted by blood smell. We still have maggot wounds in Singapore dogs but racehorses well looked and groomed daily seldom get infested by maggots.

Should the owner change to the more expensive sawdust bedding? It was a belief that sawdust and wood shavings was a cause of urticaria amongst trainers in Singapore and Malaysia during my 1982 - 1991 years as a racehorse veterinarian.

In most cases, the cause is unknown. One cause was idiopathic, i.e unknown. Mosquito bites too may be itchy to the horse and cause swellings. Drugs, food ingredients and stress have been implicated but only one or two thoroughbreds are affected.

It was an uncommon condition in Singapore racehorses when I was an equine veterinarian in 1982 - 1991. An average of less than twenty cases in over 1,000 racehorses per year. I remember vividly one prized racehorse in an air conditioned stable developing hives all over the neck and body when given a new bedding of saw dust and wood shavings.

Being a top racehorse and having a chance to win the Singapore Gold Cup, he was housed in a nice air conditioned stable with no mosquitoes. The groomer quickly called for immediate veterinary attention.

"Let the racehorse rest for a few days," I recommended.
"Doc," the top trainer said seriously, "One day is all he can afford to rest. He has to continue his training and to peak just on the day of the $500,000 Singapore Gold Cup race run over 2,200 metres.

This stayer from New Zealand needs the last two gallops and the club training tracks are open only twice per week." Trainers did not have their own private training tracks in Singapore.

Fortunately there are drugs to prevent more lumps from developing. The injection must be given as soon as the hives are seen. More hives would be produced within 48 hours and they will subside usually. However the horse feels itchy all over and may be unable to rest or exercise.

Keeping the hives away from flies will be most important as bacterial infections are itchy although horses can't tell you. Continual rubbing of the neck against the wood to relieve itch causes more skin damage. Big ulcerations of the skin lead to bleeding and more flies. Ticks are attracted to the bleeding areas too but there are no ticks in Singapore racehorses but they are a problem in Singapore dogs.

So, are fresh sawdust and wood shavings the cause of urticaria in racehorses? Should the owner change to another type of sawdust and wood shavings? I can only say that I know of one case mentioned above and this does not mean that all cases will have the same cause!
It is never easy to know the cause of urticaria known as hives or wheals in horses or in people.


P.S Information on the varied causes of urticaria in people: http://www.aad.org/pamphlets/Urticaria.html

---


Advertisement.

Horse owners:

You got tenant?

If not, place an affordable targeted asiahomes.com
internet ad for $13.50 for 90 days, not just one day as in the newspaper.

You may get the agents to call you and close early so that you can rent out faster and let the tenant pay for your mortgages.

Why not place an affordable internet ad
to contact prospects direct and save you
a few thousand dollars in agency commission?
Telephone +65 9668 6468, E-mail judy@asiahomes.com