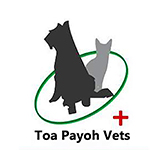 TOA PAYOH VETS PTE LTD
toapayohvets.com
Blk 1002, Toa Payoh Lor 8, 01-1477, Singapore 319074. Tel: +65 6254-3326, 9668-6468, judy@toapayohvets.com, 99pups@gmail.com
Focus: Small animals -dogs, cats, guinea pigs, hamsters, pet rats and mice, birds and turtles
October 06, 2020

When you visit us, please let us know as much information as possible for our history taking.

1. HISTORY TAKING
1.1 Health history:
1.2 Duration of problem:
1.3 Medications being administered: Bring along medicines from the vets you have consulted.
1.4 Previous medical and surgical procedures. Bring along the medical record and vaccination cards if you have any.

2. EXAMINATION. A physical examination is performed to check the health of your pet.

3. ADDITIONAL TESTS to accurately diagnose a condition or to better determine the effectiveness of treatment will be thoroughly discussed with the owner prior to being performed. This includes: x-rays, blood and urine tests, biopsies, needle aspirates, cytology, bacteriology and more specialised tests.
4. ANAESTHESIA & SURGERY
Details will be discussed with the owner his or her expectations, the potential risks of anaesthesia and surgery. You will need to sign an informed consent form after discussion of the procedures, risks, costs and home care required. No food and water after 10 pm in the evening before surgery for dogs and cats. Rabbits and guinea pigs can continue eating.
5. AFTER SURGERY CARE
Your pet needs rest after anaesthesia and surgery. Proper pain management is important to us. Patients are discharged only when they can be managed well at home. However, we understand that this involves additional costs to the owner. We prefer the patient to have at least 24 hours of cage rest. We recommend at least 4 hours of cage rest and stay at Toa Payoh Vets before going home.
Most owners in Singapore prefer to bring their pet home immediately after surgery without realising that the pet needs complete cage rest and care for at least the first 48 hours after anaesthesia and surgery. The pet may vomit and inhale its vomitus during transport to the home immediately after surgery. Sometimes, the pet gets aspiration pneumonia and dies a few days later.
6. EMERGENCIES
Emergency surgeries include Caesarean section due to the difficulty in giving birth, trauma-related injuries including eye injuries, obstructed intestines (with foreign objects), herniated discs and ruptured spleen.


A puppy's life is precious. A small number of professional dog breeders wait over 10 hours before deciding on the emergency caesarean deliveries. In certain breeds like the chihuahua, a delay of more than two hours may result in stressed out puppies which may not be able to live more than 7 days.
Be Your Vet's best friend. Many other owners want their pets to live longer and they do build a very good relationship with their vets.
Veterinary health care costs. Singapore is an expensive city to live in. At Toa Payoh Vets, we attempt to provide as low as possible the veterinary costs by informing the owner before any tests will be recommended. Blood and urine tests are advised.

Many Singaporean pet owners buy some products to solve their pets' health problems but, please note that tumours cannot disappear with creams and sprays purchased from pet retail shops.
W

hen the skin diseases have spread over the whole body for the past months or the emaciated cat is at the door-step of death

, it will be hard for the pet to recover. B

ad breadth in the older dog till the decayed teeth ha

ve ha

d dropped off by themselves will adversely sicken your pet. Get them dental treatment from your vet.

Early detection and treatment saves lives and lower medical costs

and permit your pet to live to a ripe old age.