9520Singapore real estate, bungalows with pools, condo or house for an expatriate small kids, educational stories for asiahomes.com realtors. Excerpts from "The Internet Realtors, Singapore", sponsored by AsiaHomes Internet. Last updated: 24 Jun 2001


The co-broking agent's bidding war

"Forget about it," said Mr Benson. "This is a bidding war and it spoils my feelings towards this house." The rent offered was $14,000 and the Landlord's realtor now said that there was a better offer of $14,000 for a 3-year lease starting mid July, instead of my 2-year lease starting August 1.

Mrs Benson really loved this house. She was sure that her husband of 20 years would like the house. The busy husband had to take time off to see this house on a Saturday afternoon.

What should I do now? The Landlord's agent must have used our offer to bid against the other agent. It was her job but it could backfire. Here, we were willing to give her a good faith deposit and she could catch the Landlord who would be flying out of Singapore tomorrow.

Usually, the expatriate wife suffered when there's a bidding war as it was tiring to see houses in the hot and humid Singapore. Most of the bungalows did not suit her or were beyond her budget. One was in a good area but the old kitchen was really in bad design. Another had dated bathrooms. One was next to a construction and was asking $17,000 rent. One was brand new , huge but had no garden. One was huge with 15,000 sq. ft of land and a nice inground pool, but was sited near a busy road. The rent was $10,000. "Usually there's a reason why the rent is so low," commented Mr Benson.

Here, there was this older bungalow with a nice balance of garden and built in area, a sloping inground pool, not the above ground pool with a fixed depth. She had a smaller 3-year old and a sloping pool would be better.

Mrs Benson was flying home tonight. She did not relish the idea of staying in a serviced apartment in August while we go house hunting again. It was no fun going through various bungalows, not that there were many good ones with inground pools in Singapore below $15,000.

What should I do now? "Let's submit your original offer in the Letter of Intent and see what happens," I advised an angry Mr Benson, a friendly gentleman who had lived in the best houses in South America and Europe. We had offered $500 more than what the other agent had offered and now the Landlord's agent said there was a competing offer with better terms and conditions.

I submitted the offer with the good faith deposit. The Landlord accepted the offer as it was first come first served. I could feel Mr Benson's happiness as his wife had been upset that the house could not be available for her. Maybe, it is best not to inform the wife of the changes till sometime later to avoid upsetting her.


Reference 1.
House hunting listings has several reports which will reveal to first time expatriates relocating to Singapore a real situation on the Singapore market rentals. Do email judy@asiahomes.com if you have more queries. Or tel: +65 9668 6468.
---
Tips for new asiahomes.com Realtors & Expatriate husbands.


In this case, the bidding war was done by the Landlord's realtor. The expatriates' agent had to be calm and see what other terms and conditions would satisfy the Landlord, other than more money. In this case, the story had a good ending.


---
Be Kind to Pets
is a community education service supported by Asiahomes Internet.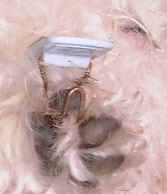 The Bischon screamed when the Owner tried to pull out the hook from her toe. He was bitten on the fingers although his dog had never bitten anybody.

There was no other way than to see the veterinarian to remove the hook without causing great pain to your pet. The vet had to give it a small dose of sleeping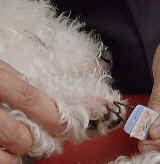 injection via the vein as the tranquiliser effect was not sufficient to overcome the pain in pulling out the hook. Once unconscious and pain free, the hook was removed easily. There were no serious injuries.

In another case, an Owner was bringing her toy dog to the shopping centre. It ran up the escalator. The toes were caught in between the steps. The dog was in great pain as the Owner pulled it out. In this case, the escalator should be stopped and the forward motion reversed so that the toes would not be trapped. It is easier to say than do when such incidents happen. A rare incident. Never let your toy dog run up escalators.