WOULD MUM'S TWO SWEETHEARTS MISS THEIR SOAP OPERA?


"Don't blame me if you missed the 9 p.m Mandarin soap opera," the mother was not in favour of me visiting my younger brother at 8.35 p.m. "You know how your father lingers on when he visits his brother."



She knew the visit would not be short as I seldom see my younger brother. She had promised the younger son that he would be back for his 9 p.m television serial on this Monday night if the whole family of four had dinner together. A promise must be kept to her two sweethearts. They are now towering over two heads above her. A 17-year-old who could never be weaned from past midnight online war games disappointing her as she expected him to be a famous Physics Honours scholar and not get calls from his teacher about his lack of motivation in academic excellence. A 19-year-old national servicemen whom she missed 5 days a week as he could not be allowed home.

Yet I have to see my brother's German Shepherd, given to him as a puppy present. He had phoned me this morning, intending to put her to sleep. I would be visiting a friend overseas the next day. This friend was in acute pain for over 3 months of imprisonment in hospitals being given chemotherapy with no reduction in the cancer growths.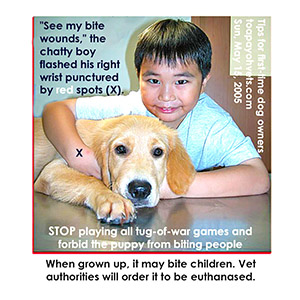 This might be my last visit to see the puppy. The puppy was treated by another veterinarian and had shown some improvement for the past 5 months. However, the treatment was stopped sometime ago and the demodectic mange recurred. Then 2 days ago, the medication ran out. As there was intense itch and smelly skin in the limbs, my brother phoned me wanting to euthanase this puppy.

I had never seen his puppy at the onset of demodectic mange. From his description, the infestation of demodectic mites must have injured the eyes, face and all 4 legs. Maybe the whole body with hair all gone and skin ulcers every where. Bacteria multiplied. Skin smelly. Puppy never stopped scratching every minute. No respite from pain just like my friend with cancer.

Like my friend, the puppy must be suffering from pain every day. Her weight must have dropped 50% below normal, like my friend from 70 kg to 50 kg. Emaciated, with ribs protruding from the puppy's ribs. So, I had to see her before I left Singapore the next day.

A mother's promise must be kept. Otherwise, the younger boy would not go out for dinner with her anymore. Or would he? It is so hard to be a mother nowadays.

"Make the U-turn," I said to the elder son who could not decide to drive home or not when the mum made the comment about missing the soap opera. A visit to an uncle or a missed soap opera. Which gave more pleasure to young adults? Mum gave the answer.

"I have to see the puppy," I explained. "My brother had phoned me today that she would be euthanased. I just have to see what is the situation with the puppy I gave to him. It would be a short visit." My younger son did not say anything. There were only less than 30 minutes to the start of the show. In the darkness, I knew his mum pursed her lips and rolled her eyes upwards. Her sweethearts would miss the show. No doubt about it.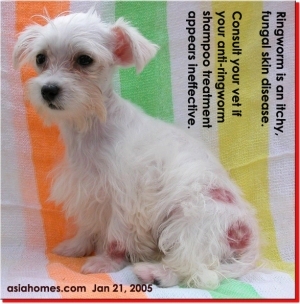 My son drove to the house. My brother and his wife had just come home. The two German Shepherds were greeting my brother. They were in good bodily condition. The older dog was not affected by the demodectic mange. The younger one with mange had widespread hair loss and wounds on her front legs. Yet, her face showed hair growth. So, the medication had worked.

But demodectic mange treatment would not be a short one. It could take up to a year to get a complete cure. Regular follow ups with the veterinarian are important. Sometimes, reviews every 2-4 weeks are necessary. But such reviews add up to a high veterinary cost.

So, most dog owners gave up. The fluorescent lamps in the patio could not reveal the harsh reality of reddish and forelimbs stink that must have nauseated my brother. The trouble of having to bathe away smelly skin every few days. But on the next day, the pungent smell would whiff into his nostrils again. Bathing with medicated shampoos did not clear the stench of broken skin invaded by bacteria and other micro-organisms and by continual licking by the puppy.

For 5 months. No relief in sight. No light at the end of the tunnel. No cure. Therefore, kinder to put the dog to sleep. This was what I imagined that he made the euthanasia decision as he was also be suffering over the last 5 months.

"Give the puppy further daily treatment of the ivomectin for the next few weeks," I said. She was lively, well fed and active from what I could see. Her eyes were bright. Her spirits soared. No noisy barking. Both dogs were so happy to see the owners, possibly wearied after the daily climb of the corporate ladder. Maybe I was imagining things as my sister-in-law was an oasis of tranquility.

"Another few weeks would be needed," I said . "In some cases, when the puppy reaches over 12 months old, the immune system becomes developed to suppress the growth of the demodectic mites in the skin. Sometimes it takes one year of ivomectin treatment by mouth to get a complete cure. "

And the puppy was already past 6 months and would become an adult soon. Her immune system might not be depressed anymore as she matured. When there is life, there is hope.


Would my brother continue treatment? I hope so. As for my friend with cancer, 3 months of chemotherapy did not shrink his lymphatic tumours. A few months of outpatient treatment before that and 2 months of in-hospital treatment in one private hospital in Singapore before going overseas.

Yet, his lymphatic tumours had grown in size in Singapore. Was the wrong drug given? Was the dosage not sufficient? Was he not permitted to be given the latest drug since bureaucracts had not approved such drugs? Was his cancer incurable? Would he live past this Christmas, a month away?

I had to close my practice and fly overseas to visit him tomorrow. Yet, I had to see the Alsatian puppy as I don't know whether this would be my last visit to the puppy. I could not read my brother's mind about euthanasia.

I hope both can recover from the prolonged illness, celebrate Christmas and be alive.

Did mum's sweethearts miss the start of the soap opera? The two Alsatians suddenly sat down looking at the living area. No more smelling me. As if they were waiting for something. Maybe, dinner from my sister-in-law?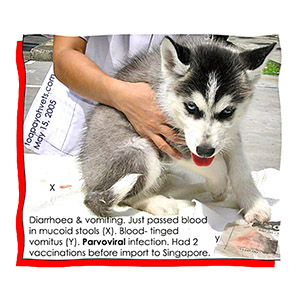 I had to explain to my brother that I had to rush back. This time I would drive the long and windy road home as the elder son was a novice slow driver. "It is Ok, dad" my elder son was worried that I was speeding and got another 6 demerit points and $900 fine for exceeding 120 kmph. 12 demerit points meant I would not be allowed to drive for one year. Not able to earn a livelihood.

The cool air of the starry night settled on my shoulders as I parked the car at 8.59 p.m. "Dad, the show would not start as there would be advertisements," my elder son said. I had not watched television for a long time as I preferred reading. So, I was out of touch with television reality.

It was good to see that my brother's puppy would be given another chance to live. I was worried that my brother would just ask his veterinarian to put her to sleep.

I hope that my friend with lymphatic cancer would be cured with a new anti-cancer drug imported from the U.S.A. He was in a 3rd hospital. I think the puppy had a better chance of living to old age. But I could be proved wrong. Man proposes. God disposes.


---
I just searched "Singapore puppy pictures" at IMAGES in google.com as I was writing my book "Toilet training for your first puppy in Singapore". To see whether I can buy any good quality pictures of puppies for the front cover of my book.

The pictures I had taken many years ago of a Singapore puppy with demodectic mange were found inadvertently. Life has become incredibly time-pressed and efficient. A few years ago, I would not be able to locate my file on the website but now, the world wide web enables information to be shared globally.
http://images.google.com.sg/imgres?imgurl=http://www.asiahomes.com/singaporetpvet/
7767dog_6months_demodecosis_itchy_Singapore.jpg&imgrefurl=http://www.asiahomes.com/
singaporetpvet/dogs/030218demodectic_mange_puppy_Singapore.htm&h=450&w=600&sz=113&tbnid
=wJrag1deZF4J:&tbnh=99&tbnw=133&hl=en&start=77&prev=/images%3Fq%3D%2Bsite:www.asiahomes.com
%2BSingapore%2Bpuppy%2Bpictures%26start%3D60%26svnum%3D10%26hl%3Den%26lr%3D%26sa%3DN



Very itchy puppy. Biting elbows, forelegs, hind legs and rubbing eyes. Demodectic mange.

Before anti-mite injection and treatment. A slight loss of hair around eyelids, elbows and limbs.

3 weeks after injections. Hairs grow on elbow and near the eyelids.

Itch starts on one elbow and one hind leg again.
Stopping or missing medication are one cause of the lack of success in the treatment of demodectic mange. It could be due to the high veterinary costs and lack of time to bring the dog for veterinary review.
Usually owners do not comply with giving medication for a long time.



Demodectic mange in young dogs need frequent reviews with your veterinarian as to the medication.

1. Ivomectin medication by mouth from your veterinarian may or may not be successful. Most owners do not comply with the treatment regime of giving for months till the mites disappear. The usual complaint is the high veterinary cost of reviews.

So, the mites flourish and soon, the puppy gets a crocodile-type skin due to intense itch. Bacteria, fungal and yeast infections set in. Smelly skin. Very difficult to stop the itchiness.

2. Amitraz 10% wash may be used together with ivomectin treatment.

3. Milbemycin heartworm tablets daily for 8 weeks may be costly and experimental. But it is an alternative to the other treatment.

4. The bitch is to be spayed as estrus seems to aggravate the disease.