1008Singapore real estate teaching article for first-time asiahomes.com realtors. "You got Tenant" ad by Asiahomes Internet.


You got tenant, guinea pig owner?


FOR RENT:

Robin Road terrace house, 4+1, 3000 sq. ft remodelled, cul de sac. 5-min drive to Orchard Road or a 15-min walk. $4,500.


Email judy@asiahomes.com
tel: +65 9668 6468 now!



BE KIND TO PETS
is a community pet welfare education
service via internet photos, supported by AsiaHomes Internet.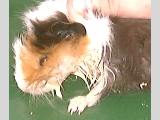 A guinea pig keeping to himself, being inactive and has profuse saliva wetting a large area of the lower neck making the hair sticky and skin raw is not normal.

It would need prompt veterinary attention instead of waiting for several days as it became emaciated and dehydrated.

One possible cause could be poisoning from insecticide in the feed. It could be traumatic injuries to the head area or ulcerations of the mouth too.



The early bird catches the worm?

"I have your list faxed to the hotel and had seen 3 condos with a realtor," said Mrs Furness on October 3.

"I had asked my husband's company people where I could hire a cab to see Singapore. The realtor getting him an office to rent offered to show me the city. Instead, it was a house-hunting trip!"

October 4 at 10am would be the appointment for house-viewing made last week. Mrs Furness flew in from Europe on October 2 and the company's office rental realtor just turned up the next day without telling her it would be house-hunting.

Being a realtor herself, she could understand that I was not getting any income unless I had closed on a rental. She was very unhappy with the deception. Well, the early bird catches the worm.

Mr Furness had seen some apartments with me a month ago. His wife actually made contact for him to get me to show him some condos.

He arrived in Singapore on September 25 and had just phoned and emailed me saying that I would be the only realtor entrusted with finding a good home.

It is very uncharacteristic of the European Caucasian culture to say something and do another. Their word is as good as their bond. It is extremely rare for a Caucasian to give "exclusive rights" to a realtor to look for a $12,000 home for him.
The realtor finalising the office rental deal had to impose on her by offering a "free" preview of Singapore, one day before her scheduled house-hunting with me.

She must have sensed the opportunity to make money by hook or by crook.

It is a dog-eat-dog world. First come first served. Many expatriate wives are career women in their countries. In this case, Mrs Furness was a professional realtor and she does not like such shenanigans.



First-time expats starting up a business in Singapore:

You may have your own favourite realtors to go house-hunting the second time after spending some time earlier.

If the realty firm which does your office rental offers you or your spouse a "free" preview of Singapore, do be firm with them and tell them "no house-hunting".

First-time asiahomes.com realtors:

In this case, the early bird did not catch the worm. There was nothing but contempt for the office rental realtor. It is best to earn your living by honest means and if you have to be aggressive, to be the early bird that catches the worm, do inform the expatriate your true intention to go house-hunting instead of deceiving her by offering a "free" Singapore tour.


---


Education article for first-time asiahomes.com realtors. Tips for expats relocating to Singapore.
---
Guinea Pig Owner:

You got tenant?

If not, place an affordable targeted asiahomes.com
internet ad for $13.50 for 90 days, not just one day as in the newspaper.

You may get the agents to call you and close early so that you can rent out faster and let the tenant pay for your mortgages.

Email your ad to Judy@
asiahomes.com now.
Last updated: 08 Oct 2000

"Be Kind to Pets?" is an education article for animal doctors & pet lovers supported by
AsiaHomes Internet.