Asiahomes Internet
Community Education Department:
Be Kind To Pets June - Sep 2003
Update: 24 Aug 2003
INTERNET AD - FOR SALE

FASHION BERETS - that make you outstanding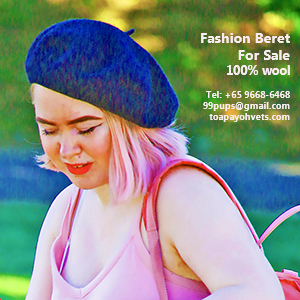 YOU WANT to be first to make a good impression? Wear a TOP QUALITY berets at your next meeting.
S$45.00 for one beret inclusive of shipping in Singapore. Email your order to judy@asiahomes.com or Tel: +65 9668-6468, 6254-3326, 6254-2728, 9668-6469; Fax: +65 6256-0501, 64545-843 for viewing or updates.
We will contact you within 24- 48 hours. www.asiahomes.com/berets


SHIH TZU SELDOM BARKS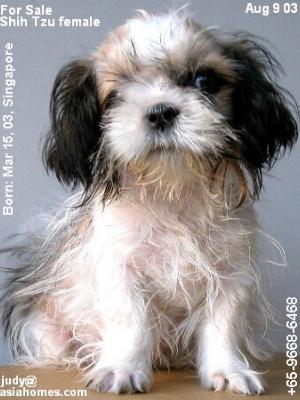 Aug 25 03. Shih Tzu puppy, female.
Suits an owner who wants a quiet and happy puppy
Good home needed. $400

METHODS OF PAYMENT.
We prefer payment by credit card to PAYPAL. For payment, click on one of the two below:

1.

2. Click:
david@asiahomes.com

OTHER TYPES OF PAYMENT
Email judy@asiahomes.com for more information on bank account number and bank.

Asia USA Realty - affordable homes for expats
Asiahomes Internet - affordable internet ads