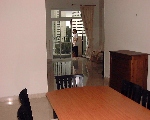 Cavendish Park.
Separate living and dining area. Marble flooring and small balcony typical of newer condos. 3-minute walk to the Australian School.

The "maid's room" in newer condos is really very small, around 50-70 sq. ft and may just fit in a bed.



Cavendish Park.
Small well equipped kitchen typical of newer condos. Cooker hob, hood, sink and fridge and cabinets.



Cavendish Park.
Greyish bath tub, WC & and basins. There is a separate shower cubicle. Overall, the colour scheme is not as pastel coloured as those luxury condos with white baths and marble tiled walls but the rent is more affordable.
Astor Green has a bigger living cum dining area of marble flooring. This unit on the 17th floor has excellent views. Rent is $3,000 partially furnished for a 3-bedroom.
Astor Green's master bathroom has no separate shower stall or cubicle. The bath tub is white. The utility area is extremely small and barely can accommodate the stacked up washing machine and dryer, unlike Cavendish Park.