SURGERY HOURS:
*10 a.m - 5 p.m (Mon - Sun, except Sat). Dr Sing. By Appointment Only.

*6 p.m - 10 p.m (Mon - Fri). 10am - 5pm (Sat). Dr Jason Teo. House-calls available.

Appointment preferred.
Tel: 6254 3326, 9668-6469
judy@toapayohvets.com
Fax: +65 6256 0501
Interesting case studies/Be Kind To Pets pictures
Community Education: Be Kind To Pets
A case study written in Oct 2001.
Last updated: 09 Nov 2007

THE PET TRANSPORT MAN WOULD NOT UNDER-PRICE HIS SERVICES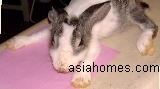 "We are not living in the Dark Ages," retorted kennel-operator Tan when I asked him to board and nurse two rabbits at $10 per day for the next 7 days.

The tall man his late sixties wrinkled his pale face and opened his protruding eyes wide to tell me I was talking through my hat. Was I in a fantasy world?

Mr Tan came to me to be a pet transport man. He had retired from the civil service recently. No more tucking in his shirt and wearing shoes. He was now free to dress casually and in slippers. After all, a transport man need not impress. He bought an old van. He wanted to start a business of transporting pets to veterinary clinics and hospitals.

As he did not want to reveal the identity of his previous employer nor any details of his family, I did not pester him. He had retired and wanted to start a small pet transport business. He was from the old school - polite and genuine. I would try to help senior citizens who want to work, whenever possible.

I provided him a base in Toa Payoh Vets to rest. All my dog transport business, grooming and after-care nursing would be done by him without him paying any rental or utilities. He would pay 50% of his income related to Toa Payoh Vets' business, if he had any.

I was willing to help a senior citizen to start a new business even though I don't know him at all.

He was a free lancer and had his fees. However, the market seldom could afford his fees as there was rampant undercutting by newer and younger operators. His fees started at $36 per day for the 2 rabbits.

What did he mean by the "Dark Ages?" I doubt many internet generation people knew what he was talking about unless they have had read European history or stories. Knights in shining armour stories? Not really such stories.

The Dark Ages, I presumed he referred to, was the period in the history of Europe when very low wages were paid. There was slave labour.

So, Mr Tan decidedly rejected the offer. He would have earned an income of $70 just by feeding the rabbits and changing the newspapers in the cage for 10 days.

That was all he needed to do. Assuming he had to pay 50% of the gross income to Toa Payoh Vets, he would still be netting $35. In Singapore, $35 might not mean much money but in undeveloped countries, that could feed a family for some weeks.

Now, what would be the solution for the veterinarian who referred the cases to him?



New ones could be bought for $5.00 each in 2001. One of the rabbits was limping as his right back leg was fractured. You could see its paws at 90 degrees to the rest of the limb. Other than the fracture, there was a generalised skin infection. Microscopic Sarcoptic mange mites proliferated inside the skin of the nose, paws and feet areas of the bigger and smaller rabbits.

The Owner had treated the crustiness on the nose and paws with iodine and the antiseptic Dettol, thinking they were caused by fighting. There was no recovery. The rabbits ate only carrots and were very thin. The diagnosis was rabbit sarcoptic mange and the cure was guaranteed to be very effective.

The easiest solution would be to inject with a lethal solution and put the rabbits to sleep. The time spent in treating it would be better spent on other animals.

But the Owner was only willing to pay $10 per day for the rabbits to be treated for the next 7 days. $70 was still money to feed a family a month in some countries, but not for this kennel operator. It was not worth his while.

Well, you have a limited amount of time per day and time is money. You could not be doing charity. You could empathise with the kennel operator.

But there were two lives involved. Their lives could be saved if the Owner needed not care for the rabbits and could pay to have them treated at a reasonable charge. There were two little children who loved these two rabbits too.

"I will look after them," said Nurse Ann. It was not a time-consuming occupation. The rabbits ate well and put on weight. The mites which multiplied and bred on the skin surface, causing the thick crusts on the nose, paws, ears and around the eyes had been killed by an anti-mite injection given to the rabbits 8 days ago.

You could see the new pink skin on the nose and other affected areas. The two children were most happy to bring back two cured rabbits. If there were no affordable alternatives for boarding to treat the two rabbits, the owner would probably had the rabbits put down as cost of nursing was high.
EDUCATION OF NEW HOUSING AGENTS OF ASIAHOMES.COM

Secrets of success: Be a "win-win" realtor.

What has the story to do with you as a new associate realtor? Check whether there was a win-win solution.

In the above case, there would be 2 outcomes for the Owner.

1. Lose-lose situation.
2. Win-win situation.

In the Lose-lose situation, the rabbits are euthanased. This is not what the Owner wanted.

In the Win-win situation, the Owner boards the rabbits at lower kenneling charges and brings home cured pets. The Owner will be happy and so will be the veterinary staff who volunteers to nurse the rabbits.

What has this veterinary case has to do with you?

In many situations, you will encounter some problems of pricing.
Try to achieve a Win-win situation for your clients. Be client-oriented.

If you are starting up, you have to be flexible and if you want to be successful in getting referrals, you will need to be creative to solve the problems of your clients to close the case.

Building up a business may involve sacrifices of time and profits or making losses in some cases.

The joy of the client in getting back 2 healthy rabbits is hard to describe. But you can be sure that it will be good feelings towards the person who does not mind charging less.

If you just focus on maximizing your agency commissions or profits, you may not be able to build up your new business as you do not want to solve the problems of the customer but are thinking of your own pockets. You will unlikely get referral cases which will form the bulk of your success.

"What's in it for me" is more important for the prospective client and if you can give what the prospect wants, you are on the right path to success in any business as the customer is king and has many options and you have many competitors.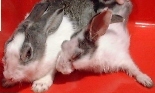 8 days after one veterinary injection, the rabbits are cured of mite infestation. Note that the crust and dry skin scales had fallen off the nose, around the eyes, paws and ear edges and the skin is now the normal pink colour with new hair growing soon. A win-win situation for the Owner and the veterinary staff.

It would have been easier to put them to sleep with one lethal injection but it meant a loss of 2 lives and sadness for all involved - a lose-lose situation. Click thumbnail to see clearer view of the mite-free rabbits.

Emotions played a great part in a self-employed operator.

Some cases actually will cause you to lose money. Therefore, it may be best to reject such cases. However, you must have more than sufficient financial reserves to pay for your living expenses.

It is a very harsh world for a small business operator. There is no end to under-pricing and unreasonable pricing demands from customers. Sometimes it is best to be an employee for the security and peace of mind.

Update: In 2007, under-pricing in grooming and pet transport is much more rampant as in many other services, including veterinary services.