9508Singapore real estate, promiscuous expatriate internet surfer tenants, educational stories for asiahomes.com realtors, March 3, 2001. Excerpts from "The Internet Realtors, Singapore", sponsored by AsiaHomes Internet.




The internet introduces promiscuous expatriates.

"I am fed up being shown old smelly and dark apartments by my agent. I want to see new apartments and they must be near Orchard Road. You are the first one to see houses with me this weekend," said the European expatriate. "So, you have the first bite of the apple." It felt good to be the first even though it was an illusion as the internet brings in promiscuous clientele as well as new business.

(Image above left, shows the living and dining area of a brand new swanky Holt Road 4-bedroom 2000 sq. ft condo renting at $8,000).

The expatriate was fed up with the realtor assigned by his company as he had been shown "old dilapidated apartments". He was used to a high standard of living in Brussels. The internet was his answer. He located my webpage http://www.asiahomes.com via the search engines including Contact Singapore.

The poor realtor could not show him any decent four bedroom condos near downtown as his rental budget was S$4,000. He said he now had a $6,000 rental budget and wanted at least 2,000 sq. ft new condos near downtown Orchard Road.

We spent one rainy Saturday afternoon seeing seven condos from downtown Orchard Road to Sixth Avenue, stopping at a Kodak shop to buy more tapes for his filming of the condos. He took half an hour per condo to video every room, kitchen, bathroom and condo facilities. I showed him what he wanted but most were above his budget. The tropical thunderstorm did not dampen his mood.

He had Realtor Jamie to show him more apartments in the late afternoon and he was late. The realtor picked him up at the Borders bookshop and showed him less than 2000 sq. ft apartments downtown as his budget was insufficient.
But this would be a waste of time or was it?

The next day at 11 a.m, we had a second viewing of the Palm Spring condo, a Caucasian family enclave. The Owner did not turn up yesterday but the expatriate had seen the neighbouring unit by knocking on the door. The Finnish tenant was obliging and friendly. I had to collect the keys from the Owner's office.

Then he remembered a prior appointments made with Realtor Patrick and cancelled. Patrick suffered the wrath of Owners and Realtors for the last minute cancellation. At 12 noon, he had to meet Realtor Jamie for more viewing. As he would be late if he had to go to the Hotel Grand Plaza at Coleman Street, I dropped him at Tanglin Mall so that he could have a lunch break and asked Realtor Jamie to meet him at the taxi stand.

What did this European want? He was on an exploratory tour and wanted a new 2,000 sq. ft condo near downtown Orchard Road at a rent of $6,000. This was an unrealistic offer but I showed him what he wanted rather than what I think he wanted.

He did make an offer of $6,000 for the brand new 4-bedroom of 2,000 sq. ft, but this was rejected as the Landlord of the brand new 7 Holt Road condos wanted $8,000.

The internet gave me opportunities to meet prospective tenants who would otherwise not been able to contact me. Finding the ideal home at a below market rental presents a great challenge and most of the time, a losing proposition in a rising rental market as at March 2001.

I definitely cannot forget about this case. I can only hope that he will find what he want when his wife comes to Singapore. I have to show the white flag of surrender in this case.

Note: After the September 11, 2001 hijacked plane crash into the World Trade Centre, many expatriates have left Singapore and rentals had dipped.
---

Advertisement by Realtor David. david@asiahomes.com

For Rent:
Houses Near The American School.
Images emailed to an American from Kentucky.

TO EXPATS RELOCATING TO SINGAPORE.

As it is not practical to provide the latest update on rentals, please email judy@asiahomes.com or tel: +65 9668 6468 for more information on housing near the American School. We accept that 8 out of 10 internet queries end up with no house viewing but do consider us as your rental agent if your company permits you to use outside realtors.

Bungalows near the American School and cluster houses as alternatives to a house with a pool.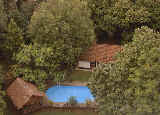 There is a great demand for bungalows as at March 3, 2001. Many European and American nationals are shocked at the high rentals of homes in Singapore compared to their home town in America.

Their ideal bungalow is one new two-storey house with a big garden, privacy and a big pool in the expatriate enclave of Districts 9, 10 and 11, as shown in the right image. Such houses rent from $20,000 - $30,000. District 25's Woodgrove Estate houses are an exclusively American and European expatriate community area.

District 25.
97 Century Woods terrace houses and 2 bungalows completed around late 2000.

Barefooted school girl and roller blading school boy are the cool things to do as at March 2001. Click thumbnail to see bigger picture.
District 25.
Brand new Century Woods terrace houses just outside the gate of the Singapore American School should lower the rentals of terrace houses at the Woodgrove Estate.
District 25.
4-storey detached near the American School. This is about the second largest house in the Woodgrove Estate. Rental around $17,000.
District 25.
Cedarwood detached with 7 bedrooms and a small inground pool. Can park 3 cars. Rental from $15,000.
District 25.
3-storey detached at Cedarwood, near the American School. Rental from $12,000. No pool. A vacant piece of land and a construction in progress next door.
District 25. Century Woods detached, next to the American School. Small garden. No pool. As there are only two units, the rental asked can be as high as $12,000.
District 11.
Brand new Lotus at Barker 3-storey cluster, 5+1 townhouses with roof terraces, balconies and a communal pool renting from $11,000. Only 9 units. Gated community. A 5-minute drive to downtown Orchard Road.
District 11.
Around 7-year old Chancery Grove cluster 3 or 4+1 townhouses with lots of Caucasian children. A 5-minute drive to downtown Orchard Road renting from $5,500 - $8,000.
District 9. New River Place maisonette penthouses 3+1 2100 sq. ft, with rooftop jacuzzis and a terrace outside the master bedroom in the expatriate popular waterfront Robertson Quay area renting from $10,000.
District 25. New Century Wood terraces houses near the American School. Rentals from $5,500 - $6,000 for intermediate terraces and $7,000- $8,000 for corner terraces. A 30-minute drive to downtown Orchard Road.
Reference 1.
Houses and condos near the American School.


Reference 2.

House hunting rentals have several reports which will reveal to first time expatriates relocating to Singapore a real situation on the Singapore market rentals. Do email judy@asiahomes.com if you have more queries. Or tel: +65 9668 6468.
This article is contributed by Realtor David Sing. http://www.asiahomes.com/singaporerealty/david
david@asiahomes.com

---
Tips for new www.asiahomes.com Realtors

You may have to surrender and not follow up when you encounter unrealistic rental expectation cases. But it is best you tackle the challenges as such difficult cases hone your house hunting skills and being hands on, you will have information on new sources of rental housing. When the right expatriate surfer with the right rental budget comes along, you can just close within half a day of viewing.
---


You Got Tenant, House Owner?

Looking for Tenants is like winning a war.
You need to know where your enemies can be found.

You need to advertise in www.asiahomes.com
where prospects interested in Singapore properties
are likely to be found.

Why not place an affordable internet ad
to contact prospects direct and save you
a few thousand dollars in agency commission?
Telephone +65 9668 6468, E-mail judy@asiahomes.com

Last updated:
10 Dec 2001