HOUSE HUNTING WITH AN AUSTRALIAN COUPLE
Wants East Coast. $4,000 - $5,000. Has a medium-sized quiet dog. House hunting Sat Mar 9, 2001.

2.30pm
VILLA MARINA (maisonette)
2056sq. ft 4+1 $4500. 4th floor. Tower 5. New. Faces pool. Master downstairs. 3-bedrooms + family area upstairs. Lovely pool view. Rooftop terrace for private BBQ shared with 3 families. Bus shuttle to downtown every 15 min.

Villa Marina pools & other images


3.30pm
No. 1-20 Kew Green
KEW GREEN.

Completed around 1997.
3-storey cluster townhouses with basement car parking, gym and 3 small pools scattered in premises. No tennis court. Cable connections said to be approved and ready in April 2002. With cable, the Landlords can now demand higher rents.


Characteristic roof terrace much appreciated by Caucasian expats.

Beautiful roof top terrace with a jacuzzi bath tub seldom seen in most condos except for the Nassim Woods penthouses.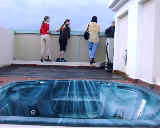 3000sq. ft 3+1 $4,000.

Units 1 - 20 faces the inner road and houses. Unit shown has the wall of the level 2 bedroom knocked off, creating a much bigger family area or a living area.

The squarish living cum dining area is characteristically small and expats with large dining tables will find it inappropriate. Some expats use one bedroom upstairs as a dining room.

Some owners knock down the walls of the bedroom on level 2, so that it can become a family or living area. The 4 bedrooms become 3. The roof top terrace attracts younger Caucasians.



CLICK image to see bigger picture.

The roof top jacuzzi bath is used by Caucasian expats to sunbathe and the terrace can be used to host barbecue parties and keep potted palm trees.
This cluster housing complex has no gym but has 3 pools and tennis courts. Expat enclave.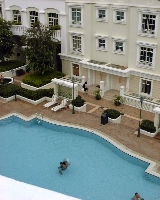 Kew Green facing pool.
The other side faces the main road or the semi-detached houses.

4.45pm
150 - 170 Kew Green cluster townhouses. 3300sq. ft 4+1 $3500. Facing East Coast Road and green trees. A very small grass patch. Small living cum dining area.

5pm
EASTERN LAGOON PENTHOUSE, Blk 202 18th floor. Large maisonette with balcony & attached baths. 5+1 5508sq. ft $5,000. Lovely sea views. Lots of space. Bright rooms. Big balconies. Sprawling grounds but the condo is dated as exemplified by the worn out tennis court.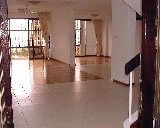 Eastern Lagoon penthouse is large but dated.

4.15pm
Completed: 2000
D'MANOR cluster townhouses with basement. 3400sq. ft 5+1 $4,500. Very small living and master bedrooms. Car park has a communal pathway which is fenced in.

5pm
KEW BUNGALOW 4,500 sq. ft land, 4,000 sq. ft built in. Brand new. Has a lift. 3 stories. Big rooms. Only attic bedroom has long bath.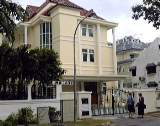 Conclusion:

Likes the Villa Marina, Kew Bungalow and Kew Green townhouses.
EXPATS INTERESTED IN ANY OF THE ABOVE for rent, email judy@asiahomes.com or tel: +65 9668 6468 now!