Dr Sing Kong Yuen, BVMS (Glasgow), MRCVS
Case written: Nov 11, 2001
Case reviewed: Nov 4, 2009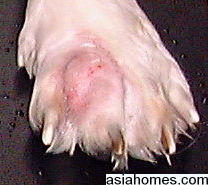 "Big swellings in his front paws" said Mr Braun. "I guess you will be clipping the hairs of the paws with a razor blade, but please be gentle with my Shih Tzu. Mr Braun recalled that his dog was held tightly by strong hands while the veterinarian at another clinic scrapped his facial skin diseased area and he did not want this for his dog. He was widely read and knew about tranquilisers.
It did sound very painful for the gentle Shih Tzu but veterinarians all over the world seldom use tranquilisation for minor skin scraping. As Mr Braun saw the dog struggling, he felt the pain transmitted to himself. He did not want this to happen to his dog again and so he went to another veterinarian.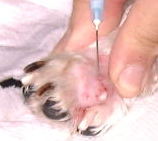 The swellings called interdigital cysts were huge, as big as 1.5 cm in diameter. The cause was unknown. Some dogs get it. Some don't. It is not a common veterinary condition in Singapore.

I tranquilised it, clipped the hairs of the paws and injected an anti-inflammatory and antibiotic drug into the cyst. The paws were bandaged. Antibiotics were given.
Four weeks later, the dog came for vaccination. It was a great surprise to see the "old dog" with hair all grown at its paws. The Shih Tzu was around 18 months old but he looked older than his age due to his serious demeanour.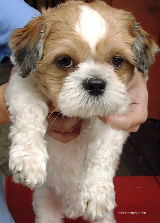 "He took off the bandage two days after injection," said Mr Braun. "He did not chew his paws and the hair regrows after two weeks. Now he is biting his hip area," said Mr Braun. The area has very little hair growth. His right arm pit had a large circular patch of hair loss with some big pimples. There was one pimple on his neck. Antibiotics and a wash were prescribed.
Tear staining (wet hairs seen inside the black circle) or epiphora was also present in his eyes. The wet hairs ought to be clipped off to prevent infection and itchiness. It looked as if the Shih Tzu had rubbed its eyes too . Some tartar formed on his back molar teeth as he was given canned food too. He would not stay still for tooth brushing. He did not bite but he did not stay still. Which dog will stay still to get their teeth brushed?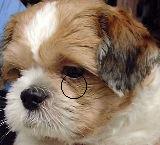 This Shih Tzu had a sensitive skin, just like some people too. Regular grooming and keeping the under part of the body dry and not in contact with chemical on the floor or permitting the dog to sleep on wet floors should solve most skin problems.

Interdigital cysts are best treated early. When they exists for a number of years and harden or enlarged due to continuous licking, surgical excision or medical treatment is not going to be to the owner's satisfaction.
---
OTHER INTERESTING CASES IN 2001
Otitis externa. Excessive thick brown wax inside the ears in this Bull Terrier puppy. The neck was brown with scratching. Clearing ear mites and bacterial infection solved the problem. As for the "lazy" right ear, it may become upright once the infection is gone. The Owner must have patience to fix an ear support to get the ear upright. Calcium tablets recommended by the pet shop owners are unlikely to solve this problem.
Pustular dermatitis. Skin pimples in the belly skin of a 6-month old Jack Russell Terrier that is having her first heat and had been bleeding.
Hormonal changes at maturity or "puberty" can lead to an outbreak of pimples in the female dog.
Persistent skin itch. Brown stains indicated a persistent licking by the Shih Tzu. The cause was an anal sac impaction.
Anal sacculitis. Itchy back and legs in a pug. The itchiness had gone on for many years resulting in a hyperpigmented black anal region and all legs. Many owners do not consult the vet and therefore the itchiness continues.
Joint eczema in a one-year old dwarf hamster. It had been nibbling its joints till they were all red. An anti-inflammatory injection under anaesthesia was given. He recovered. But the allergies recur. Allergy in a hamster