Asiahomes Internet
Focus: We provide affordable internet ads for owners and realtors.

Update: 18 Sep 2003
ASIAHOMES TIPS FOR A LONGER LIFE FOR YOUR PETS
Be Kind To Pets - A Community Education project using narrative stories with pictures, is sponsored by AsiaHomes Internet - we connect owners & agents to expatriates or foreign investors globally without costing you a bomb.
The Pom puppy inside the uterus had a runny nose.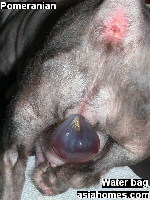 The water bag hung loose but no puppy was delivered naturally for the past 50 minutes. I cancelled my puppy vaccination at the breeder farm in Pasir Ris and rushed down the evening rush hour traffic of the Central Expressway to the Surgery.

The breeder said, "This is the second time that you have cancelled my vaccination" she noted. I was to vaccinate her puppies at 6 p.m. However, she understood that emergency Caesarians come first and was not angry that a competitor had again inconvenienced her.

Would the puppy be dead by now? It took more than ten minutes to put the bitch under general anaesthesia. It could not be faster as she was fighting against the gas.

This was the first birth for the Pomeranian and she looked very healthy. A good layer of fat to take her through pregnancy.

The first puppy was black and was in a breech presentation and had already gone into the birth canal. I had to put my finger into the uterine body and manipulated her towards the front of her uterus. Not so easy as to pop her out from the uterine body incision as in some Caesarian delivery cases. I broke the amniotic sac membrane. Clear fluid gushed out followed by a tail. The backside was too big.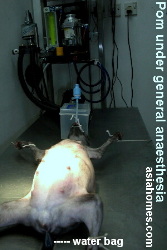 What to do with a tail. If I pulled it, would the rest of the back side follow? If not, would I break off? A normal tail would be stronger than that. I dared not take the risk. I put my finger into the uterus to feel for the two hind legs. Were they extended and therefore obstructing the smooth out flow of the back of the Pomeranian?

I felt the legs. Twisted the backside a bit. One leg appeared after some time. Would the puppy be asphyxiated by the fluid in its lungs since I took more than a few seconds to bring out the puppy?

It was limp. I held it in both hands, spread my feet apart and swung its head down. Two times. Its nose discharged a sticky fluid. I swung its head two more times. More nasal discharge. Its lungs must be water clogged. Would it be still alive? Its tongue was bright maroon red and that was a good sign.

I rubbed the back of its neck, behind the neck. Rubbed and rubbed using the cotton swab. Head downwards. A small inaudible cry. That was after ten minutes since the Caesarian delivery. At least, it was alive.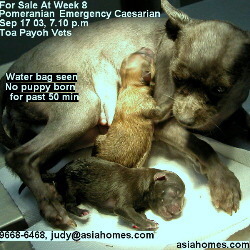 I handed it to Nurse Ann who continued to rub. I needed to operate as short a time as possible.

The second puppy was bigger than the first. A full golden coat of fur. Mum had grey coat. I pulled it out easily as it was in a face presentation. As I pulled it out, the water bag at the vagina came out with it. This puppy cried immediately on breaking the membranes.

The first puppy was obstructing the birth of the second one. It probably was starting to breathe and had inhaled the amniotic fluid clogging its lungs. If it was to live, it must be delivered by emergency Caesarian immediately. At least 50 minutes had passed since the breeder called. He had to coordinated his transport as his transport man was out.

If the breeder had waited another three hours or overnight, the puppies would be stressed and might not have survived. The puppy with the water bag protruding from the bitch's back side was very ready to breathe and would have died if the Caesarian was delayed an hour more . The breeder's face lit up as he said, "Such big puppies!"

It was hard to imagine how this bitch would be able to deliver naturally two healthy, vigorous and gigantic puppies. I hope she would be a good mother as some first-time bitches don't know what to do with their progeny.

INTERNET ADS. HILLS' FASHION BERETS - that make you outstanding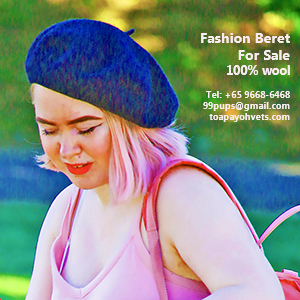 YOU WANT to be first to make a good impression? Wear a TOP QUALITY berets at your next meeting.
S$45.00 for one beret inclusive of shipping in Singapore. Email your order to judy@asiahomes.com or Tel: +65 9668-6468, 6254-3326, 6254-2728, 9668-6469; Fax: +65 6256-0501, 64545-843 for viewing or updates.
We will contact you within 24- 48 hours. www.asiahomes.com/berets.

METHODS OF PAYMENT.
We prefer payment by credit card to PAYPAL. For payment, click on one of the two below:

1.

2. Click:
david@asiahomes.com

OTHER TYPES OF PAYMENT
Email judy@asiahomes.com for more information on bank account number and bank.