YOU WANT to rent or buy Singapore homes? Email details of your specifications to judy@asiahomes.com or Tel: +65 9668 6468, 6254 3326, 9668 6469; Fax: +65 6256 0501 for viewing or updates.

Email or fax house-hunting form to us at 6256-0501 and we will contact you within 24- 48 hours.
---
Darby Park Executive Suites are in a prime downtown location.
12 Orange Grove Road, Singapore 258353

75 units. No washer or dryer inside the apartment, use communal laudromat. Electric hobs, no gas hobs in the kitchenette. Car parking lots, breakfast and morning bus shuttle service are complimentary.

All apartments have long bath tubs with shower and hair dryer. Extra beds are available (single beds at S$20 per night).

Special Features:

APARTMENT RENTAL INCLUDES:

Furniture & fittings.

Kitchenware & crockery, cutlery and cookware, electric hobs and cookerhood.

Refrigerator, microwave oven, oven toaster & rice cooker.

Safe, hair dryer, iron, ironing board & hi-fi

Dual-line telephones & in-room fax, televisions with Singapore Cable Vision channels.

Daily bed-making & room cleaning (except holidays & Sundays).

Changing of linen & towels 3 times a week (except holidays & Sundays).

Service charge for maintenance of rounds & common areas.

Utilities (water & electricity) without a cap on use, Continental breakfast from Monday - Friday (except holidays).

Wall mounted television set that can be tilted to your desired level.

Free car park and utilities.

Free shuttle bus service 7.30 am and 8.15 am only to Orchard subway, Raffles Place (Clifford Centre bus stop) and Suntec City Tower 2.

APARTMENT RENTAL EXCLUDES:

Telephone calls, Communal washer ($4.00 per use) and dryer $4.00 per use), Extra single bed, not foldable bed ($20 per day), Goods & Services Tax.

LEASE TERMS: Minimum 7 nights.

Deposit:

Less than 1 month stay - rental equivalent.
1-2 months - 1 month. More than 2 months - 2 months.

Advance rent payable:
Less than 1 month stay - rental equivalent.
1 month or more - 1 month

Telephone deposit: $500.
Stamp duty is payable for leases more than 6 months.
To confirm reservation a booking fee of $500 is required and is non-refundable should you cancel. However, it is used to offset against the deposit.

TYPE
MONTHLY (S$)
1-bedroom, 500 sq ft. Has one bathroom. DELUXE
As rentals keep changing frequently, it is not possible to list updated rentals. As a general guide, a 2-bedroom serviced apartment in similar locations rent for at least S$9,000 per month in May 2008.

Please note that there are no more $3,000 - $4,000 rentals for one-bedroom. Budget for >$6,000 per month.
1-bedroom, 600 sq ft. Has one bathroom. PREMIER
2-bedroom, 800 sq. ft. DELUXE
Only one bathroom. No dining area but a small round dining table beside the kitchenette. Suits expat couple but not 2 singles.
2-bedroom, 800 sq. ft. PREMIER. 2 bedrooms with own TV set and separate living and dining area. Has 2 bathrooms. Suits 2 singles and more economical for corporations.
3-bedroom, 1100 sq. ft (is a PREMIER 2-bedroom with one extra bedroom).
Suits expats with 3 children.
Swimming Pool, Gymnasium, Sauna & steam bath, One tennis Court, Putting Green & driving bay, basement car park with direct lift access to all suites. Communal launderette.

GREAT LOCATION NEAR FOOD JOINTS AND SUBWAY. Near Shangri-La Hotel. Jason Supermarket at Orchard Road is a 2-min walk. An 8-min walk to the Orchard subway, Tanglin Club, the American Club or Tanglin Mall.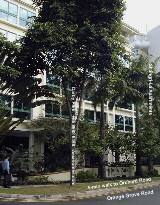 EXPATS:

We are housing agents, NOT serviced apartment operators. Therefore, our answering service, tel: +65 9668-6468 will NOT be able to provide you telephone numbers of various serviced apartment operators as the answering service does NOT have them when you phone. We contact the agents to book for you what you want. This is the free service for expatriates provided by asiahomes.com for expatriates who may not be able to source directly.

TO BOOK or GET YOU THE BEST rental package deal, contact judy@asiahomes.com, Tel: +65 9668 6468,
9668 6469, 6254 3326, Fax: +65 6256 0501 for more details.

Singapore Serviced Apartments Page 1


EXPATS/SURFERS TO NOTE:

1. Please CONFIRM with your company and the human resource manager as to whether you are permitted to use asiahomes.com realtors (outside realtors). You may have to let your company know that you wish to use outside realtors if you feel you receive unsatisfactory service from company realtors, but many human resource managers have firm policies stopping you from doing so if the company is the Tenant and not yourself.

2. Please note that we do NOT provide telephone numbers of Serviced apartments or any of the above condos and developments to expats/overseas callers phoning us wanting to know name of developer or tenant. Please do NOT phone 9668 6468 or get persistent to get the numbers as our answering service operator doesn't have them personally. He just takes down your name and telephone number and gets the realtors to contact you later.

The agents provide a free service to expats/secretaries needing serviced apartments without the hassle of booking themselves. They contact the operators of Serviced apartments, get the best rate and book for expats or bring expats to view the units of any serviced apartments. Please try NOT to abuse this service if you just wish to shop around and book the apartments yourself or with your own agent.

3. Re-send your email if there is no reply. Asiahomes.com gets 4,000 junk mails daily and these have taken up the allotted space from the service provider. Your email may bounce back to you in such cases.

Past Photo-Ads
MANY RENTAL PHOTO ADS
CLICK FOR RENT TO EXPATS
+65 9668 6468 judy@asiahomes.com

©Asia USA Realty (Singapore) asiahomes.com
Pte Ltd. Website: asiahomes.com.
House Agent's Licence No. AD041-07306B
Blk 1002, Toa Payoh Lor 8, #01-1477,
Singapore 319074, Republic of Singapore

Mobile Tel: +65 9668 6468, 9668 6469
Tel: +65 6254 3326
Fax: +65 6256 0501
Email: judy@asiahomes.com to get a list of housing or to view housing in Singapore.