3 floor plans:

1. 3-bedroom with a large basement (the landlord can partition it into one bedroom for the maid).

2. 4-bedroom

3. 3-bedroom with maid's room (study room) at basement.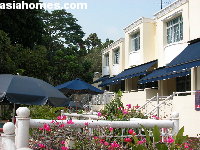 No. 27 series & pool on hill top (background) are 3 bedrooms fronting pool. Much bigger units with an attic room. Seldom available as demand is greater.

No. 29 series on right, nearer to Chancery Lane are 3 bedrooms with a large basement.

DETAILS:
25 series. 3 bedrooms upstairs and 1 basement bedroom with a store and utility area. Around 2013 sq. ft.

The maid will have to use the kitchen's bathroom as there is none at the basement.

The master bedroom on 2nd floor faces the pool. A common path at the back leading to the pool.

25A 4-bedroom
2013 sq. ft

25D, 25G are further away from the road and have better greenery views. They have a back lane (common green path to the pool.)

---
27 series. 3 bedrooms with a huge basement of over 300 sq. ft. The Landlord can install a room in the basement.

27A
3-bedroom 1862 sq. ft. Pool view. Rent is higher as this series is on higher ground, away from the road and has pool and greenery view. Master bedroom faces pool and greenery. Very bright in the afternoon as there is the afternoon sun.
---
29 series. 3-bedroom+ big basement.

29B 3-bedroom 2594 sq. ft. The living area is divided into a main living area and a family area.

The basement is huge, as big as the living and dining area and estimated to be 300 sq. ft. The Landlord may install a room here.

The master bedroom is on the 2nd level facing the opposite houses of 25 series. 2 other bedrooms are at level 3. Bright living area faces afternoon sun.

---
Rentals:

25A. 3+1 storeroom + 1 utility 2013 sq. ft




Big basement bedroom down the stairs from the living area (foreground). Dining area (top left)

25J. 3+1 storeroom + 1 utility 2013 sq. ft

27. 3-bedroom 1862 sq. ft

29D. 3+1 storeroom + 1 big basement. 2411 sq. ft



Living area of clear brown marble and main door (left). Steps lead to a very big basement of over 400 sq. ft. This can be used as a music room or a dance party room for 20 people. CLICK thumbnail to see bigger image.


29F. 3+1 utility 2260 sq. ft
2 and a half storey townhouses with several split levels,




separating the living (foreground in above image) from the dining (background), 3 bedrooms upstairs and a basement downstairs.

A family area in the basement in some units or a sunken lounge area for the bigger units like the 2,411 sq. ft type.
Italian marble flooring in the living and dining areas, parquet in bedrooms. 6-7 units per block ensuring privacy.

Advantages:

Living close to Orchard Road where most expat wives have lunch and where teenagers assemble. As car ownership is exorbitant, most expats need to commute by bus or taxi in Singapore. Therefore living near downtown may be important for most of them.
2-storey townhouses with a communal pool, children's pool, 24-hour security, own covered car park lot and tranquility.

Yet a 3-min drive to downtown Orchard Road. 5-10 minutes by bus to Orchard Road & the Overseas Family School. 40 min by subway and then bus to the National University of Singapore in Clementi.
Caucasian family enclave. Low density of 33 units. Value for money. Big pool amongst greenery.




April 4 2001 10 a.m.
A big pool, plenty of sunshine for sun lovers and greenery.
It is convenient for friends to visit you. Suits expat families who want the working spouse to go to work later and come home earlier from work if the office is at Raffles Place, Suntec City or Shenton Way.

The subway ride and bus to the National University of Singapore or Science Park takes around 40 minutes.
Some Australian fathers prefer to live at Chancery Grove as the small children save a lot of time travelling to the Overseas Family School in around 10-minutes by bus.

The Australian School is a 15-min bus ride from Chancery Grove townhouses.

Low density and low rise.

Some expats don't want to live in an area surrounded by high rises and this Chancery Grove area has no high buildings nearby.

Quiet countryside greenery ambience.
Interiors: The living and dining areas are finished with beautifully polished Italian marble.



25 series. Air conditioned dining area (foreground) above the living area (background). Open kitchen hatch to serve food.

Bedrooms have parquet flooring. Marble counter tops in bathrooms. One long bath in the master bathroom. Water heaters in bathrooms and kitchen.

Audio intercom. TV, microwave, cable hook up may be provided.
Wooden slats to cover half of the small front garden so that you can put up your BBQ set.

Kitchen has gas cooker with 4 gas hobs. Cylinder gas is used. There is one electric hob. Oven, microwave and fridge provided. European washer and dryer stacked up.
Your own private car parking lot.
Many Caucasian children. There are at least two pre-schools nearby.
Disadvantages:

A 15-min walk to the Novena subway, but there is a bus (No. 603) from Chancery Lane, outside the townhouses going to Orchard Road & Overseas Family School in 5-10 minutes.

No tennis court.

Some expats do not like the smaller master bedroom and living areas. However, newer townhouses in prime areas near downtown are characterized by smaller bedrooms and living areas. It will be difficult to accommodate a king-sized bed with 2 bedside tables and leave you some spaces.

Type of tenants:
Families with small children wanting houses near Orchard Road & Paterson Rd (where the International Singapore School & Overseas Family Schools are) and a swimming pool. There is a BBQ area and a big pool deck area for social gatherings.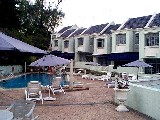 Pool facing No. 25 series.

4th bedroom. The basement of some floor plans has a room which is air conditioned and has a bathroom nearby. It can be used as a maid's room or a guest or a study room. Or just use as a storeroom.

COMPETITORS

Of all the four cluster houses in this neighbourhood, the Chancery Grove townhouses rent lower than the others.

The 3 competitors are The Compass at Chancery, Barker Road cluster townhouses, the upscale 5-bedroom cluster townhouses called Lotus At Barker with rents from S$10,000.

A pleasant 10-min walk to the Novena subway along the leafy Chancery Lane and Chancery Grove townhouses are real nice, being near the colonial houses and cycling jungles of Malcolm Park.

There is the Cold Storage supermarket near the Chancery Hill/Dunearn Road junction, a 2-min drive away.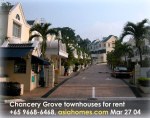 Mar 27 04, Saturday morning
Tranquil and green Chancery Grove townhouses.
24-hour guard (left). No. 27 series (left row) and No. 29 series (background).

August 2014
FOR RENT IN AUG 2014, MONTHLY RENTAL, PARTIALLY FURNISHED
3-bedroom 2 bathrooms 2433 sq ft built-in area $7,300
4-bedroom 3 bathrooms 2013 sq ft built-in area $7,700
4-bedroom 3 bathrooms 2831 sq ft built-in area $7,750
Units are available for rent at various times.
All the units are partially furnished. If you require the unit to be fully furnished, we can work it out but with added cost as the furniture will be outsourced.
E-mail judy@asiahomes.com Tel: +65 9668 6468.

Subdivisions (condo & house details) has some of the details of the advertised condos.

EXPATS WANTING THE BEST RENTAL PACKAGE,

e-mail judy@asiahomes.com for updates or tel/sms: +65 9668 6468.
---
TIPS FOR TENANTS
Case study: Water heaters in new condos.

"We have already signed the lease," said one exasperated expatriate to the Asia USA realtor who was not involved in the lease. In the euphoria of renting a brand new condo, some expats and realtors overlook the fact that the Developers have not provided water heaters. An example was the Kew Green townhouses.
Once the tenancy agreement is signed, the Landlord is unlikely to agree to install water heaters. Many Caucasian expats want hot water for the kitchen too.

We had one case of a New Zealander wife renting a United Engineer's Square Condo, using the hot water to wash dishes. The heat had melted the rubber ring of the sink stopper. The hot water "sterilized" the plates but the rubber ring melted.
In Singapore, hot water supply to the kitchen is uncommon as the locals don't use hot water to wash cutlery. Dishwashers are not common too.
ŠAsia USA Realty (Singapore) asiahomes.com
Pte Ltd. Website: asiahomes.com.
Blk 1002, Toa Payoh Lor 8, #01-1477, Singapore 319074, Republic of Singapore
Estate Agents Licence No. L3007306B
Salesperson Name/Registration No. Sing Kong Yuen/R030822Z
Asia USA Realty (Singapore) asiahomes.com Pte Ltd
Finding Affordable Homes For Expatriates