Wednesday February 23, 2000

Viewing semi-detached
Australian family with one 4-year old. 4+1, big house, max. rent $8,000. Near Tanglin Trust


1.45pm
Meet at Great World City Serviced Apartments.

2pm
D12. Gentle Villa subdivision 3-storey semi-det 5+1 Around 2800/3000sq. ft . $6,500. 5-min walk to Novena subway and Orchard Road. Caucasian enclave with lots of small children.

Bedrooms and kitchen considered too small. Maid's room too small.
Great location. 5-min drive to international schools at Orchard Road.

2.30pm
D11. University Walk subdivision 2-year old semi-det 5+1 2400/3000sq. ft $8,000. Tenanted. Caucasian enclave. Around 2 years old.
Basement has a big study room with attached bath and a guest room. Marble-tiled modern bathrooms and big bedrooms in 3 storeys. Many caucasian children in this subdivision.
Didn't like the layout.

3pm
D21. Jalan Layang Layang semi-det 5+1 3600/2600sq. ft land. $8,000. One year old. All attached bath. Near Canadian School.

Big bedrooms with wood strips and modern baths and kitchen. However, there is a wet kitchen (for frying things) and a dry kitchen resulting in a reduced space for a bigger dining area. Black granite flooring in living cum dining area. Bright. Small water garden.

The house is ideal except that
the indoor dining area is too small for entertainment of guests.

3.30pm
D10. Holland Grove View
3-storey semi-det 4+1+basement
3500/2800sq. ft land. $8,500. Caucasian enclave. Near Australian School. 2 years old.

White greyish streak marble flooring, pastel colour marble tiled bathrooms. Big basement room with 1 wine cellar, 1 store room and 1 maid's room.

Appreciated this house with its upscale quality finishes and pastel colours but rent asked was above budget. Concerned about the 10-minute walk to the main road for the wife to take buses to the subway.

4pm
D10. Regent Villas subdivision, Jalan Lim Tai See. 5+1 $7,000. 3-storey semi-det. Small garden.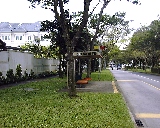 A popular Caucasian area in the Sixth Avenue vicinity, a 5-10 min bus ride to the major international schools.

99-year leasehold.
46 units. Completed: 1993.
Terrace: 256 - 289 sq. ft built up area. 150 - 360 sq. ft land area.
Semi-detached: 258 - 306 sq. ft built up area. 200 - 512 sq. ft land area. Parquet flooring in bedrooms. Cream marble in separate living and dining rooms and bathrooms.



No maid's room but a big guest room with an attached bath on level 1. Big semi-circular family area on level 2 similar to the ones seen in Gentle Villas and 2 bedroom. 2 bedrooms in level 3 plus an attic room. Rentals around $8,000 in June 2001.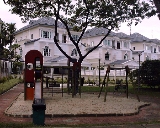 A small playground off the Sixth Avenue Road.



4.30pm
D10. The Lotus Sanctuary semi-detached houses at Coronation Road West

3-storey semi-det 4+1 2100/2100sq. ft $8,800. Caucasian enclave. No jacuzzi pool, family area or extra guest room or proper maid's room.

3100/2900sq. ft land corner unit rented at $10,500.

Biggest units is 3800sq. ft built-in renting at $10,500. Such bigger units have air well which brings in light and can be used as a plant area, study room facing air well, maids room, jacuzzi pool in middle of house outside. Master bedroom and 2 bedrooms and a family area on level 2. Level 3 has the usual attic with attached bathroom.


Coronation Road West modern master bathroom. Fell in love with the layout of the bigger units. The study room facing the plants at the air well, the big family area, the jacuzzi pool. However rent asked was above his budget.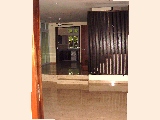 Much small living and dining areas. Small yards, garden and car park lot. Lowest rent asked is $8,800. Highest is $10,500. 12 modern new units of semi-detached houses completed around 1999.

5pm
D10. Moonbeam Terrace 4+1
2500/3800sq. ft land $7,000.
3-storey semi-det. Renovated. 20 years old. Near Australian School.

Long driveway and big garden strip. The guest room is seen on entry. You go upstairs to the living and dining area on level 2 via the staircase or at the side via a staircase. There is a big open terrace off the living area and the balcony.

The kitchen is on level 2 and there is a big garden. On level 3, there are the 4 bedrooms each with a big balcony for plants.

Didn't like the fact that the main entrance is the guest room with its attached bath. I suggest this room to be the entry foyer or library and get an interior design to advise him. This house has the big rooms and gardens and is toddler-safe. Didn't like the lack of co-ordinated interior design and the renovation. However, during renovation, this unit is just ripe for your inputs as to the new fittings and furniture.

Conclusion. No decision made at this 2nd house viewing as no house is perfect.

The Mount Sinai/Holland Grove area is probably the best residential area. It is a 5-10 min drive to the Tanglin Trust and United World College and is an expat enclave. Will schedule 3rd house-hunting trip.

The Barker Road semi-detached with 7000 sq. ft of land, with its huge bedrooms, separate dining area, big study room and garden and great location of 8-min walk to the Newton subway, at $8,000 offered 3 weeks ago was taken.