9501Singapore real estate educational stories for asiahomes.com realtors, excerpts from "The Internet Realtors, Singapore", sponsored by AsiaHomes Internet.

The American banker made the old girl cry

"Tania just answered my phone call, started crying and put down the phone" said Louis, an American expatriate banker with a top American bank. "It is not professional."

How did he make Tania, a forty-year-old realtor with 20 years of property experience cry? She had encountered all types of expatriates over the years and should have a strong constitution as she looked rugged, I thought.

This was his first posting in the exotic Far East. A gung-ho financial investment expert who wanted things to be done promptly and efficiently. He was good at his profession, otherwise the American bank would not have given him, a young man of less than 30 years old, a $9,000 housing allowance.

This story began with an email from a Caucasian banker in New York, USA.

Subject: Unique Apartments in Singapore
Date: Thu, 28 Oct 1999 17:27:31 -0400
From: An American banker
To: judy@asiahomes.com

I will be moving to Singapore for 3 years starting in November '99.
I am very interested in 2 types of housing as one of your previous clients put it:

"I have two types of interests in homes: One is a conservation, or
storefront home that has a very eclectic (read untypical, interesting)"
.... and/or modern interior (i.e. loft style living).

My first choice is loft style living (I love big empty spaces). My office will be at Suntec City Road and I am (less than 30 years) old and single, so do not need more than 2 bedrooms but would like at least 2000 sq. ft. of space. My budget is $Singapore Dollars 9,000 per month. Thanks in Advance!!!

A follow-up email revealed that the prospective tenant had seen the following condos with another agent.

I will be staying at the Ritz Carlton, the phone number 337-8888. I have seen apartments in : The Colonnade #13-04, Orchard Bel-Air #15-01, Nassim Park Blk 17 B, Balmoral Park Blk 16 #01-02, Draycott Tower #6, Ardmore Point #16, Scotts 28 #11, Skyline Angullia #08-07, The Sovereign #15-03.

I didn't really like all of these places expect for the Colonnade.
I don't like built-in wardrobes. I liked the Colonnade because I like big open spaces. I only need 2 bedrooms and would like a minimum of 1800 sq. ft. I like hardwood floors and very modern and unique apartments.

The modern Grange 80 apartment on your webpage looks like my kind of place, modern with open space. Richmond Park looks nice as well.

This was a promiscuous prospective tenant-client. Well, to be fair, most internet surfers are not giving exclusives to internet realtors.

Louis would be contacting other realtors too. Should I handle this case? There was a high probability of not closing since I would be competing with all the agents in Singapore for his business. Plenty to lose and nothing to gain?

He had a $9,000 rental budget. Not a small account for a self employed realtor to ignore. He might have found his ideal home during his exploratory trip to Singapore for an interview.

His next email asked for the house numbers of the conservation shophomes I would be showing him. I explained this to the co-broking agents who usually will not divulge such information. They understood and were cooperative.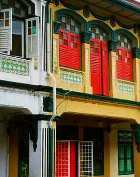 20 conservation shophomes and townhouses were seen. There were not many of such unique homes in Singapore. The one he liked was the one managed by Realtor Tania.

On our first visit, the whole living and dining areas and two bedrooms were wet, indicating a possible leaking of rain water from the roof. I advised not considering this unit as it would be difficult to trace sources of roof leaks in any house. This was a restored heritage house but it was over 50 years old. But it was love at first sight for him.

On a second visit, after a heavy downpour, the living and dining areas were dry confirming Tania's claim that the workmen forgot to close the windows. Louis fell in love with this unit again.

His second choice was another unit nearby. The other realtor assured him that he could get it for S$8,500 and the tenancy agreement could be signed in 5 days' time.

Realtor Tania had said that the Owner wanted $11,000. I thought it was a hopeless case. Like asking for the moon.

Louis was very keen on his first choice and proposed $8,500. I had suggested an offer of $8,000 and this was rejected with some scolding for such a ridiculous low offer from co-broking realtor Tania. Not only that, there was a long list of works to be done from Louis too.

Louis had other options from other agents. I had been given 3 weeks' advance notice and thought I had shown all heritage houses available in Singapore. There were at least two not advertised for some time probably.

One of them was from a seller of an upscale furniture shop which was selling some beds to Louis and the second choice was from the realtor of his Bank. It was a good offer although I had not seen the house.

You win some, you lose some and I congratulated Louis on his good fortune.

Louis could not forget his first love. This was his pro-active trait which made him so successful in this profession. The house was still available. The offer of $9,000 was given, together with his long list.

Five days passed and the other Realtor of his second choice could not close. "Singapore's realtors are not professional," commented Louis when the realtor of the second choice told him to wait another two weeks. He presumed to be a delaying tactic.

Was this an opportunity for me now? What should I do? I thought a lunch meeting with Realtor Tania would be useful. I asked Tania for help in recommending Louis. The Tenant would be a blue chip bank and Singapore Landladies prefer a corporate tenant especially good quality ones. Louis was the ideal type of Occupant; he was single, therefore less wear and tear of the house would be anticipated since there were no children.

"Any good news?" I asked Tania after two days. Tania was a top notch realtor in negotiation.

"Three months' security deposit and three months' notice before the Tenant can break lease using the diplomatic clause," she replied.

Would the bank agree? Two months' deposit for a two-year lease were now the norm as the Tenants took advantage of the recession and lower demand for expatriate housing in 1999

The bank agreed to the demand. But Louis still wanted the works done according to his long lists of repairs and defects. It would be costly. The items were whittled down after a meeting with the Landlady arranged by me. A Letter of Intent to lease with the agreed upon requests for works to be done was signed by both the Landlady and the Tenant.

All's well that end well, you would think. Time to relax.

However, Louis added more requests after the Letter of Intent was signed as he checked out the apartment. The Letter of Intent has stated what was required by both parties but every 2 or 3 days, Louis would give a new list.

I asked him to put his requests in writing and passed them to Tania. Louis would also contact Tania to expedite matters. He was going home for Christmas and had not much time. Tania was the tough type of realtor and would give him a firing. He persevered with his demands to make this shophome an ideal residence. A dream house.

"Just say the word and let's drop him," the Landlady told Tania. She was fed up and had earlier evicted the Tenant for being too fussy. This was a corporate-owned property and therefore it did not financially affect the Landlady personally.

I persuaded Tania not to do drop Louis so.

The tenancy agreement was to be signed eight days after the Letter of Intent was signed. Louis would not want the tenancy signed unless all his requests were acceded to.

It needed time to get the defects done as this was the Christmas period and workers might have gone back to Malaysia. The Landlady could just return the good faith deposit and I would get zero income for all the hard work and time spent. At least 50 hours were spent on this case.

In the meantime, I had got 2 expats on house-visiting trips who wanted to lease this unit for $9,000. They liked the house. Tania did not get any offer and this was fortunate for Louis.

Should I switch to the other two expatriates and just say better luck next time to Louis? Would that be the right thing to do? After all, I was not the exclusive realtor for Louis. It was a big temptation as this deal could fall through.


The shophome had roof tiles scattered and bunched up together as if it was bombed. Louis emailed to say he felt cheated He had gone up to the top floor of a shopping complex and used his binoculars to check out the roof.

I explained that the unit was being checked for roof leaks and therefore the tiles were taken out. But Louis wanted the tiles to be in place before handing over. I informed Tania. Another stress? Which crazy "ang mo" (local term for Caucasian) would think of doing such a thing?

Louis was making the girls cry. At least one. Tania was self employed and of course, it would mean a lot if she could close this case without so much hassles. Everything had been agreed in the Letter of Intent and now, Louis kept asking for more things.

The Landlady was exasperated. She was not exactly joyful with new lists of requests every few days.

Another letter from Louis wanted the commencement of tenancy to be on January 5, 2000 instead of December 18, 1999 since not all the repairs could be completed. Louis was the type who wants all things to be completed before taking over. Would this be the last straw that would break the camel's back?

"Take it or leave it," was the ultimatum from the Landlady.

Louis discussed the matter with his company. "Don't give in to blackmail" advised the human resource manageress whom Louis introduced to me, so that I could get some business from her.

He was kind and helpful and I always remembered him.

The manageress, an woman in her forties knew all about the Caucasian expatriate's whims and fancies.

"What was so good about this heritage house? There are many on the market." she continued.

Louis had 3 months to live in the best hotel in Singapore - The Ritz Carlton. He might have more choices if he waited.

"Why not we call the Landlady's bluff? We would not sign the tenancy agreement till every defect is rectified?" I suggested. I wished I had kept my big mouth shut.

The manageress was silent. Louis did not say a word. It was as if I was talking to the wall in her office. The human resource manageress was just like a mother telling her offspring suffering from unrequited love that there were many fishes in the ocean. Not all fishes are identical, this mother forgot.

And do you get your first love if you wait?

I rushed the tenancy agreement and cheques to the Landlady's office.
A 6.30 p.m. handing over with the Landlady was arranged. A few repairs would need to be done later.

Dark clouds indicated a storm was imminent. The Landlady was punctual but Louis was caught in a traffic jam and arrived at 7 p.m.
The Landlady had left. It was not easy to get the Landlady to come.

We did the stress test by switching on all lights and air conditioners.

Louis gave Tania a bouquet of flowers but missed giving the Landlady a "World Series 1999 NY champions" baseball cap given to him by the pitcher. That would have built up a good Landlady-tenant relationship had he been punctual. Tania said that the Landlady, a top professional in her field, might not appreciate a cap. Flowers or diamonds are a girl's best friend, I said.

Seven halogen track lights blew and one floor air conditioner stopped functioning after we came back from dinner. We rummaged the drawers for the manual until I thought it could be the circuit breaker tripping. It was the circuit breaker.

We gave another letter to Tania. I phoned the Landlady.

"I had the workers present for the handing over. Your client was rude in not being punctual. I will not have the time to attend to more and more of his request. If he is not satisfied, his money would be returned." said the Landlady.

The track lights in the rafters were replaced immediately the next day.
"The track lights were blinking for the past few minutes!" Louis phoned me. What should be done? God knows. I advised Louis to switch the lights off and go out for dinner with his sister.

The lights behaved normally after Louis came back.

Louis invited us out for dinner when his sister came to visit him.
"You are a pain in the butt. Even your sister said so," Tania said. Louis had told me that Tania was "nuts" but I did not tell her his comments.

It was a love and hate house hunting affair between Louis and Tania but I must say she had done an excellent job in getting the Owner to agree to the $9,000 rent. Tania was the aggressive type of lady realtor. I saw her telling in her serious tone, the expatriate tenant next door not to say that Louis's unit was leaking or he would be sued. This was a real tough no nonsense lady.

Caucasian expats are frank and they don't get offended. But I don't think it is good to be brutally frank in business.

The important thing was that Louis had got what he want. It was sad that he was not punctual as the Landlady made much effort to meet him on that weekend night. As for the baseball cap, I was the recipient. It might be worth some money as a collector's item many years later.

October 17, 2002. In reply to an email from Song Wong.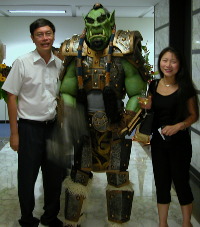 To: Louis

The above story is written for you as Song Wong wanted something in words or pictures.

Happy 31st Birthday in Singapore on October 29, 2002.

Had fate not brought you to Singapore, I believe you would have gone to the happy hunting grounds on September 11, 2001 as you would be working at the Twin Towers. May all your years be prosperous, healthy and happy and one day, you will find your dream boat.

David Sing (left in picture). Do all Chinese and Japanese look alike to you?

---


Tips for new www.asiahomes.com Realtors

This case study showed that it had been very stressful to make a very experienced realtor to break down in tears and raised her testosterone level to give Louis and me several scolding over the phone to protect the Landlady's interest.

If you represent the Tenant and do not have patience, one angry word from you is all that is needed for your co-broking realtor to ask you to go fly a kite and recommend to the Landlady not to take this fussy Tenant.

You would then have to start all over again and compete with the other realtors to source another good heritage house with all the requirements demanded by a top American expatriate banker. After all, he has reached one pinnacle of his profession and he expects you to be really good in handling his case.

The customer is the reason for your existence. But nowadays, they have a lot of choices and you may end up with no closing as they find their home with another realtor.

If you want to be self-employed, you will suffer more stresses as you get paid only on performance. You need to exceed the expectations of your client while competing with the other realtors in Singapore. Time is of the essence as much as good negotiating skills which can be picked up on the job.

---


You Got Tenant, Apartment Owner?

Looking for Tenants is like winning a war.
You need to know where your enemies can be found.

You need to advertise in www.asiahomes.com
where prospects interested in Singapore properties
are likely to be found.

Why not place an affordable internet ad
to contact prospects direct and save you
a few thousand dollars in agency commission?
Telephone +65 9668 6468, E-mail judy@asiahomes.com





Last updated:
17 Oct 2002