Asia USA Realty (Singapore)
asiahomes.com Pte Ltd


Estate Agents Licence No. L3007306B
David Sing Kong Yuen/R030822Z. Tel: 9668-6468, 9668-6469, 6254-3326
12 May, 2018

Focus: We get for you affordable Singapore homes
Rent or Investment

NIVEN ROAD, EMILY ROAD & EVERTON PRE-WAR CONSERVATION SHOPHOMES FOR RENT

Niven Road. There are 2 types. The 2-storey or 3-storey townhouses. 5-min walk to Little India subway. Peace Centre shopping mall and Dhoby Ghaut subway & Orchard Road in a 10-min walk.

Spacious and value for money. Rent for the 2-storey type with 2293 - 2723 sq. ft of built in area in a historical heritage enclave is around S$6,000 - 7,000 rental per month in 2011.

A 3-bedroom 2550 sq ft is asking $6,250 per month. 10 restored 2-storey pre-war terrace houses and 3 3-storey shophomes are available for rent. Others are privately owned.

Interiors
Wood flooring, fully air conditioned. Partially furnished. Open concept kitchen and huge dining area on 2nd floor. Big living area with marble flooring and back car garage on the first floor. Cable points provided by the Landlord.

Suits couples or those who want a home office.

More pictures: Niven Road shophomes - interiors

Facilities - No pool, tennis courts

Niven Road 2-stor

e

y shophomes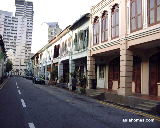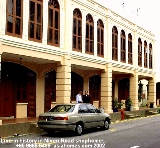 Peace Centre and Bras Basah Road (background) are a 10-minute walk away. A 5-minute walk to Little India and the subway. Many taxis available.

Niven Road 3-stor

e

y shophomes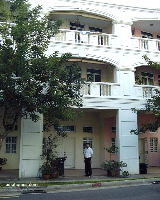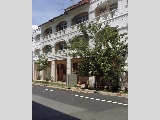 Niven Road. 3-storeys with an indoor car garage (can be used as a work room) and large balconies. Big living or family area on level 2 as well as a living area on level 1. The kitchen is at level 2. Two balconies. Bright.

Large 3 bedrooms on 3rd floor. 1 of the bedroom is small and cannot accommodate a queen-sized bed.

Both Niven Road & Emily Roadshophomes have spacious living area and separate dining area. The overall ambience exudes a history of old and new and inspires creative Caucasian expatriates.

Suits start-up companies or representative offices as rents are inexpensive considering that you have this rare opportunity to live in history. Little India Subway 5-minute walk.

Emily Road 2-stor

e

y shophome

near Little India subway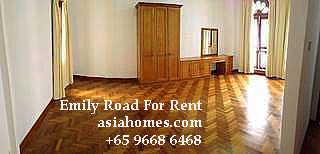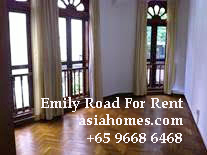 Emily Road 2-storey shophome, 3+1 bedroom, 2314 sq ft, $6,600. Available in Dec 2017. Near Little India subway. Quiet.

Everton Road & Blair Road 2-stor

e

y shophomes near Chinatown

Everton Road Shophomes near Chinatown
Everton Road attic loft. 1-bedroom 1335 sq. ft, up a flight of stairs. Separate entrance from downstairs residence. 2 small windows (closed) in image. Overlooking other Everton Road shophomes. Everton Road attic loft. Wooden floor board.


The one bedroom is in the foreground (not visible in above image). The living area and dining area (expats standing) are separated by a skylight. The shower and kitchen is at the end. The shower stall is too low for very tall Caucasians. Demand is high. Vacancies very low. Other Everton Road and Blair Road shophomes (2-storeys) are available for rent at various times.

Email judy@asiahomes.com or tel +65 9668 6468 for more information and to view.
Old webpage at:
http://www.asiahomes.com/singaporehouses/1014Ads_Singapore_shophomes.htm
ADVERT - SICK DOG, CAT & PET TREATMENT & VACCINATION IN SINGAPORE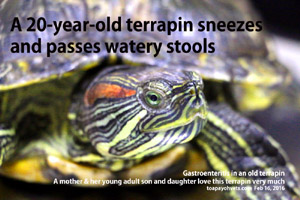 toapayohvets.com
©Asia USA Realty (Singapore) asiahomes.com
Pte Ltd. Website: asiahomes.com.
Blk 1002, Toa Payoh Lor 8, #01-1477, Singapore 319074
Republic of Singapore
Estate Agents Licence No. L3007306B


David

Sing Kong Yuen/R030822Z

, Tel: +65 9668-6468

Asia USA Realty (Singapore) asiahomes.com Pte Ltd
Finding Affordable Homes For Expatriates

Copyright ©

Asiahomes
All rights reserved.